[quote]Top Ten Tuesday is a weekly meme hosted by The Broke and the Bookish where we list our top tens![/quote]
This week's topic is "top ten books I'd buy right this second if someone handed me a fully loaded gift card." It would be the best thing ever if someone gave me a fully loaded gift card so I can buy all the books and comics I want to get! I cheated a little on this top ten; I count a full series of books as one. I couldn't just pick one! (You simply cannot do that with a series.) I've put off getting many of these books because the timing was never right.
Let's see what "ten" books I'd buy right this second if someone handed me a fully loaded gift card!"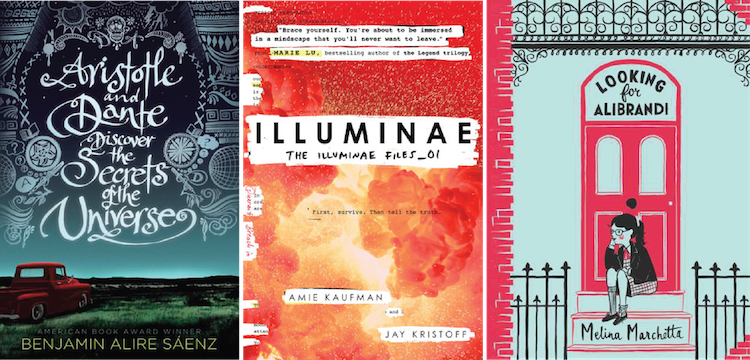 From the lyrical prose to the relationship between the two boys, everybody I know loveeeees this book. I know I'll love this book dearly, and it'll leave me an emotional mess. I have an ebook of it, but I haven't gotten a physical copy because I keep hoping to get the hardcover.
Why do I not own the hardcover of Illuminae? (I ask myself every time I see people talk about this book.) This is a book that deserves to be on my shelf purely because of SPACE! + the wicked use of mixed media. (I'm a sucker for books with mixed media. I liveeeee for them.)
Melina Marchetta is a goddess of my heart! I love every contemporary works she has written. When I saw this cover of Looking for Alibrandi, I knew I needed in my life. Like desperately. Every time I go to get it, the price goes up or I have already spent too much to buy it.
Ever since I read someone say Kate Kristopher is like an older Hazel (from Saga), I've been excited to read Shutter. Family mystery, exploror, different Earth, I need this comic series in my life.

I adoreeeee Catherynne M. Valente's writing and Middle Grade. And combine them both? I'm convinced that I will fall in love with the Fairyland series. Absolutely convinced. Valente's writing is nothing but magic for me, and I'm excited to see how that translate with these books marketed towards young readers.
After I read the first volume, I became mesmerized by this dystopian United States, where the Civil War never ended, and the Four Horsemen of the Apocalypse roam the land. It really is as badass as it sounds. I need more about Death and the different characters in this.

IT'S HARRY POTTER. DO I NEED ANY REASONS WHY I WANT THIS? (I'm soooo bummed out I missed the $9 on Amazon on Sunday. FOREVER TEARS.)
Black Canary is my girl. I've followed the comic series and collected the first arc issues, and they were absolutely magic. The art + the found family + the fight scenes = me in love. I need this collected volume of the first arc in my comic collection, so I can stare at it with heart eyes.
The art in DC: The New Frontier is so frickin' cute! It's a bunch of the Justice League members kicking ass during the Cold War.
In a previous Top Ten in January, I added this graphic novel to my TBR list because: "It is set in an alternate reality where Charles Babbage and Ada, the Countess of Lovelace, do actually build the Difference Engine. They use it to "to build runaway economic models, battle the scourge of spelling errors, explore the wilder realms of mathematics, and, of course, fight crime—for the sake of both London and science." It should be a lot of fun!
Are any of these books/comics on your list? What books would you get right now if someone gave you a full-loaded gift card?