I didn't think anything can come close to topping last month when I met Sebastian Stan, but July was pretty up there with all of the awesome of my sister coming up to visit, the Monstress signing, Batgirl onesie + Dick Grayson booty print, and seeing Brand New play their music! It somehow worked so well, and I feel so blessed.
My big sister visited home for the first time in like forever!
I've visited her plenty of times in Washington state, but it's been close to five years since she last visited California. Although she can drive me up the wall sometimes, I was so happy to have her around! We decided to surprise the parents, not telling them she was coming for a visit, and planned a month or so in advance. We scared the living daylights out of our mom! Our dad was absolutely baffled when he saw the big sis, saying an awkward "hi." Ha!
The week with her was full of awesome. When she wasn't hanging with friends and catching up, she was hanging with me, worrying about our dad, judging her parents, and having three hour long discussions about comics.
Everything dealing with Monstress was a saga with many happy endings.
A lot of things happened dealing with the amazing graphic novel, Monstress.
Despite various roadblocks, I managed to grab a copy of the Kinokinuya exclusive cover of Monstress. (That's a week long ordeal.)
I found out late notice that Marjorie Liu and Sana Takeda will be signing nearby the day before the Wednesday signing, and my big sis wanted to go since she really didn't have to miss them! (I only heard about a signing in SF the day after my sister leaves for home.) It was meant to be that there was another signing nearby because I got my books and my sister got to see these two badass women before she left for home.
.@marjoriemliu + SANA TAKEDA!!! 😍 pic.twitter.com/8j7yoFaFj7

— Cee ✨🔮 (@tnhcee) July 27, 2016
MARJORIE AND SANA ARE FRICKIN' AWESOME AND SWEET. If you have the opportunity to meet them, you should go! (I will hopefully be writing a recap of the event soon.)
I GOT TO SEE BRAND NEW IN CONCERT. (Modest Mouse was there too.)
BRAND NEW!!! 🙌 pic.twitter.com/sxvcwspTRa

— Cee ✨🔮 (@tnhcee) July 29, 2016
THEY WERE ABSOLUTELY ELECTRIFYING. You can say it was a religious experience because holy shit, Brand New are frickin' amazing. Every song Jesse Lacey, the leader singer, sang cast a spell on the audience. (I don't know how he can sing-screech so well.) We were all singing along and bouncing along. (It's one of the greatest things ever is to hear everybody sing the lyrics louder than Jesse.) There was so much love for Brand New.
Other things: This was my first time seeing Brand New in concert. (I was supposed to in 2007, but I didn't get into the venue because it was over capacity.) Brand New made Modest Mouse sound like shit, ha. (MM was hard to understand.) I managed to find a friend who was going to the concert, and piggybacked with her and her boyfriend. (I seriously do not think I'd have an enjoyable experience without them.) Every time a tall person passed by, I lived in fear they were gonna stand in front of me, and that's no bueno. Brand New are either breaking up or not making new music anymore by 2018, and I sincerely hope they play in the Bay Area again.
I am the proud owner of a Batgirl onesie and a Dick Grayson booty print! 
You guys…it's happening. 😄🙌 pic.twitter.com/hmJ8QagUE7

— Cee ✨🔮 (@tnhcee) July 6, 2016
MY DICK GRAYSON BOOTY PRINT CAME IN THE MAIL TODAYYYYY!!!! 😍😍😍 IT'S SO MAGICAL. Thank you @barawitness! pic.twitter.com/SAKZ892I67

— Cee ✨🔮 (@tnhcee) July 27, 2016
BOUGHT

FOR REVIEW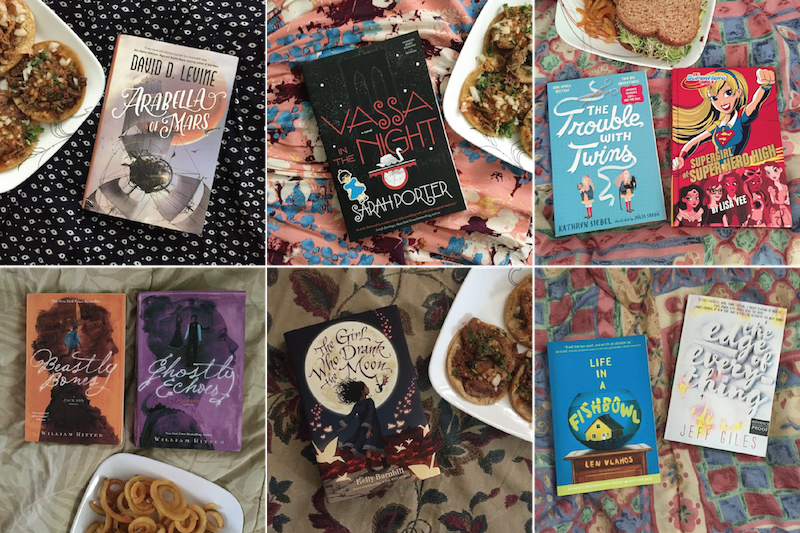 Thank you for the books, Tor Books, Random House, Algonquin, and Bloomsbury.
TRADED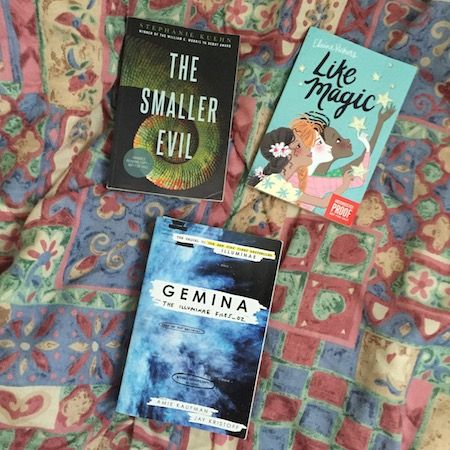 Thank you to Rachel and Angie for the trades!
MG
GRAPHIC NOVEL
REVIEWS
COMICS
DISCUSSIONS
EVENT
NOTE TO SELF FOR NEXT MONTH
Read, read, read. Write, write, write. Comics, comics, comics. 
As usual.
How was your July? Was it an ultra-fabulous month for you like it was for me? Anything you're looking forward to in August like books or events?