Top Ten Tuesday is a weekly meme hosted by The Broke and the Bookish where we list our top tens! This week's topic is "top ten books on my Fall TBR list." Instead of books that will be published this fall that I want to read, I decided to show you the books I have to read for the next two months. You read it right. "HAVE TO" is the accurate term. With book events and Halloween in the near future, I have to read a bunch of books in preparation. It's actually overwhelming. I technically have over fifteen books. Whoops? But eleven are pictured. That's what I get for procrastinating. :P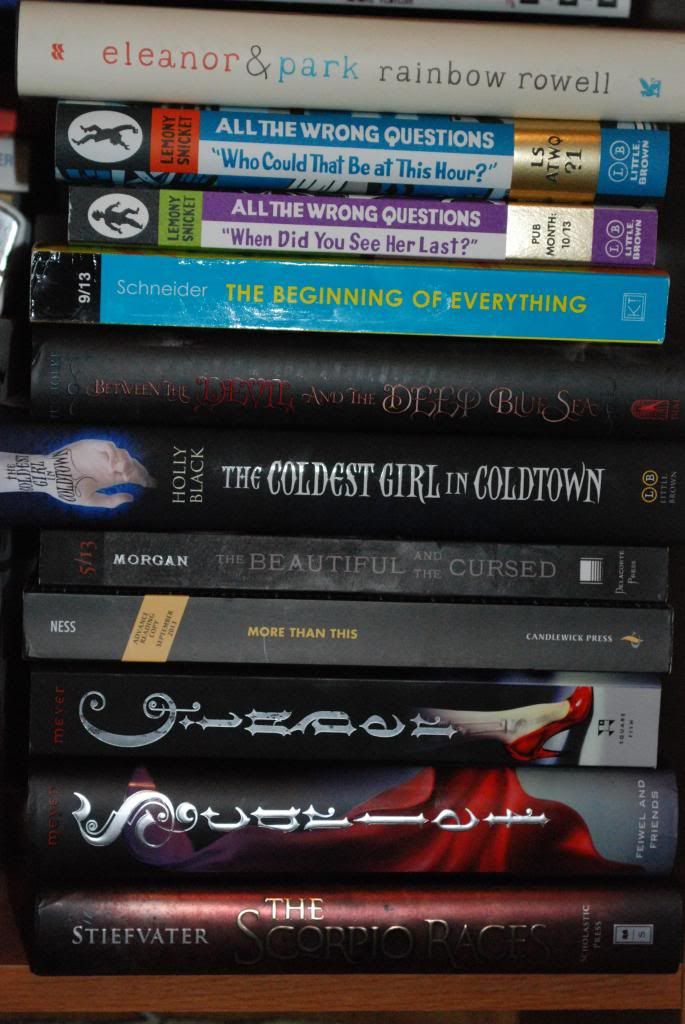 1. Eleanor & Park by Rainbow Rowell
2. Who Could That Be At This Hour? (All The Wrong Questions #1) by Lemony Snicket
3. When Did You See Her Last? (All The Wrong Questions #2) by Lemony Snicket
4. The Beginning of Everything by Robyn Schneider
5. Between the Devil and the Deep Blue Sea by April Genevieve Tucholke
6. The Coldest Girl in Coldtown by Holly Black
7. The Beautiful and the Cursed by Page Morgan
8. More Than This by Patrick Ness
9. Cinder (Lunar Chronicles #1) by Marissa Meyer
10. Scarlet (Lunar Chronicles #2) by Marissa Meyer
11. The Scorpio Races by Maggie Stiefvater
*Not pictured are: Attachments by Rainbow Rowell, Fangirl by Rainbow Rowell, The Raven Boys by Maggie Stiefvater, The Dream Thieves by Maggie Stiefvater, Two Boys Kissing by David Levithan, Just One Day by Gayle Forman, and Just One Year by Gayle Forman.
SEE! I have A LOT of books to read. Gahhh. I'll end up writing reviews for half the books I read and I'll do the other half later.
What books are on your list? Have you read any of the books in my stack? Link me up!