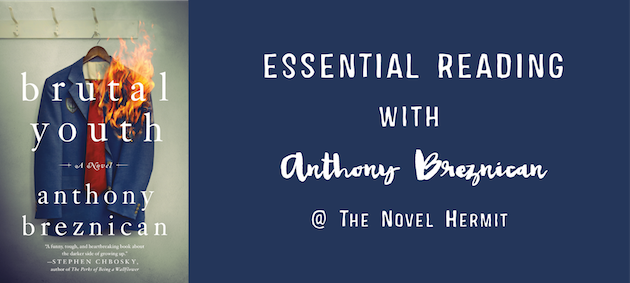 Three freshmen must join forces to survive at a troubled, working-class Catholic high school with a student body full of bullies and zealots, and a faculty that's even worse in Anthony Breznican's Brutal Youth.

With a plunging reputation and enrollment rate, Saint Michael's has become a crumbling dumping ground for expelled delinquents and a haven for the stridently religious when incoming freshman Peter Davidek signs up. On his first day, tensions are clearly on the rise as a picked-upon upperclassmen finally snaps, unleashing a violent attack on both the students who tormented him for so long, and the corrupt, petty faculty that let it happen. But within this desperate place, Peter befriends fellow freshmen Noah Stein, a volatile classmate whose face bears the scars of a hard-fighting past, and the beautiful but lonely Lorelei Paskal —so eager to become popular, she makes only enemies.

To even stand a chance at surviving their freshmen year, the trio must join forces as they navigate a bullying culture dominated by administrators like the once popular Ms. Bromine, their embittered guidance counselor, and Father Mercedes, the parish priest who plans to scapegoat the students as he makes off with church finances. A coming-of-age tale reversed, Brutal Youth follows these students as they discover that instead of growing older and wiser, going bad may be the only way to survive.

Amazon · Barnes & Noble · The Book Depository · Books-A-Million · Indigo · iTunes · Google Play · Kobo
I have a special Essential Reading post, courtesy of the Brutal Youth blog tour, and I couldn't be more excited to welcome Anthony Breznican to my blog! I love reading about the books that Anthony picked for five of his characters and reading how those books inspire those characters like Noah writing a paper on Mr. T or Hannah tattooing a certain quote on her arm.
For those who do not know what Essential Reading is, it is a feature on my blog where I ask authors to share five to seven books (children's, YA, general fiction, romances, nonfiction, and all) that they or their characters love, or has impacted their lives or their characters's lives.
Let's see what Anthony picked, shall we?
BOOKS THE CHARACTERS IN BRUTAL YOUTH WOULD LOVE (AND WHY!) 
by Anthony Breznican
I love this question! It's one I would never have thought of on my own, but it gave me a chance to revisit the kids from Brutal Youth and imagine which books might strike a nerve with them.
Since the story is set in 1991 and 1992, I restricted myself to books that would actually have been available to them at the time, although there are many more recent ones these characters would  love.
I should start by setting up the story: Brutal Youth is about a group of newcomers at a corrupt, crumbling private school outside Pittsburgh, where hazing is sanctioned as an hallowed tradition, and people will do anything to avoid the grim fate that awaits anyone at the bottom of the food chain.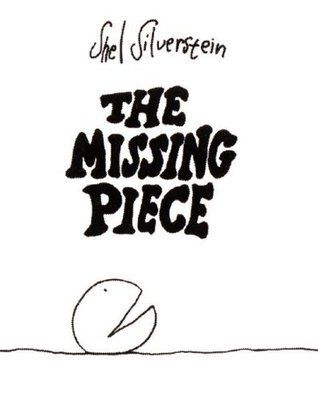 This freshman is the main character of Brutal Youth. He means well, he's got a good heart, but he's scared. Like me at that age, Davidek's also super needy. When you grow up not feeling safe or loved at home, you keep trying to find ways to fill that hole in yourself – but it's a bottomless pit.
Throughout the book, right down to the final line, he's trying to figure out if it's better to keep seeking help from others who have the power to change things, or if we're better off dealing with hard experiences on our own because they make us who we are? Sometimes the people in charge turn a deliberate blind eye, and you're better off without them.
While rummaging through his big brother's old room, I think Davidek will find a torn and tattered copy of Shel Silverstein's 1976 storybook about a Pac-Man shaped creature who keeps looking for his missing piece. He finds a bunch of objects that don't fit, but then happens upon a wedge shape that fits perfectly. But the circle can't talk with this found piece stuffed into his mouth & can't roll like he used to, and ultimately discovers … there never was a missing piece. That hole wasn't an absence – it was a part of him.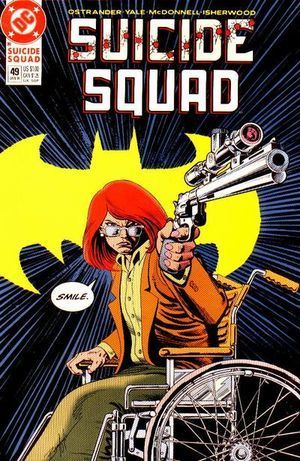 Like Davidek, Lorelei Paskal is a freshman who comes from a bad home – but hers is viciously abusive, while he's more neglected. Lorelei's mother was seriously injured in a workplace accident and is consumed by anger and self-pity. She vents her overflowing anger on her daughter, and with a homelife that horrible, Lorelei is desperate to make school a safe haven. She tries hard – sometimes too hard – and risks becoming the thing she hates and fears.
Lorelei's not really a superhero fan, but I imagine her being inspired when she finds this January 1991 comic book inside her new locker at the start of sophomore year. It features Barbara Gordon, the former Batgirl, fully resurrected as the genius hacker Oracle after being paralyzed by the Joker in 1988's The Killing Joke.
Ostrander & Yale's storyline will make Lorelei see there's a different path from the one her mother took. Unspeakable hurt doesn't have to be escaped by passing it on to others. We can say instead: "No one else should feel this."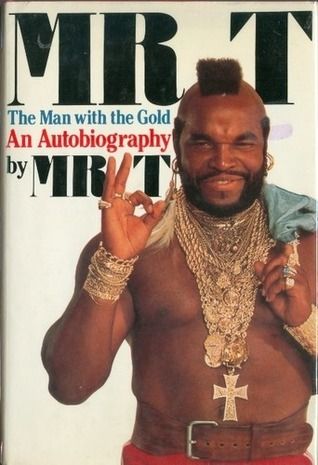 Stein is a fighter. He's friend of Davidek and Lorelei's who ended up at St. Mike's because he got into too many conflicts at public school. He's no bully – but he's fearless, and you know that saying "Choose your battles?" Stein chooses every battle. He's got a burn scar on his cheek that may be proof of his love for starting and finishing fights, but … the truth is much darker than his friends know.
The1984 autobiography of Mr. T may seem stupid and absurd, and that's exactly why Stein would choose it for his book report on a historical figure. Somehow, the real Mr. T has waaaaay more bluster and bravado than his both characters B.A. Baracus from The A-Team or Clubber Lang from Rocky III. Stein will read it expecting to laugh at Mr. T, and he does. (This book is nucking futs!) But he doesn't expect to be moved by the actor's troubled younger years, or his faith in God, or his charity work making terminally ill kids feel tough. He definitely never thought he'd see himself in the story of a guy who hides his heartache behind a snarl.
Stein decides he can't make fun of Mr. T and writes a serious paper about the book instead of a jokey one. He still gets an F.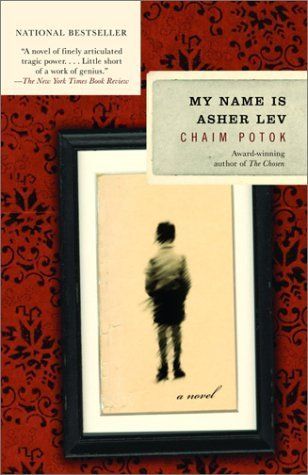 Green is the only black student at the otherwise all-white St. Mike's high school, and he's also overweight – which makes him a target on two fronts. The one thing he has going for him is that he's really good at something. Green is a phenomenal guitarist with a deep love and talent for many different types of music.  That gives him a confidence some of his fellow freshmen lack, and this skill impresses people and helps him make friends. Music is also his sanctuary when life isn't going so great.
One day a guitarist from a local band called the Seeing Eye Monkeys will give Green a paperback of My Name Is Asher Lev, the 1972 coming-of-age novel by Chaim Potok. It's about a young Hassidic Jew in the 1950s who longs to be a painter, and at first Green won't know what that has to do with a heavyset black kid aspiring to be a musician 40 years later. Asher Lev's dreams and talent cause him to be alienated from his strict, conservative family and friends, who balk at his work.
By the end, Green gets it. Art has to tell the truth, and that sometimes might push away the people you like or love. But the ones who truly love you won't stray far.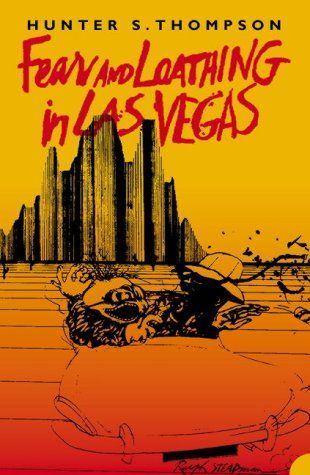 Hannah's a senior at St. Mike's who has endured more despicable treatment than the freshmen can imagine. For one, she had to live with a horrifying nickname that taunted her in every hallway and stairwell. But she figured out a way to make it stop.
Hannah began gathering embarrassing secrets about the kids who tormented her, and that became her secret weapon. If she ever revealed them, the other kids would annihilate her – but not before she ruined them first. In nuclear warfare they call that "mutually assured destruction." I imagine someday she'll grow up and become a journalist, having seen the power that stories wield.
She's particularly blown away by Hunter S. Thompson's gonzo journey through Sin City in his 1972 book Fear and Loathing in Las Vegas. She'll love the demented rebelliousness of it, and she'll also recognize that a big part of his journalism is total bullshit, which will make her smile. (By the end of Brutal Youth, you'll know why.)
In another Thompson essay, The Banshee Screams For Buffalo Meat, Hannah will see him describe his Fear and Loathing accomplice as "too weird to live, and too weird to die."
She'll have that tattooed on the inside of her left arm, right below a scar she doesn't like to talk about.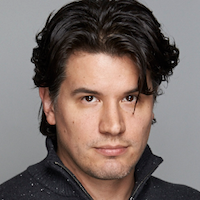 Anthony Breznican was born and raised in Western Pennsylvania and graduated from the University of Pittsurgh in 1998. He has worked as a reporter for The Arizona Republic, Associated Press, and USA Today. He is currently a senior staff writer for Entertainment Weekly.

The lovely folks at St. Martin's Press is giving away a paperback copy of Brutal Youth! If you're interested in bullying culture and how it's treated, and want something raw and thought-provoking, Brutal Youth is a must read! You can check out my review of Brutal Youth if you're unsure!
The rules:
This giveaway is opened only to US and Canadian residents!
The giveaway will run from June 9 to June 23, 2015.
You must be 13 years (with your parent's permission) or older.
You will be disqualified if you pick up entries you haven't done.
If the winner does not respond to my e-mail within 48 hours, I will have to choose another winner.
I are not responsible, nor is St. Martin's Press, for any items lost in the mail.
Have you read any of the books that Anthony picked for his characters? Are you looking forward to reading any of them?
* Also, if you haven't checked out the previous Essential Reading posts, check them out over here where David Arnold, Becky Albertalli, and many authors picked books their characters would have on their essential reading list.