Inspired by Pure Imagination Blog and Stacked.

Let's be honest, nobody follows the age-old cliché that tells us not to judge a book by its covers. If you say you do, I am side-eying you. Book covers are the first thing that attracts any of us readers to a book. Before you pick up a book, the cover can essentially make or break a book. If I don't like a cover design, I won't pick it up. Lucky for us, publishing companies publish different cover designs, especially when a paperback book comes out. Sometimes we like it, sometimes we don't. Let's discuss these cover changes, shall we?
Today, we look at the cover of Shatter Me by Tahereh Mafi!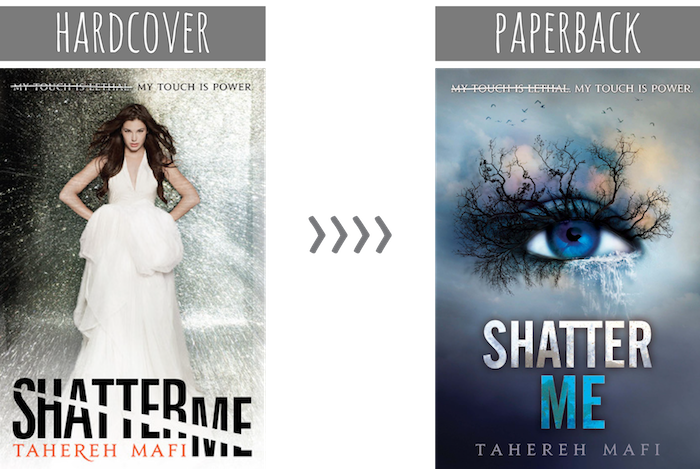 I am a bit creeped out by both covers (in sort of a bad and a good way). Hands and eye. Keep that in mind. ;D
Covers of girls in dresses make me yawn, and Shatter Me is one of them. I do like covers with girls in dresses, but only if the dress is gorgeous. Unfortunately, the white dress on this cover is not because of the weird puffs at her hips. Is the dress designed to have puffs? Or is she holding the front of her dress up???  I am mildly creeped out that you can't see her hands. WHERE ARE HER HANDS?? I keep entertaining the thought that the puffs are pom poms (but obviously, cheerleaders aren't a thing in this book).
I do like the background. It looks like a million broken pieces of a mirror shooting at her. It's kind of awesome. I also like that the title is shattered (pun totally intended). It's almost like a strike across the words (similar to the tagline at the top).
Now, the paperback cover of Shatter Me intrigues me. Eyes are generally creepy and awesome if it's created beautifully. And guess what, the eye on this cover is insanely gorgeous. (I'm secretly glad that the eye isn't staring straight at me because hello, nightmares!) I love the way that the eyelashes are shaped into tree branches. It's quite eerie and pretty. And that waterfall coming from her eye, ahhhh. Beautttiiffuuulllll. I love it when you can see a reflection in the eyes. Here, you can see a bird here. (I don't quite know the significance of it since I never finished the book, but it should be important, right?) I just really appreciate the detail that the designer put into the eye.
Which cover design do you prefer? Is there anything you would change in it?