Inspired by What She Reads, Pure Imagination Blog, and Stacked.

I admit I'm a book cover snob. Who isn't though?

Book covers are the first thing that attracts readers to a book. A good cover can draw someone is, just as a bad cover can easily draw someone away. It can essentially make or break a book. Holy, Mother Cover! is where I showcase the book covers that stand out (or make me cringe) and discuss cover changes.

(A big special thanks to Georgie at What She Reads for bestowing me this fabulous name and to Charlotte at The Simple Tales for creating the beautiful feature banner you see before you.)
Post-It notes (or sticky notes if you're not referring to it by the popular brand name) might be all over the place—in office supply stores, on your walls, or between the pages of your book—but you know what they aren't on? Book covers.
Post-It notes are not a popular trend on book covers. Sure, you can put a Post-It note on the front cover, but it isn't really part of the cover a book designer created. (Doesn't work like that!)
Before I went on the hunt for the covers, I thought it would be easy to find them because it's an office supply that's used all the time. If there's book covers of paper cut-outs, there surely will be covers with Post-It notes, right? Wrong. I had a hard time finding them. They seem to be unloved by book designers. I guess it's not their time, but in the first row, those are books that have been published this year. So, maybe that's we'll be seeing more of this trend?)
But in the meantime, we are celebrating Post-It notes covers!
TREND: Post It Notes
The Last Time We Say Goodbye | The Queen of Bright and Shiny Things | All the Bright Places
The Screwed-Up Life of Charlie the Second | Buried | Then We Came To The End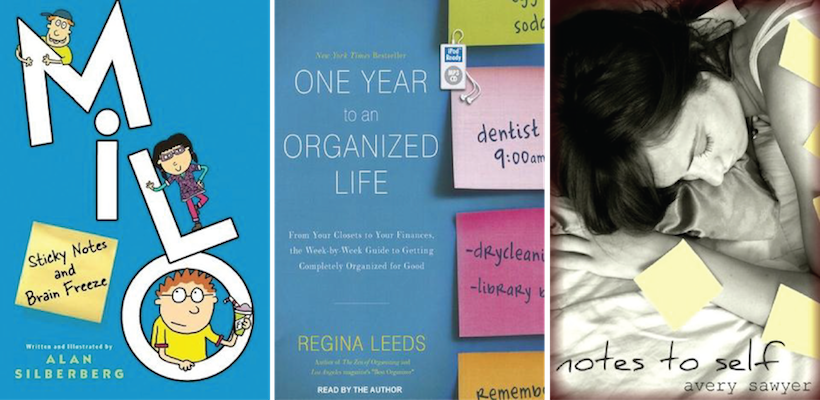 Milo: Sticky Notes and Brain Freeze | One Year To An Organized Life | Notes To Self
Best post it notes cover? The Last Time We Say Goodbye! Hands down!
I love that the Post-It note is stuck on a mirror (since that's how I usually leave messages for people) and I love the frame. The cover looks like it's a photo taken at a well-off family's house or a museum. Just love it.
What about you? Which book cover do you think has the best post it notes? Can you think of any other books with this theme?