Inspired by What She Reads, Pure Imagination Blog, and Stacked.

I admit I'm a book cover snob. Who isn't though?

Book covers are the first thing that attracts readers to a book. A good cover can draw someone is, just as a bad cover can easily draw someone away. It can essentially make or break a book. Holy, Mother Cover! is where I showcase the book covers that stand out (or make me cringe), and discuss cover changes.

(A big special thanks to Georgie at What She Reads for bestowing me this fabulous name and to Charlotte at The Simple Tales for creating the beautiful feature banner you see before you.)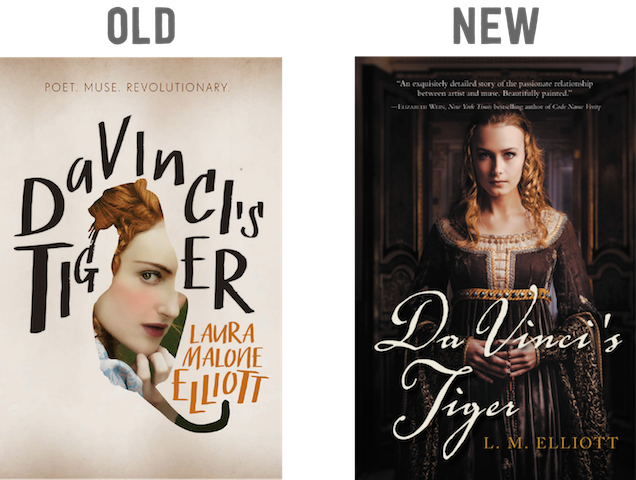 What do I think about the cover design?
 SO MUCH LOVE.
If I could, I would write sonnets about the gorgeousness of this cover design. I love it so much. It looks unlike the historical fiction covers I've seen, which makes this cover feel fresh and unique. I'm very in love with two things: 1. the silhouette of the tiger with the girl inside (it's a gorgeous effect, and I love the incorporation of the title into the cover design) and 2. the typography (it's perfectly aligned around the silhouette). This cover is one of the main reasons I wanted to read it.
Would I buy this book based on the cover? YES YES YES.
What do I think about the cover design? 
Such a letdown.
Nothing can top the original cover. I feel disappointed with this new cover design of Da Vinci's Tiger because it doesn't give me the same excitement and uniqueness that the original one did. I'm less inclined to pick it up. However, I understand the direction they're going with. It definitely does exude more of that Renaissance period that the book's set in and the art that's a big focus. This cover won't confuse you—you expect historical fiction when you see it.
Would I buy this book based on the cover? No thank you. 
Final Verdict: The original cover design. Hands down. No question. Now I'll just weep in the corner because we don't get the original one.
Which cover design do you prefer? Would you buy the original cover design or the new one?