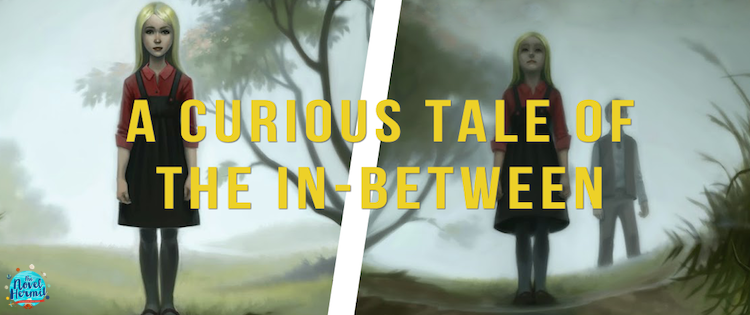 [note note_color="#EECF4D" text_color="#ffffff"]A Curious Tale of the In-Between by Lauren DeStefano •  September  1, 2015 • Bloomsbury
Website | Twitter | Goodreads | Amazon | Barnes & Noble |  The Book Depository
Pram Bellamy is special–she can talk to ghosts. She doesn't have too many friends amongst the living, but that's all right. She has her books, she has her aunts, and she has her best friend, the ghostly Felix.
Then Pram meets Clarence, a boy from school who has also lost a parent and is looking for answers. Together they arrive at the door of the mysterious Lady Savant, who promises to help. But this spiritualist knows the true nature of Pram's power, and what she has planned is more terrifying than any ghost.[/note]
[note note_color="#BFD1D1″ text_color="#ffffff"]I received this book for free from Bloomsbury in exchange for an honest review. This does not affect my opinion of the book or the content of my review.[/note]
First sentence: "Pram died just before she was born."
I took a chance on Lauren DeStefano again after I had been disappointed by her previous books, and she surprised me with A Curious Tale of the In-Between, which was a solid book—one that I actually enjoyed and wanted to learn more about the world of the In-Between.
This Middle Grade follows Pram Bellamy, a girl who was born under unusual and depressing circumstances and have the ability to see and talk to ghosts, as she is essentially thrust into the world of the living when her aunts decide that it's best she goes to school with other kids. Before, she had only her aunts and Felix, a ghost that had been her only friend growing up. Now, at school, she has Clarence Blue, a boy she befriends who pushed away all his friends and who also suffered a death of a parent. The two kids have questions they want answered, and they decide to go to a Psychic, Lady Savant, who is not what she seems. You're in for spookiness and adorableness.
CHEERS
Friendship friendship friendship, at its best.
Growing up, Pram didn't make friends easily. People stayed away from her because she made them uncomfortable. The only friend she made is Felix, a ghost who lives by the pond in her yard. When she is forced to go to school, she meets Clarence. Do you know how delightful it was to see Pram with living friends? It was frickin' adorable to see her connecting with Clarence because he didn't shy away from her. Pram found someone who she can trust with her secret, and who is protective of her (+ vice versa).
It's honest about death and grief.
It doesn't shy away from the sadness and the grief people experience when they lose their loved ones. You see these kids experience, and reading the prose description of it is incredibly heartfelt and beautiful. These kids do different things to cope like trying to find answers or finding people who brighten their life; it's things that adults do too. Despite the sadness, there's a sense of hope underlying the story; death is not the end. You see that in the ghosts and the In-between.
Lady Savant is a worthy adversary.
Lady Savant is a psychic who puts on a show at a club à la John Edwards, speaking to her audience about their dead loved ones. She has a special interest in Pram, and when you find out what that interest is, she becomes even more creepy than you first thought she would be. I loved where her story was leading us. (She made me think of Elizabeth Báthory for…reasons.)
Pram deserves all good things in her life.
She was born under incredibly sad circumstances, and because of that, it has influenced her upbringing. She isn't like normal girls; she can see and speak to ghosts. She makes people uncomfortable, hence why she doesn't get along with too many people who aren't her aunts or Felix. Despite these things, Pram is a smart and intuitive girl who cares deeply about the people she loves. It nearly broke my heart seeing her try not to disappoint the people around her. I just wanted to shower Pram with all good things.
Memory is a valuable asset.
You see a lot in A Curious Tale of the In-Between that memory is important. It's a source of power. Many characters (living and not) forget things, and that only anchors them in the unknown. They lose apart of themselves, and I love seeing how it plays throughout the story.
JEERS
These are not deal breakers. Just things that I wanted more or less of.
I wanted the narrative to slow down during Lady Savant's scenes because I wanted to see more of her and learn more about her life. Yeah, we get to see glimpses of them, but I didn't think it was enough. I needed more.
Pram sets out to find her Sailor dad, but nothing really happens (for very good reason though). Thank goodness that there's a sequel because there are so many things like Pram's dad and Pram's powers that I need more of.
There were hints of romance in Pram's and Clarence's friendship.
They liked each other, but sometimes, their interest in each other felt a bit romantic. It's cute, but I was internally groaning at that because I don't handle romance between young people well (I'm such an old grumpy lady). However, that didn't dissuade from how adorable Pram and Clarence's relationship is. 
Want a Middle Grade to read about ghosts and friendships? A Curious Tale of the In-Between gives you just that as well as a main character and a world you'll want to learn more about. I'm glad I gave this book a chance because if I didn't, I wouldn't get to meet Pram. I'm excited for the sequel to see more of Pram and her powers in action.