A love letter to the craft and romance of film and fate in front of—and behind—the camera from the award-winning author of Hold Still.
 
A wunderkind young set designer, Emi has already started to find her way in the competitive Hollywood film world.
 
Emi is a film buff and a true romantic, but her real-life relationships are a mess. She has desperately gone back to the same girl too many times to mention. But then a mysterious letter from a silver screen legend leads Emi to Ava. Ava is unlike anyone Emi has ever met. She has a tumultuous, not-so-glamorous past, and lives an unconventional life. She's enigmatic…. She's beautiful. And she is about to expand Emi's understanding of family, acceptance, and true romance.
I just had to see Nina LaCour, and saw her I did!
When I got to the event last Thursday, it was already kind of packed with Nina's friends, family, loved ones. I felt kind of awkward because I was by myself, and everybody here, knowing each other. (I did see a woman who I interviewed with last year for a copy editor position that I didn't get. That kind of freaked me out. Ha. Small world.)
Nina was introduced. She talked about her book, and recapped a bit of the story to prepare us for the passages she was reading. The first passage was about Emi finding the green sofa and calling people to help her move it, and the second passage was part of the script in the book (there's a screenplay within the book).
Q & A
Did you have a say in the cover? (actually phrased "Tell us about the cover")
With Nina's previous covers, she didn't really get a say, but with Everything Leads to You, she got to collaborate with the designer of the cover. The first cover mockup was of a dollhouse version of the green sofa with a giant hand arranging a tiny pillow. The cover designer was trying to play with the idea of design and somebody orchestrating a set. Nina didn't like it because it was so unromantic and weird. Nina and the cover designer went through tons of cover drafts, putting together different green sofas and different giant hands. It just didn't work. The next cover mockup looked like the current one. (Fun fact: the lettering on the cover was done by an intern at the Penguin office.)
How did Nina learn set design (because it's a big part of the book)?
Nina knew she wanted to write about a girl who worked in the movies, but wasn't quite sure what exactly. She didn't want Emi to be an actress. Nina loves interiors, and loves looking at design blogs and design books. She has a close friend who's close friends with a production designer, Katie Byron, who arranged Like, Crazy. Nina emailed Katie, who was really excited because her job was never reflected in films or literature and that production design is very much about storytelling. Katie told Nina stories of interns  (like a girl who was a runaway), which inspired Nina to create a character after them.
She got a tour of the Modern Family, and Bones. (Little post-it notes of errands the characters need to run. The production designer help form what the characters will be like.
Does Nina write books with the idea of it being on a film? 
Nina saw The Disenchantments as a movie because it has a roadtrip and an adventure. Nina said that Everything Leads to You is the least cinematic of her books because her main character works on a movie set and there's a screenplay (so that covers the cinematic portion). Nina also said this book is the least cinematic because Emi is her chattiest narrator. (Her main characters for the previous books were more observant, while Emi expresses her feelings immediately aloud)
Can Nina talk about the Hold Still movie?
She didn't have a film agent for Hold Still (but she does have one for The Disenchantments). She didn't want to sell the rights to her book, but wanted to make this movie. Nina, her wife Kristyn, and her friend Amanda decide to film it themselves. At the moment, Hold Still is being sound edited in LA.
Can Nina talk about her next project? (Her father asked this question which was adorable.)
Nina has two projects in the works. One is top secret and the other is another Young Adult book for Dutton. That book is about a girl in college, who has shut out everybody in her life, in winter break. It goes from the present to the past, telling what happened during her senior year.
Nina said she wants to do adult fiction, but people want her Young Adult books so she's focusing on that.
How has her writing life changed being a parent?
Nina used to be precious about her writing time. She used to need three hours, would want a clear desk and quiet room, and tea. It had to be the perfect setup. Now, with a kid, she'll take 20 minutes in the messy bedroom. She stays up later to write. She squeezes writing whenever she can, and writes when the opportunity arises.
Why did she choose a green sofa?
Nina just felt like the sofa had to be green. Perhaps to Emi, the green reminds her of being enchanted, a fairytale, and a forest.
Does Nina do any storyboarding before she writes?
She starts with whatever comes to her first. It's usually a couple of lines. She makes a tons of notes, then she'll put it in order. It's like an outline, but not really.
Signing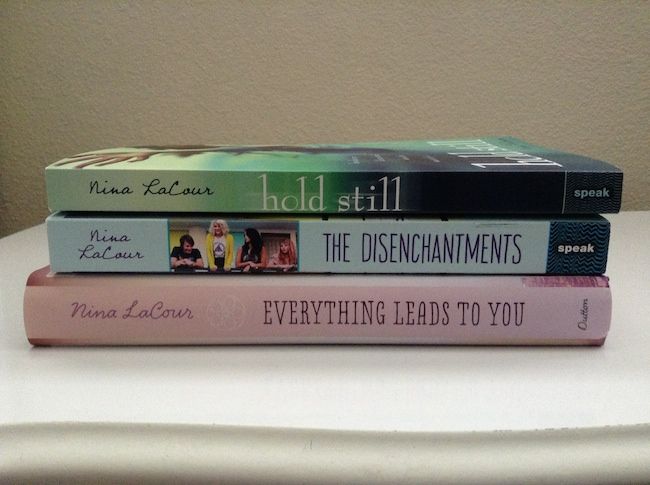 These were the books I got. Nina was very sweet. She asked me if I tweeted at her, which I said I did! I told her how much I adore Hold Still, and that I was saving The Discenchantments for the Summer (because I'm gonna do a YA roadtrip reading fest). When I said all these things, I just felt awkward! (I'm not very great at talking to authors, especially ones who live in the Bay Area.)
Have you read any of Nina LaCour's work?