Inspired by What She Reads, Pure Imagination Blog, and Stacked.

I admit I'm a book cover snob. Who isn't though?

Book covers are the first thing that attracts readers to a book. A good cover can draw someone is, just as a bad cover can easily draw someone away. It can essentially make or break a book. Holy, Mother Cover! is where I showcase the book covers that stand out (or make me cringe) and discuss cover changes.

(A big special thanks to Georgie at What She Reads for bestowing me this fabulous name and to Charlotte at Gypsy Reviews for creating the beautiful feature banner you see before you.)
Welcome, people of Armchair BEA! This is my beloved book cover feature! Just because we aren't at BEA doesn't mean we can't look at gorgeous book covers!
For this theme post, I bring you covers of books about witches! I'm pretty excited because witches are cool. ;)
When I was looking for gorgeous covers of books about witches, I couldn't find a lot that I liked. Most contain a girl, and I'm generally not a fan of those. Awfully disappointing. Though, I did manage to find these lovely ones!
THEME: Witches!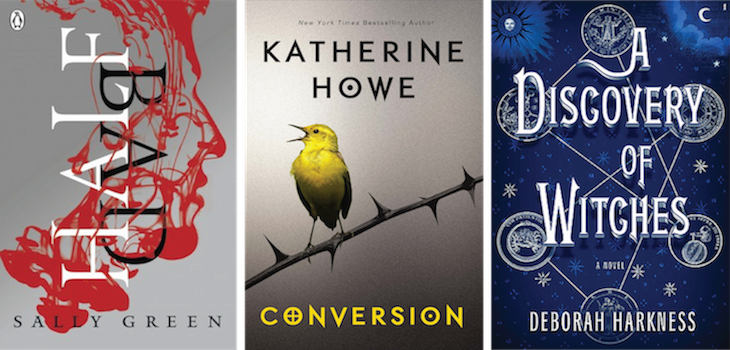 Half Bad has one of the best covers I've seen this year. I love that each word of the book title is arranged horizontally, acting as a mirror for the other word. It's a great representation of the book. You have two sides: the white witch and the black witch, the good and the bad. I really love the red smoke, which also looks like blood diffusing in water. You just know that somebody is going to get hurt in this book. And can you see anything else with this cover? There's a face! When I first looked at the cover, I didn't see it. It's like an optical illusion! That's fucking awesome!
I really like the eeriness and uneasiness I feel when I look at Conversion. Sure, it looks very simple and stark with a bird and the thorn branch, but it's a powerful image. I love that the bird isn't the typical crows, but a yellow colored one (I believe it's a yellow warbler?). I think putting the warbler makes the cover more ominous because warblers are known for their sweet voice and the yellow color exudes that warmth. That's unexpected for what we know of witches. If the warbler moves a bit, its feet will touch the thorn, and who knows what will happen to the bird, right? It's like this bright, sweet bird is getting snuffed out. I don't know why but to me, the cross and the dots in the 'O' totally scream 'WITCH' to me. Maybe it's a bit satanic? Hahaha.
A Discovery of Witches is an unexpected choice. I like that it's just symbols, which totally screams "witch" to me, instead of being heavily illustrated or photographic. The symbols also kind of remind me of tarot cards, and the future. (Weird, yeah?) I like the background because it makes me think about the night sky. The lettering on the title is makes the title pop out more, since it's 3-D. I personally wouldn't buy it based on the cover alone, but it's a unique cover, and I have to appreciate that.
I have to go with a beautiful old classic. The Witches. I remember being slightly afraid of this cover when I was younger. To me, their faces were perfect interpretation of witches. I remember feeling like if I stared at them too long, they'd cast a spell on me. (Ha!) Quentin Blake, the artist, has a distinct style to the way he illustrates, and made a unique interpretation of witches that became perfectly engrained in Roald Dahl's books. It works. That cover is part of my childhood, so I have a soft spot for it (even though I'm still slightly apprehensive of the witches).
Adorable. That's how I would describe The Witch Family. I love the usage of the watercolors (which I'm not actually sure if the cover looks exactly like that). It creates such a whimsical feeling to the overall cover. I really love the colors, especially the lightness around the pale yellow moon and the green title color (the latter of which pops out). The font of the title and author name are very cute. The little curls at the edges of each letter gives the title an extra personal touch without being overwhelming. And can we talk about the illustration? It's so cute. I love that the little girl is just having the time of her life, while an actual witch sits next to her on the broom, enjoying herself as well. (And look at how fabulous the witch looks wearing fabulous black boot heels and crossing her ankles. I love it!) Also, the cats are such a great addition. This cover is the definition of CUTE.
Which witch book has the best cover? Do you agree with any of my choices? Do you have a suggestion for my next cover theme post?