Stacking the Shelves is a weekly meme hosted by Tynga's Reviews where you share books you are adding to your shelves, may it be physical or virtual. You can include books you buy in physical store or online, books you borrow from friends or the library, review books, gifts and of course ebooks! I did buy books this week from Amazon, but they will not arrive until next week or so.
Won
BOUGHT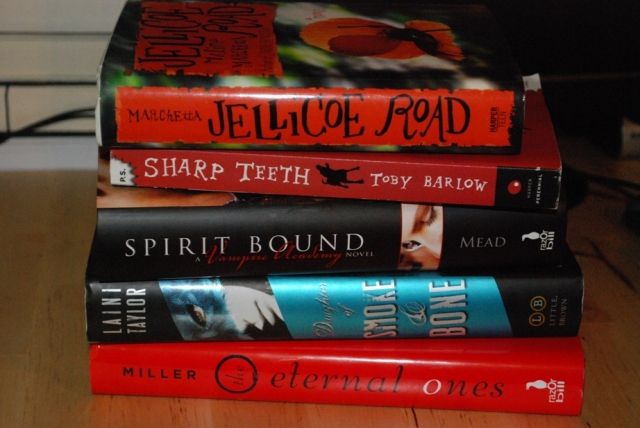 ALSO.
If you have missed my previous posts, check them out: 
Tuesday | Here is my Top Ten on "the best book-to-movie adaptations," which includes Matilda, Atonement, Persuasion.

Wednesday | I "wait on" The 100 by Kass Morgan. It reminds me of Battlestar Galactica (with a smidge of Lord of Flies) because of the living in spaceship thing, Earth being inhabitable, and kids basically stranded. And someone told me that a TV will be made? Wow. 
Friday| I'm giving away my ARC of Sweet Peril by Wendy Higgins (It's the second book of the Sweet Trilogy). I realized that I was never going to read it, so why don't I give it away to somebody who will? 
AND
I apologize for not having a review up this week. I was planning to type it up, but I accidentally knocked my laptop onto the floor Wednesday night, so my laptop is no longer functioning. :My writing (and graphics for this blog) hadn't been backed up for the past month. That set me back, but no worries. I took it to the Apple Store to get it checked, and somehow, my laptop began to work. Barely. I managed to backup my resume/cover letters, but none of my other writing because my laptop suddenly froze. Fast forward to 4+ hours, I backed up all the essentials (writing + graphics), so I don't have an excuse anymore! It was a pretty stressful couple of days. I won't be getting my laptop fixed 'cause of the cost. In the mean time, I'm lucky my uncle gifted my family with an awesome desktop computer. Hopefully, I will make up my lack of reviews with more posts this coming week. 
How was your week? What books did you pick up?