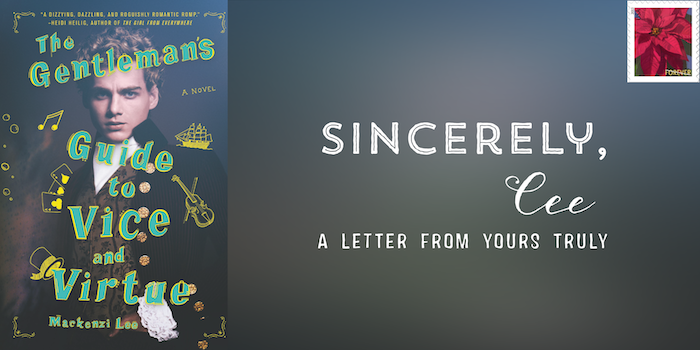 Dear Mackenzi Lee & The Gentleman's Guide to Vice and Virtue,
[quote cite="Goodreads" url="https://www.goodreads.com/book/show/29283884-the-gentleman-s-guide-to-vice-and-virtue"]
An unforgettable tale of two friends on their Grand Tour of 18th-century Europe who stumble upon a magical artifact that leads them from Paris to Venice in a dangerous manhunt, fighting pirates, highwaymen, and their feelings for each other along the way.
Henry "Monty" Montague was born and bred to be a gentleman, but he was never one to be tamed. The finest boarding schools in England and the constant disapproval of his father haven't been able to curb any of his roguish passions—not for gambling halls, late nights spent with a bottle of spirits, or waking up in the arms of women or men.
But as Monty embarks on his grand tour of Europe, his quest for a life filled with pleasure and vice is in danger of coming to an end. Not only does his father expect him to take over the family's estate upon his return, but Monty is also nursing an impossible crush on his best friend and traveling companion, Percy.
Still it isn't in Monty's nature to give up. Even with his younger sister, Felicity, in tow, he vows to make this yearlong escapade one last hedonistic hurrah and flirt with Percy from Paris to Rome. But when one of Monty's reckless decisions turns their trip abroad into a harrowing manhunt that spans across Europe, it calls into question everything he knows, including his relationship with the boy he adores.[/quote]
Let me start this by saying YOU WILL FREAK OUT WHEN YOU READ WHAT THIS BOOK IS ABOUT. You'll want to have every inch of this book in your life because what's not to love about:
Mackenzi Lee's writing. You can really tell her love for history. You see it here and in her debut book This Monstrous Thing, which was inspired by Mary Shelley's Frankenstein.
A boy trying to figure out his feelings for his best friend/traveling companion. (I expect lots of adorableness and me wanting them to kiss kiss kissssss.)
Adventure throughout Europe that involves "dangerous manhunt, fighting pirates, highwaymen," and so on.
FUN!
I don't know about you, but I am in desperate need of The Gentleman's Guide to Vice and Virtue.
Sincerely,