Inspired by What She Reads, Pure Imagination Blog, and Stacked.

I admit I'm a book cover snob. Who isn't though?

Book covers are the first thing that attracts readers to a book. A good cover can draw someone is, just as a bad cover can easily draw someone away. It can essentially make or break a book. Holy, Mother Cover! is where I showcase the book covers that stand out (or make me cringe) and discuss cover changes.

(A big special thanks to Georgie at What She Reads for bestowing me this fabulous name and to Charlotte at Gypsy Reviews for creating the beautiful feature banner you see before you.)
Shooooooooeeeesss. Be prepared for some major shoe envy. I want practically all the one you will see before you.
THEME: Shoes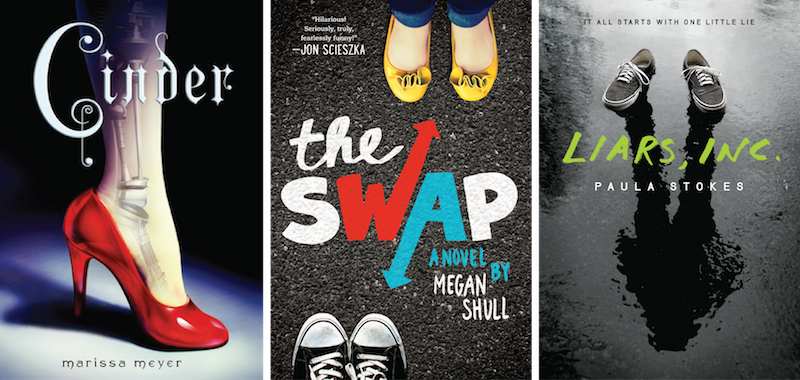 [row][column size="1/3″] Cinder deserves to be on this list. Just look at that cover! Aren't you as mesmerized by it as I am? Totally in love.
Everything about this cover captures my undivided attention. My eyes are immediately drawn to the bold, red shoes. It's very striking because it's not the type of shoe you'd associate with Cinder(ella). I love that you can see the robotic parts in the leg. It tells you that there's a bit of a futuristic/android twist to this story. And the font used for the title is insanely gorgeous. I love how it looks futuristic, yet antiquated. [/column] [column size="1/3″]Good old Converse and ballet flats. Who haven't worn these in their lifetime? I wore both of them a lot in high school. (Though, I never had yellow flats, which I wanted and still do.)
I love how vibrant the colors are in The Swap! Like Cinder, my eyes are drawn to the colors, which really complements well with each other. There are a lot of covers that looks like The Swap, but what makes it different is the title. I love the title because of the arrows in the 'W' and 'A' pointing to the shoes. It's a wonderful touch that makes it standout. [/column] [column size="1/3″]The best part of the cover of Liars, Inc? The shadow in the rainwater.
I am incredibly impressed by this cover. Firstly, the font and coloring of the title fits well with the overall cover. It's so pretty. And secondly, the shadow of a person's body in the rain on the ground. There's no physical body! It's like the body is invisible, and that's why you can only see the shadow in the rain. Also, it's almost like the shadow is wearing the shoes. It's such a cool effect.  [/column][/row]
[row][column size="1/3″]
The Devil Wears Prada
's cover is ICONIC. My mind thought of this book first when I think of book covers with shoes on it.
Whoever designed this cover deserves major props. You know you have a great cover when the image just smacks you in the face with your mouth wide open letting the flies in. The shoe with the devil's fork is frickin' amazing. The 'V' in the title has a little devil's tail, which I find really cute! I don't know what else to say to convey my love for the shoe design. Ha. [/column] [column size="1/3″]The Leftovers is smokin'. At least the cover is. (See what I did there?)
I really love this cover. A pair of men's oxfords smoking isn't something I see regularly on the bookshelf. I love the image because it beautifully conveys the synopsis where people start disappearing as if out of thin air. The smoke reminds me of when a magician disappears in the midst of smoke to distract onlookers. Poof. Also, I love the dark red of the wall. It's such a pretty color.[/column] [column size="1/3″]Why am I thinking that if the cover model on The Witch's Daughter clicked her heels, she'd conjure something?
The cover has a very historical feel to it; it looks to be depicting something from centuries ago. Perfect, I guess since it just screams "witch" to me. I think it's mainly because of the stockings and the style of boots. Those are things that witches typically wear in popular culture. I really like the boots. I'm not sure if I can pull it off, but hey, different shoes works for different people. And in this case, witches. [/column][/row]
Thank you to Stacie and a couple of other people for suggesting shoe covers for me. Even though I didn't use some of the suggestions, I appreciate it (and I'll probably use them for part two)!
Which book cover has the best shoe cover? Can you think of any other books with shoes on it that you absolutely love?