I think I'm back? In September, I've read more of my priority books than I have in previous months. Hallelujah! I'm so happy.
For those who do not know, Too Much TBR is a way to help me see which books I really need to read and tackle them. It helps a lot seeing a visual of the books on my TBR pile.
Let's discuss what I read last month, and what I'm reading this month!
In September, I had eleven books I wanted to read, and I read eight of the books! Yeeeee. Majority of the books I read in September didn't live up to my expectation. I felt my feet dragging for most of them.
These books were ones I really enjoy:
These were the books I was not loving as much because I had different expectations:
Spontaneous (super weird book about kids spontaneously combusting, which didn't really go anywhere or explored why everything was happening)
The Courage Test (liked the Lewis and Clark history, but wish it was woven in more into the story. Also had some weird plots that made it awkward.)
The Peculiar Night of the Blue Heart (loved the friendship between Lionel and Marybeth, but otherwise it was rather boring)
Heroine Complex (this was lighter than I had thought it would be, and it didn't focus much on the friendship between Aveda and Evie)
I had to DNF Vassa in the Night. It pained me to read it. It was a fairytale that was too bizarre for my head to wrap around.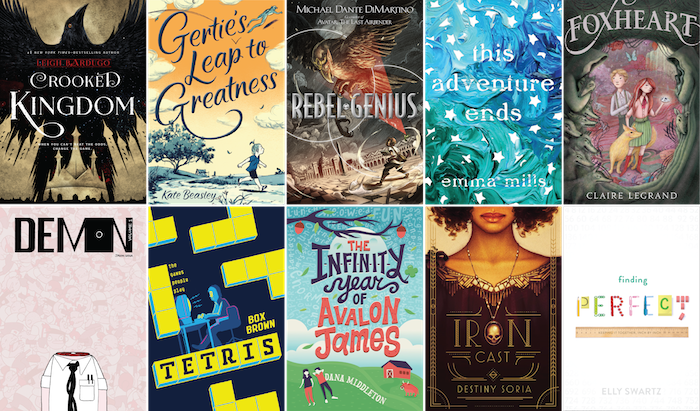 These are the books I gotta read in October!
YA
Crooked Kingdom (I haven't gotten around to reading even though everybody has be reading it immediately and raving at it. I NEED TO KNOW WHAT HAPPENS WITH THESE THIEVING BBS)
This Adventure Ends (Friendships! I'm in it for the friendships)
Iron Cast (Prohibition era, magic, and cons! I'm excited to see what kind of things Corinne and Ada finds out about the world they're in)
A Monster Calls (need to re-read it!)
Middle Grade
Graphic Novel
I've already finished reading Demon Vol 1 (not for the faint of heart, but so riveting)
Tetris (all about Tetris!)
Note: All these books here do not account for other books that may slip into my TBR list (because mood reading will probably happen) nor of the comics I will be reading. I'm sure I missed other books I want to read this month too, but since I can't remember, it must not be priority, right? Let's hope I make a dent in my TBR books for October!
How was your September? Tell me what's on your October TBR list. Have you read any of the books on my lists? Or are you planning to read them?