I love comics and graphic novels, so what do I do with that love? Well, I turn it into a new feature!

From Panel to Panel is a new feature where I talk about the awesome (and perhaps not-so awesome) comic books and graphic novels I've read. Basically, this will be me pushing them onto your laps. You're welcome.
In March, the comics I will drop everything so it can be my one true loves involves DC Bombshells (who are back at it again fighting in WWII), my bb girl Batgirl traveling the world,  gravitating towards have heroines kicking ass in the form of Wonder Woman and a princess, a glamorous green haired fashion blogger, and the awesome Jughead Jones. My hands are itching for these comics in my life.
Get your shopping carts loaded with all these comics!
DC BOMBSHELLS • VOL. 3: UPRISING
EUROPE, 1941. War is raging across the continent. The forces of darkness are on the march—and the magic powers of heroes like Zatanna, Mera and Constantine have been stripped away. And in the underground cabarets of Berlin, the Joker's Daughter rules with an iron fist.
On the home front, the Batgirls—an army of freedom fighters modeled after their favorite Bombshell—battle against Gotham City's most infamous criminals with the help of Maggie Sawyer and Lois Lane. And deep inside enemy territory, a rebel alliance is forming. Batwoman, Catwoman, Zatanna, Harley Quinn, Poison Ivy, Raven, Constantine, the Huntress and Renee Montoya are ready to strike hard and fast against the Nazi menace.
But when one Bombshell turns traitor, all bets are off…
The thrilling alternate-history saga of DC's greatest heroines continues! Inspired by the hit DC Collectibles line, DC COMICS: BOMBSHELLS – VOL. 3: UPRISING reimagines the greatest conflict in human history! Collects issues #13-18. — DC Comics
Publication date: March 15, 2017 by DC Comics
Buy: LCBS · Amazon · Barnes & Noble · The Book Depository · Indigo · Comixology
Why I'm excited: DC BOMBSHELLS!!! These bombshells are back at it again! Expect the appearances of your favorite lady superheroes + allies, and some betrayal to occur!

BATGIRL REBIRTH • VOL. 1: BEYOND BURNSIDE
Barbara Gordon's heart belongs to Burnside, the ultra-hip Gotham City neighborhood. But some threats are bigger than Burnside. And when those threats come calling, Batgirl will answer!
When Babs plans a trip to train with the greatest fighters in the Far East, she has no idea her vigilante life will follow her. Lethal warriors are out to take her down, each bearing the mysterious mark of "The Student." And where there are Students, there must also be…a Teacher.
As part of the epic Rebirth launch, BATGIRL VOL. 1: BEYOND BURNSIDE is a perfect jumping-on point to start reading about Batgirl and her action-packed, crime-fighting adventures!
New York Times best-selling creators Hope Larson (A Wrinkle in Time) and Rafael Albuquerque (AMERICAN VAMPIRE) take one of Gotham's greatest heroes on a whirlwind world tour in BATGIRL VOL. 1: BEYOND BURNSIDE. Collects BATGIRL #1-6. — DC Comics
Publication date: March 22, 2017 by DC Comics
Buy: LCBS · Amazon · Barnes & Noble · The Book Depository · Indigo · Comixology
Why I'm excited: So long, Burnside! Babs is out there traveling the world—specifically the East—and fighting some wicked foes. Any time there's more Babs, I stand up with my hand raise, saying "yes please."
ANIMOSITY • VOL. 1: THE WAKE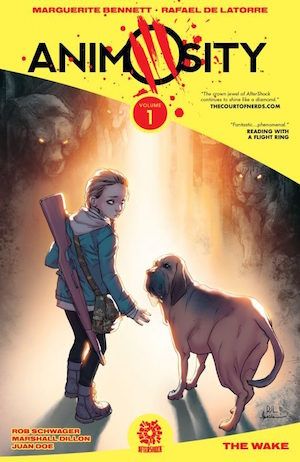 One day, for no reason, the Animals woke up. They started thinking. They started talking. They started taking REVENGE. Collecting the first four issues of the best-selling series, plus the special one-shot issue ANIMOSITY: THE RISE.
The world is plunged into chaos as the newly-intelligent Animals fight humanity, and simply fight each other, for their own life, liberty, and pursuit of happiness. In the midst of the turmoil is Jesse, an 11-year-old girl, and her dog, Sandor, who is devoted to her and her protection. One year after the incident, Jesse and Sandor begin a cross-country journey to find Jesse's half-brother, Adam, who is living in San Francisco.
Story by Marguerite Bennett and art by Rafael de Latorre and Juan Doe. — Aftershock Comics
Publication date: March 1, 2017 by Image Comics
Buy: LCBS · Comixology
Why I'm excited: Imagine animals becoming smart and talking in human language. Imagine them take revenge for all the things that humans have done to them. Now that is scary and intriguing!
It's springtime at Sheffield University. Will Susan, Esther, and Daisy make it to summer?
It's springtime at Sheffield University—the flowers are blooming, the birds are singing, and fast-pals Susan, Esther and Daisy continue to survive their freshman year of college. Susan is barely dealing with her recent breakup with McGraw, Esther is considering dropping out of school, and Daisy is trying to keep everyone and everyTHING from falling apart! Combined with house-hunting, indie film festivals, and online dating, can the girls make it to second year?
The Eisner Award-nominated series from John Allison (Bad Machinery, Scary Go Round) with artist Max Sarin delivers another delightful slice-of-life adventure in Giant Days Volume 4. Collects issues 13-16.– Boom! Studios
Publication date: March 8, 2017, 2017 by Boom! Studios
Buy: LCBS · Amazon · Barnes & Noble · The Book Depository · Indigo · Comixology
Why I'm excited: What shenanigans will Susan, Esther, and Daisy get into during the spring time? Who knows, but expect hilarious incidents and tight friendships.
The Gadflies were the most wanted criminals in the galaxy—robbing corporations to redistribute wealth to the destitute. Now, with a bounty to match their reputation, the Gadflies are forced to abandon banditry for a career as bounty hunters . . . 'cause if you can't beat 'em, join 'em—then rob 'em blind! Collects issues #1–#5.
Story Kurtis Wiebie and art by Mindy Lee, Bounty Vol. 1 collects issues #1-5. — Dark Horse
Publication date: March 15, 2017 by Dark Horse
Buy: LCBS · Amazon · Barnes & Noble · The Book Depository · Indigo · Comixology
Why I'm excited: This comic had me at "criminals in the galaxy," but also "bounty hunters." Those are two instant "OOH OOH YES GIVE ME THIS" to me.
OVER THE GARDEN WALLS ONGOING • VOL. 1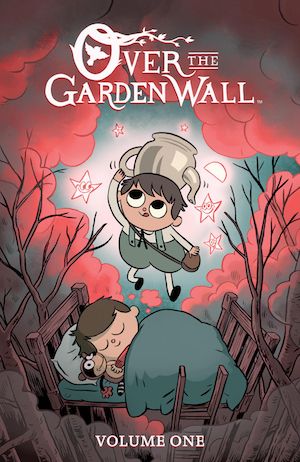 Two lost brothers venture across a strange forest and discover incredible and bizarre things on their journey home in a style reminiscent of The Wind in the Willows and Sleepy Hollow.
Return to the Unknown with new Over The Garden Wall stories that expand the world of the Emmy Award-winning Cartoon Network series.
Writer and artist Jim Campbell spins a tale that follows Greg and Jason Funderburker as they traverse the Unknown and find new friends along the way. Meanwhile, the Woodsman's daughter Anna, wanders alone in the Unknown after her father is tricked by the Beast. Written by Amalia Levari with artist Cara McGee—find out how Anna learned to survive on her own as she starts her journey to save her father before his fate is sealed. Both of these stories are something no Over The Garden fan will want to miss! – KaBoom!
Publication date: March 22, 2017, 2017 by KaBoom!
Buy: LCBS · Amazon · Barnes & Noble · The Book Depository · Indigo · Comixology
Why I'm excited: My heart loves anything with the Over the Garden Wall boys. (I am in need of a rewatch.)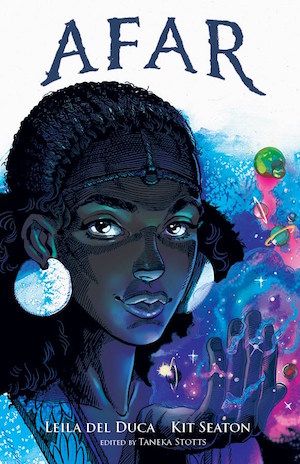 In a fantastical post-industrial desert, fifteen-year-old Boetema suddenly develops the ability to astral project to other planets while she sleeps. When she accidentally gets a young man hurt on a planet light-years away, she must figure out a way to project back to save him. On her own world, Boetema's two parents have temporarily left her and her thirteen-year-old brother, Inotu, to make a living as salt shepherds. Left to their own devices, the two siblings must flee across a dangerous desert when Inotu gets into trouble with a threatening cyborg bodyguard. As Boetema visits amazing planets and encounters vibrant cultures, she must confront her mistakes and learn to trust in Inotu as she navigates her newfound abilities. 
Story by Leila del Luca and art by Kit Seaton. — Image Comics
Publication date: March 29, 2017 by Image Comics
Buy: LCBS · Amazon · Barnes & Noble · The Book Depository · Indigo · Comixology
Why I'm excited: When this was announced, I was drawn to these things: "Sibling love! Astral projection! Different worlds!" And now it's out!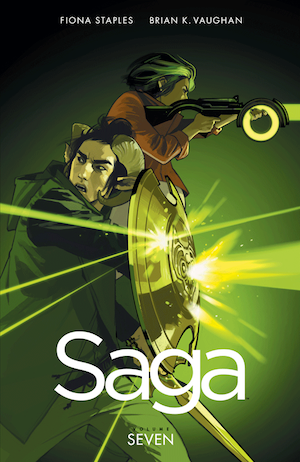 From the worldwide bestselling team of FIONA STAPLES and BRIAN K. VAUGHAN, "The War for Phang" is an epic, self-contained SAGA event! Finally reunited with her ever-expanding family, Hazel travels to a war-torn comet that Wreath and Landfall have been battling over for ages. New friendships are forged and others are lost forever in this action-packed volume about families, combat, and the refugee experience.  – Image Comics
Publication date: March 29, 2017, 2017 by Image Comics
Buy: LCBS · Amazon · Barnes & Noble · The Book Depository · Indigo · Comixology
Why I'm excited: Saga forever continues to destroy me. I've read what happens in this volume, and oh boy, my heart needs all these characters to be okay.
SPECIAL MENTIONS: Lucifer Vol. 2: Father Lucifer, Titans Vol. 1: The Return of Wally West, Zatanna by Paul Dini, Mighty Morphin Power Rangers Volume 2 TP, Deadly Class Vol. 5 Carousel, Harley Quinn Vol. 1 Die Laughing, Unbelievable Gwenpool Vol. 2 Head of Modok, East Of West The Apocalypse Year Two HC, Unbeatable Squirrel Girl Vol. 5 Only Squirrel In World
Do any of these comics interest you? Tell me which ones you're excited about! Have you read any of these?