December 19th, 2012 is when I started this blog. It's now 2015. It's been three years.
Three. Years.
Wow.
I started blogging three years ago, and it amazes me how far I've come from that person who wanted an outlet to talk about books but was essentially winging it—flying by the seat of her pants—for the first three-four months to, well, this present day Cee who's worked hard and made a lot of wonderful friends; got out of her shell and went to book events; gained publishing contacts; and learned so much about the book world. It's been truly rewarding to look back at where I was and where I am right now because that's all the hard work I've done!
I had trouble writing this blogoversary post because what is there to say? I think I'll try to list what blogging for three years have done to me.
I pay attention to the books that will be coming out. In the past, I didn't keep track or paid attention to those type of book news because I didn't feel the need, but now, paying attention to them is engrained in my soul. I gotta know what awesome books will be published!
I am comfortable going to book events alone. Most of my friends live across the ocean/country/states, or don't read YA, so they're unable to come with me. It was scary at first to go alone, but I've done it so much that it's no big deal to me now.
I know what books are for me, and what books aren't. (That doesn't stop me from reading the books I know I won't like because I'm still a big believer of giving a book a fighting chance even though I will hate myself for it. Still learning to trust my instincts.) In the past, I didn't have an idea of the kinds of books I like. I just picked whatever sounded interesting, but now, I have tropes I know I love reading about or dislike reading.
I have conquered Photoshop. Well, not really, but I did finally understand how to use it efficiently! I was so excited because Photoshop had always been a pain for me to use in the past, but not anymore! (Well, still a little pain.) I'm not a pro or anything; I'm just happy I can work in it.
Even though I may not like a book that someone else did, I can understand the pros of it.
I can read books with "unlikeable characters" because those people do exist, and those unlikeable character may be likable to someone else.
That's all I can think of. I'm sure I'm missing some other ones, but that's okay.
I have to give a big shout-out to my blogoversary twins—Kristen at My Friends Are Fiction and Jessica at Literary, Etc! Today is our third blogoversary! Three years for three bloggers. Crazy, right? It totally blew my mind! We're a triple threat! ;) You should give these wonderful ladies a visit!
And of course I have not forgotten to thank you all for supporting The Novel Hermit. I wouldn't be here without you guys. I feel so blessed to be in this wonderful community. You guys make me more excited about books, and you really inspire me. Thank you!
Let's celebrate in style! Party, confetti, dancing, and awesome giveaways!
(*The banner was made with the ice skater, penguin and landscape from Freepik.)
In honor of my third blogoversary, I want to celebrate by hosting two giveaways for US and international folks!
THE RULES
Giveaway #1 is only opened to the US.
Giveaway #2 is only opened internationally (as long as The Book Depository delivers to you).
The giveaway will run from December 19 to December 31, 2015.
You must be 13 years (with your parent's permission) or older.
You will be disqualified if you pick up entries you haven't done.
If the winner does not respond to my e-mail within 48 hours, I will have to choose another winner.
I am not responsible for any items lost in the mail.
1. For US people ONLY, you get to win a box of these books: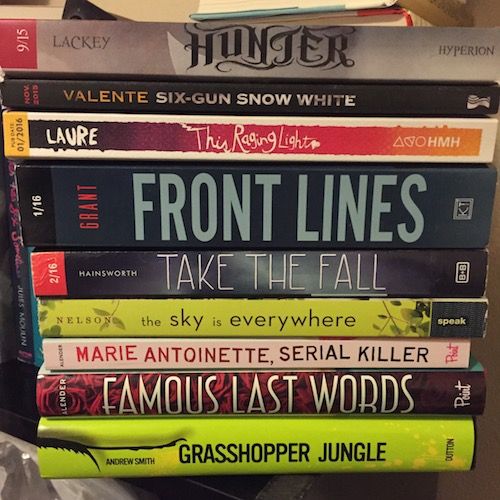 Hunter by Heather Lackey (ARC)
Six-Gun Snow White by Catherynne M. Valente (ARC)
This Raging Light by Estelle Laure (ARC)
Front Lines by Michael Grant (ARC)
Take the Fall by Emily Hainsworth (ARC)
The Sky Is Everywhere by Jandy Nelson (signed)
Marie Antoinette, Serial Killer by Katie Alender
Famous Last Words by Katie Alender
Grasshopper Jungle by Andrew Smith
Enter to win a box of awesome books!

2. For international folks ONLY, you get to pick from a book that I loved reading this year: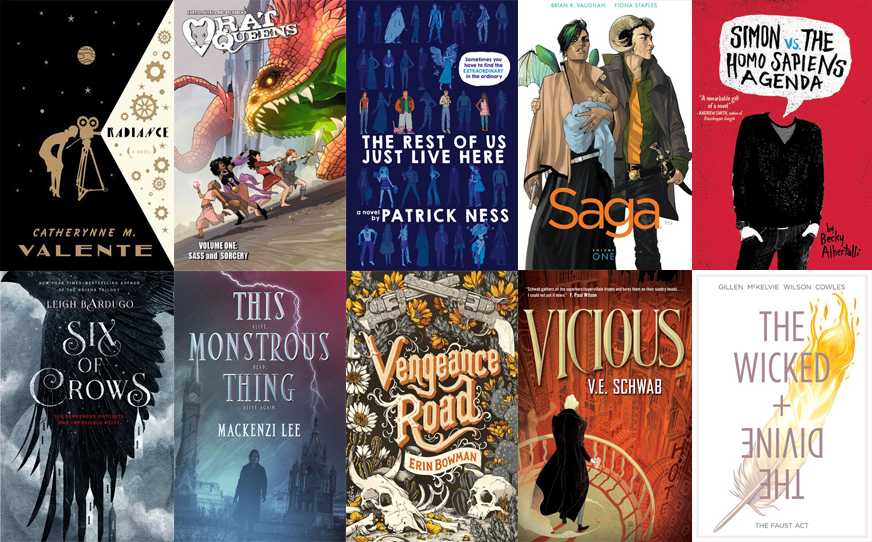 *For the comics (like East of West, Rat Queens, Saga, and The Wicked + The Divine), you can choose what volume you want. (So if you have volume one, you can pick volume 2.) 
Enter to win one of my favorite reads of this year

So? What are you waiting for? If you're a blogger, how long have you been blogging? What have you learned? How was your 2015?