I love fonts. You can say I'm obsessed with collecting them all. It's no secret to those who know me. You're Just My Type is a new feature where I showcase the fonts I absolutely adore and use. And hopefully, you will love the fonts I pick. 
YES. MORE GLORIOUS FONTS FOR YOU! I missed making these font posts even though it's only been two weeks since my last one. I AM ATTACHED!
There are four main fonts I'm showcasing and two bonus ones! (Yay for bonuses!)

Bright and Beautiful, baby! Alliterations ftw!
Do you remember cutting out letters from construction paper and gluing it onto a paper when you were little? Bright and Beautiful reminds me of that. Those letter cut-outs. Also, you know what's a beauty of this font? The ampersand is that awesome "AND." Ahhhhh. I got this font purely for that.
(A big thank you goes to Nuzaifa for introducing me to this beautiful font!)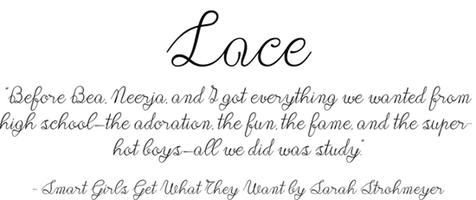 Fancy, right? (Imagine me imitating a British accent badly. I'm sorry to my British friends! :D)
Lace makes me think of doilies. I know lace really has nothing to do with doilies but it's the openwork patterns, guys! You can't deny the similarities! My cursive wasn't very neat when I first learnt it in school (it still isn't), so I am envious of how readable and smooth it is. My third-grade self is crying on the inside.

Look at that Blackletter! Isn't DK Courant gorgeous? It was "modeled after 17th century Dutch newspapers" and obviously, that meant I had to use a 17th century author! :D
Oh man, DK Courant makes me think of the History of the Books class I took when I was in college. I spent so much time reading about Blackletter for a research paper. It was pretty awesome, looking at extremely old manuscripts and books that my college owned. It makes you appreciate the effort that people put into creating typefaces, manuscripts, and the like.
Champagne & Limousines makes me think of two things: 1. Gossip Girl (during the first season) and 2. the "Glamorous" song by Fergie.
I really love this font because it brings me back to my first font sleuthing case. I remember it like it was yesterday. *insert reminiscing music* It was January. A cold, dreary day. I had spotted it on a header, calling at me, and you can say I fell head first in love with it. I made it my mission to find its name. I scoured through the internet looking for its name and you know how that story ended — successfully. *deep nostalgic sigh*
BONUS FONTS: This week on Creative Market, we get two awesome fonts that is only free for this week only! Yeeeee. Lover and Into the Vortex! You must thank Nikki @ The Paper Sea for these finds. She alerted me on Twitter, and what a godsend she is! <3
Which font is your favorite? Add all of them to your font collection! Let it grow!