Inspired by Pure Imagination Blog and Stacked.

Let's be honest, nobody follows the age-old cliché that tells us not to judge a book by its covers. If you say you do, I am side-eying you. Book covers are the first thing that attracts any of us readers to a book. Before you pick up a book, the cover can essentially make or break a book. If I don't like a cover design, I won't pick it up. Lucky for us, publishing companies publish different cover designs, especially when a paperback book comes out. Sometimes we like it, sometimes we don't. Let's discuss these cover changes, shall we?
Today, we look at the cover of Along for the Ride by Sarah Dessen!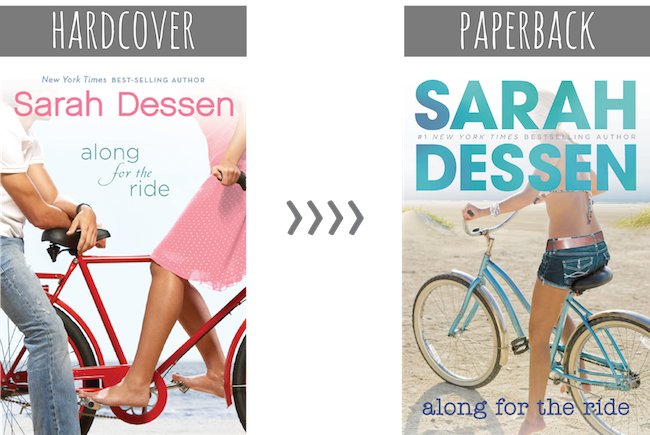 To be honest, I don't particular prefer one over the other because it's pretty forgettable, but I do appreciate that Along for the Ride covers have a color theme. For the hardcover, it's red and for the paperback, it's turquoise.
Reasons why I like the hardcover:
The red bicycle.

The title font, especially the "for the" because it adds a nice flair to it.
Reasons why I don't like the hardcover: 
It looks dated. 

It doesn't look summer-y.

It looks like it's about the romance. Sure the romance is a big part of the book, but the story isn't really about that.

I have A LOT of questions about the way the characters are positioned. For instance, how is that bike staying upright when the girl is sitting on the handlebars and the guy is just resting his forearms on the bicycle seat? Wouldn't the bike fall? And where is the guy's other leg? Does somebody who lives by the beach really wear jeans and (what appears to be) a white polo? 
Reasons why I like the paperback:
Summer themed! You have a girl in a bikini top and shorts on a bike. There's sand. SUMMER. 

The font for "Sarah Dessen." 

The color! Turquoise is one of my favorite colors! 

The position of the girl is more believable. 
Reasons why I don't like the paperback: 
The font for Along for the Ride. Just no. It doesn't compliment the font used for Sarah Dessen. It looks inferior.

Where's the water? It's so far away in the distance that it makes the sand look like a barren field. 
Which cover design do you prefer? Is there anything you would change in the covers?
(Note: I have yet to change the feature title because I'm still searching for the perfect name. :P.)