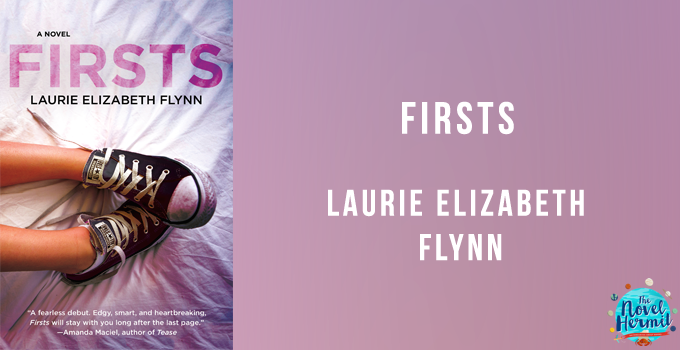 [note note_color="#C699B1″ text_color="#ffffff"]Firsts by Laurie Elizabeth Flynn • January 5, 2016 • St. Martin's Griffin
Website | Twitter | Goodreads | Amazon | Barnes & Noble |  The Book Depository | Indigo | Library
For fans of Holly Black and Nova Ren Suma, a gripping, hauntingly atmospheric novel about murder, revenge, and a world where monsters—human and otherwise—lurk at the fringes. Seventeen-year-old Mercedes Ayres has an open-door policy when it comes to her bedroom, but only if the guy fulfills a specific criteria: he has to be a virgin. Mercedes lets the boys get their awkward, fumbling first times over with, and all she asks in return is that they give their girlfriends the perfect first time- the kind Mercedes never had herself.
Keeping what goes on in her bedroom a secret has been easy- so far. Her absentee mother isn't home nearly enough to know about Mercedes' extracurricular activities, and her uber-religious best friend, Angela, won't even say the word "sex" until she gets married. But Mercedes doesn't bank on Angela's boyfriend finding out about her services and wanting a turn- or on Zach, who likes her for who she is instead of what she can do in bed.
When Mercedes' perfect system falls apart, she has to find a way to salvage her reputation and figure out where her heart really belongs in the process. Funny, smart, and true-to-life, FIRSTS is a one-of-a-kind young adult novel about growing up.[/note]
[note note_color="#BFD1D1″ text_color="#ffffff"]I received this book for free from St. Martin's Griffin for review consideration. This does not affect my opinion of the book or the content of my review.[/note]
First sentence: "Tonight, I'm doing Evan Brown's girlfriend a favor."
When people tell you that Firsts is unlike any YA you'll ever read, they weren't lying. What book have you read that was about sex?
THINGS TO KNOW ABOUT FIRSTS
Okay, so, it's more complex than strictly sex. You have a seventeen-year-old girl, Mercedes Ayres, who has  sex with virgins and instructs them on what to do so that they can give their girlfriends the perfect first time. It's that simple. What she's doing may sound sweet in her ears—giving those girls what she didn't have during her first time—but we know that what she's doing is fundamentally wrong. Soon, her open-door policy starts to unravel, and readers get to see the real reason Mercedes is doing this. It's not all sunshine and flowers for those girlfriends; it's more for Mercedes.
I thought Firsts would be about a teenager who enjoyed sex and didn't care what anybody thought, but that's far from the truth. Mercedes doesn't particularly enjoy it for the pleasure; sex is a source of power for her. She's stuck in her head, wishing to be like other girls who are innocent and such. I was honestly disappointed because sex is kind of portrayed as an unhealthy activity that Mercedes has been using as a crutch for her problems. It's not really full of sex positivity and acceptability I was expecting.
Be aware there's talk about sexual assault, but it's not properly dealt with.
Trigger warning!
I was quite uncomfortable that the sexual assault and the harassment were never dealt with in Firsts. It's an important event that happens, but the book doesn't address it. It's dismissed like it wasn't a big deal, and Mercedes doesn't report the assault or the blackmailing. None of the guys involved are punished. What the hell? What kind of message does that send? That if you don't say anything, everything will wrap itself into a neat bow and it'll all be okay? No, that's not what will happen. The book doesn't do a great job of addressing this issue.
Mercy has a decent support system in her friends.
Yes, the friendship could be infinitely better than what was portrayed in Firsts (especially when it comes to Mercedes and her religious best friend, Angela, who don't seem to be intertwined in each other lives as I had thought best friends would be). These people she call friends may not seem to be very close to her, but Mercedes still has people defending her. You'd think that her friends will be disgusted and drop Mercy when her actions are aired out in her high school. That's what you expect from all YA books that has this happening (it's a recurring trope). However, you have her friends stand by her. And when they do get angry at her, it's because she didn't tell them what's going on.
Mercy had a cute romance with her Wednesday "buddy."
Mercy doesn't think that highly of herself. She enters into a kind of "friends with benefits" relationship with her chemistry partner, Zach. He harbors feelings for her, but she is always quick to shut down any talk of his feelings for her. She doesn't find herself worthy to be in any relationship, especially with a guy who adores her. You can really see how much Zach cares about her.
Laurie Elizabeth Flynn makes Mercy a very sympathetic character.
What Mercedes is doing—sleeping with other girls's boyfriends—is pretty shitty. However, Laurie Elizabeth Flynn writes Mercedes in a way that makes you feel sympathetic for her. Mercedes is a pretty messy character, and that makes her interesting to read about. You might not condone her actions (and you might hate what she's done), but she just has issues that are being expressed and worked out in the most misguided and terrible way. Everybody makes bad decisions (Mercedes included), and nobody ever thinks of the consequences until it happens.
Should you read Firsts? Sure. Expect lots of messiness from Mercedes Ayres with other girls's boyfriends + an examination on sex and how this character treats it. Just remember that regardless of her actions—no matter how terrible they are—it does not warrant anybody to think it's okay to slut shame Mercedes and call her terrible names.