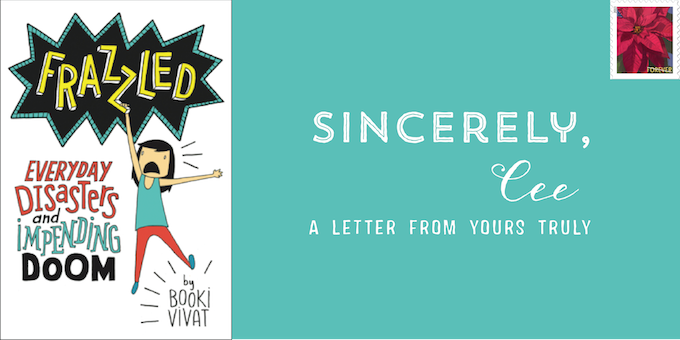 Dear Booki Vivat and Frazzled,
I want this Middle Grade. I need this Middle Grade. My pre-teen self wants this Middle Grade.
Meet Abbie Wu! She's about to start middle school and she's totally in crisis.
Abbie Wu is in crisis—and not just because she's stuck in a family that doesn't quite get her or because the lunch ladies at school are totally corrupt or because everyone seems to have a "Thing" except her. Abbie Wu is in crisis always.
Heavily illustrated and embarrassingly honest, Frazzled dives right into the mind of this hilariously neurotic middle school girl as she tries to figure out who she is, where she belongs, and how to survive the everyday disasters of growing up. With Abbie's flair for the dramatic and natural tendency to freak out, middle school has never seemed so nerve-racking!
Packed with hilarious black-and-white illustrations and doodles throughout, Frazzled takes readers through Abbie Wu's hysterical middle school adventures.Goodreads
Middle Grade is full of life changes. You enter a new world with new classmates, teachers, and interests. You have the battle the Middle Grade dramatics and social groups. I just remember feeling so out of place and trying so hard to be like everybody else. It felt like the end of the world. I can just imagine kids like Abbie Wu going through the exact same thing (and she probably does in Frazzled).
I'm so excited about Frazzled because it's about an Asian American girl's experience (I don't get to read Middle Grades of that very often which is a shame); it tackles the crazy things that Abbie Wu will have to deal with; I feel like I can relate to all the things that Abbie feels; it has illustrations and doodles, which I love to see in books; and it seems super cute and awesome! I need it in my life pronto.
Who else is excited about this book?
Sincerely,