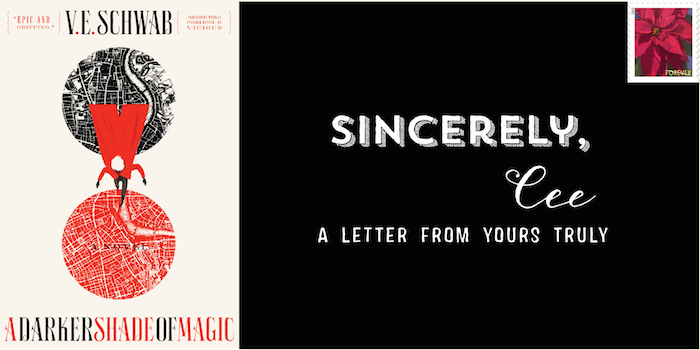 I am in need of this book. How am I gonna express my excitement for A Darker Shade of Magic?
Basically read the synopsis. It's everything awesome.
Here are the reasons why I need this book in my life.
Victoria Schwab! I'm a huge fan, which I'm sure you've heard from many readers in the past. Your writing sucks me in, leaving me breathless when it spits me back out (y'know, when I finish the book). I'm making it my mission in life to own every format of your book.
Cross-dressing thieves! I'm a big sucker for thieves. If somebody tells me this is in a book, I come running with my arms wide opening, hoping they'll accept me. (Don't you love me, thieves?) Plus, you add in cross-dressing? YES. The shenanigans the character will go through as a result from cross-dressing? Sign me up. There's so much gender play in that. I am soooo intrigued.
Parallel universes! Travelers who have the ability to travel between parallel universes? ARE YOU KIDDING ME? TALK ABOUT HITTING ANOTHER ONE OF MY FAVE TROPE IN THE HEAD. You cannot have this in a book and not have me not read them. That would be a fucking tragedy.
More than one Londons! Four of them! All with unique aspect to them that makes them incredibly different from each other. One is without magic and ruled by mad King George? One with an empire? One with murder to get to the throne and fighting back with magic? One nobody speaks of? Ummmm, let me see allllll of that! (It's hard not to release a dinosaur screech.) I just—if I had the ability to travel between the universes, I totally would, just to get a taste of the differences even if it may potentially kill me. Gotta experience it!
Magic! Who doesn't like magic? C'mon now. I'm sooo excited to see how it is used in this book in each of the universes, and how one can differentiate from the different types.
Pirates! I swear 2015 is year of the pirates! I'm soooo excited for sooo many of them! Smugglers, ya'll! Another way to my heart. Who wouldn't want to get a glimpse of these other worlds?
Royals! I am incredibly fascinated to see how somebody rises to the throne. I've gotten a taste of it in the synopsis, and boy, oh, boy, I want even more.
The snippets! LEGIT SCREAMING. BODIES ON THE FLOOR? WALKING ON THEM TO TEA? DAMN. Moooooorrrreeee. I want some moreeeeee.
Many more! I'm sure there are many things more things in this book that I will basically make me keel over in excitement.
If (and when) I get my hands on this book, I will full-on flail, curl into a ball on my bed, and release dinosaur screeches that will make your ears bleed. All in the name of my excitement for this book!
Sincerely,
p.s. I just realllllly need this ARC right now. Who do I have to axe to get one? *winks*
p.p.s. Even if I don't manage to obtain a copy, I think I can wait until February 2015? Maybe? Maybe not. But I will try?