Inspired by What She Reads, Pure Imagination Blog, and Stacked.

I admit I'm a book cover snob. Who isn't though?

Book covers are the first thing that attracts readers to a book. A good cover can draw someone is, just as a bad cover can easily draw someone away. It can essentially make or break a book. Holy, Mother Cover! is where I showcase the book covers that stand out (or make me cringe), and discuss cover changes.

(A big special thanks to Georgie at What She Reads for bestowing me this fabulous name and to Charlotte at Gypsy Reviews for creating the beautiful feature banner you see before you.)

COVER CHANGE: The Lucy Variations by Sara Zarr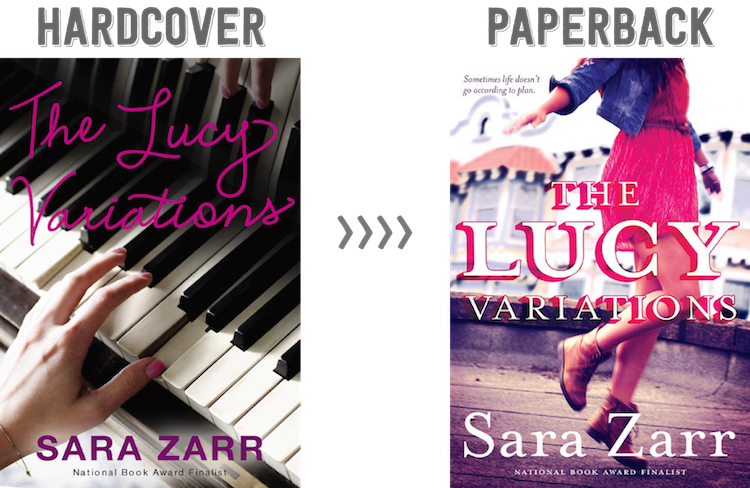 [row][column size="1/2″]
What do I think about the cover design?
 I don't like it. Not at all.
Sure, the picture of the hand and the piano are perfect for the book since it is about a pianist, but the font, the font hurts me. The title font is so out of place. It doesn't complement the font for the author, nor does it use the spacing at the top very well. I also don't like the white glow around "Sara Zarr" because the glow draws my attention to it (not to the author's name itself).
Plus, the font color of the title doesn't match the font color of the author. In every cover image I've seen of this book, the coloring is completely off. It's either too light purple or a pink color (like the one above), and none of those covers works with the purple.
Would I buy this book based on the cover? Noppppeeee.[/column] [column size="1/2″]What do I think about the cover design? Again, FONT ISSUE. Ugh.
The font in this is worse than the hardcover one. (I sighed so loud when I saw it.) It's very stiff, and looks extremely outdated because of the shadows. It just screams early 2000s to me. The shadows would kind of work if it wasn't pink. The problem is that the color tone of the entire cover is already a bit magenta; the pink shadows blends into the picture, hiding itself in the pink dress, in the dark stone, and in the overly magenta skin tone. That's a big no-no if you want the title to stand out on its own.
Also, the cover picture doesn't tell me anything about the book. At least with the hardcover, it shows a piano. This cover is like any other book with a girl having fun.
Would I buy this book based on the cover? Never.[/column][/row]
And the winner is....
Surpriseeeeee! Not at all what you expected, right? This version of 
The Lucy
Variations
is the best. Reasons why:
Sheet music! I love that it's torn. It's a really perfect way of showing that this book is about music.
The font for the title! It fits perfectly. Plus, I love that it kind of looks like it was written in pastel.
The purple ribbons! All wrapped together nicely like a present.
My only issue with this cover is the font choice and color of "Sara Zarr." It doesn't fit with the overall cover, but it's not a huge deal breaker.
Which cover design do you prefer? Would you buy the US or the UK one? How do you like how this post is formatted?