August was not my month for reading. I did worst than July. Because of urgent family stuff, I couldn't focus on reading.
For those who do not know, Too Much TBR is a way to help me see which books I really need to read and tackle them. It helps a lot seeing a visual of the books on my TBR pile.
Let's discuss what I read last month, and what I'm reading this month!
In August, I had ten books I wanted to read. I only read two on my priority list, and four graphic novels. I'm very bummed that I wasn't on top of my reading, but alas, there was nothing I could do about it.
The two books I read (that were on my priority list) were:
Not my priority list were these graphic novels:
I started Ghostly Echoes and The Smaller Evil, but haven't gotten around to finishing them. (Soon!) I DNFed The Graces because I couldn't get into the writing or the characterizations.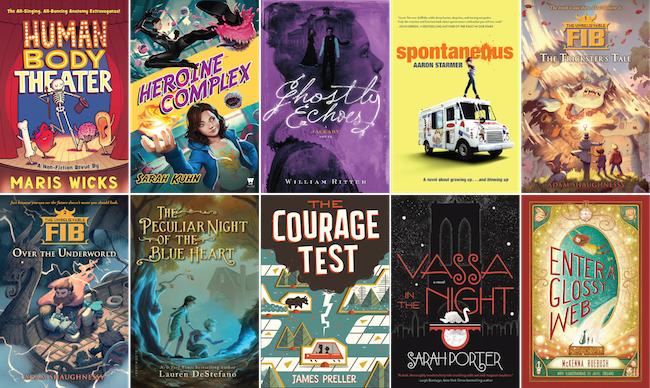 Already finished: Spontaneous (weird book) and Sometimes We Tell the Truth (not pictured, fabulous retelling of The Canterbury Tales).
Leftover August TBR I need to get to: Ghostly Echoes (the third in the Jackaby series! I can't wait to learn more about Jenny Cavanaugh!), The Unbelievable FIB: The Trickster's Tale (Norse mytholoy inspired! + Middle Grade!),  The Courage Test (a boy + his father+ the wilderness + Lewis and Clark), and Vassa in the Night (Inspired by the Russian folktale Vasilissa the Beautiful. Enchanted kingdom of Brooklyn. High society.)! 
The other books I really want to get to: Human Body Theater (Learning about the body in graphic novel form!), Heroine Complex (this was something I didn't receive until recently. Asian American superheroes!), The Peculiar Night of the Blue Heart (I expect a lot of darkness), and Enter A Glossy Web (orphaned boys, talking maps, magical worlds!).
These are the books I want to get to, but it's not certain if I will (not pictured at all): Crosstalk, Gertie's Leap to Greatness, Rebel Genius, This Adventure Ends, Foxheart, Wonder Women, Demon Vol 1.
Note: All these books here do not account for other books that may slip into my TBR list (because mood reading will probably happen) nor of the comics I will be reading. I'm sure I missed other books I want to read this month too, but since I can't remember, it must not be priority, right? Let's hope I make a dent in my TBR books for June!
How was your August? Tell me what's on your September TBR list. Have you read any of the books on my lists? Or are you planning to read them?