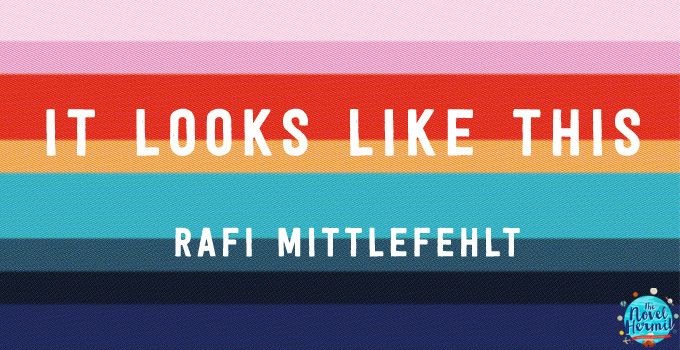 [note note_color="#1a2c5b" text_color="#ffffff"]It Looks Like This by Rafi Mittlefehldt • September 6, 2016 • Candlewick Press
Website | Twitter | Goodreads | Amazon | Barnes & Noble | The Book Depository | Indigo | Library
A new state, a new city, a new high school. Mike's father has already found a new evangelical church for the family to attend, even if Mike and his plainspoken little sister, Toby, don't want to go. Dad wants Mike to ditch art for sports, to toughen up, but there's something uneasy behind his demands.
Then Mike meets Sean, the new kid, and "hey" becomes games of basketball, partnering on a French project, hanging out after school. A night at the beach. The fierce colors of sunrise. But Mike's father is always watching. And so is Victor from school, cell phone in hand.[/note]
[note note_color="#BFD1D1″ text_color="#ffffff"]I received this book for free from Candlewick Press for review consideration. This does not affect my opinion of the book or the content of my review.[/note]
First sentence: "It looks like this:"
Oh, It Looks Like This, I wanted you to be an awesome LGBTQ+ book, but you were just too—*yawns*.
WHY IT LOOKS LIKE THIS DOESN'T WORK 
Ask me what happens in this book, and I will be unable to talk about any specific scenes I remember. Nothing grabbed at me. I couldn't grasp onto these characters; I didn't connect with them because they were one-dimensional and poorly developed. It was so slow too. A lot of it had to do with the way the story was conveyed. It didn't hit any of the emotional notes I expected this book to. If a reader is to read this, they won't ever remember this book because it just wasn't memorable or riveting.
It does a lot of telling instead of showing.
Don't "tell" readers, show them! However, It Looks Like This never broke out of its constant "telling" the reader what happens, instead of letting the story build through descriptions and character development. Every dialogue was accompanied with "he says" or "she says," never describing their tone or their surroundings. It was unemotional and all facts. How are readers supposed to imagine this book if the writing doesn't let them?
The sparse prose didn't work for me (but it may work for other readers).
The sparsity of the prose left a lot to be desire. I'm someone who prefers more description in the prose I like reading because you can really get into to the emotions. The sparse prose doesn't work here because it doesn't do a good job of rooting you into the story and the characters. How am I supposed to care about them if the sparse prose tells me facts instead of letting it just flow?
The lack of quotations for the dialogue is irritating.  
I don't like the lack of quotations because it adds nothing to the story or illuminate it. It serves more of a distraction. I said this earlier, but the dialogue always started with some form of "he says" or "she says." You know, there are so many different ways to write "say." The dialogue gets into a weird rhythm that doesn't show the emotional depth of the story and the characters.
It's not what the LGBTQ+ community need.
We've come a long way in LGBTQ+ YA books, but It Looks Like This is what you'd expect to see ten years ago. It's not enough. Can we stop having stories that uses a tragedy of and violence against a queer person to stimulate acceptance? It just isn't right, and not the type of stories the LGBTQ+ community needs.
Should you read It Looks Like This? No. Not if you want to read a LGBTQ+ YA that is all telling and uses tired tropes. It reads like a book you'd find five years ago. There are plenty of wonderful LGBTQ+ YA books that does a better job of giving the community what they want and need, and It Looks Like This is not it.