On this glorious day two years ago, The Novel Hermit was created.
It slowly grew up, reaching soo many milestones and making new friends. It is what it is today because of you guys, who continue to visit and show your love for it. It will, hopefully, continue to grow bigger and bigger, reaching new milestones. We shall celebrate in style! Let's party and dance and throw confetti! Because it's a wonderful day!

In the past two years,
I've made frickin' amazing friends. (You know who you are. ;D)
My blog stats went up, and I reached over 500+ followers on Bloglovin and Twitter, which is a great accomplishment.
I started requesting e-ARCs and got accepted to many of them. I got my Netgalley ratio up to the recommended percentage.
I finally received physical ARCs and books from publishers just recently.
I've been so inspired by the creativity of this community, that I just want to do more.
And in honor of The Novel Hermit's two-riffic blogoversary, Charlotte and I redesigned my blog header. Voila. Take a look!
SOUND THE TRUMPETS! THE NARWHAL IS BACK! :D Isn't it beautttttifffuuullllllll? It looks so adorable clinging to the circle! I LOVE.
Fun fact: I wrote out "Novel" into Illustrator (yes that is my handwriting), and Charlotte created the overlap effect with a tablet.
Also, thank you again to the lovely Charlotte for the gorgeous blogoversary banner. It was a joint collaboration. The watercolor in the balloons and the font were courtesy of me, and the gif and everything else was put together by Charlotte.

I also want to give a huggeeeeee shoutout to my fellow blogoversary twin, Jessica of Literary, Etc, as well as fellow December blogoversary friends—Kristen of My Friends Are Fiction and Stormy of Book.Blog.Bake! THE PARTY WILL GO ON AND ON FOR US!
I'll be hosting two giveaways.
The rules:
Giveaway #1 is only opened to the US. Giveaway #2 is only opened internationally (as long as The Book Depository delivers to you).
The giveaway will run from December 19 to December 31, 2014.
You must be 13 years (with your parent's permission) or older.
You will be disqualified if you pick up entries you haven't done.
If the winner does not respond to my e-mail within 48 hours, I will have to choose another winner.
I am not responsible for any items lost in the mail.
1. For US people ONLY, you get to win a box of these books: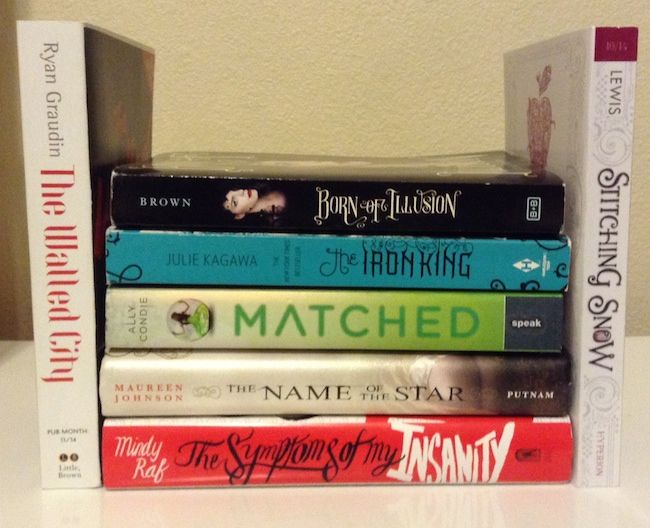 The Walled City (ARC) by Ryan Graudin
Stitching Snow (ARC) by R.C. Lewis
Born of Illusion by Teri Brown (signed)
The Iron King by Julie Kagawa
Matched by Ally Condie
The Name of the Star by Maureen Johnson
The Symptoms of My Insanity by Mindy Raf (signed)*
*fyi, this book was signed to me. :P Sorry? 
Enter to win a book of awesome books!


2. For international folks ONLY, you get to pick from a book that I loved this reading this year:
I'll Give You The Sun by Jandy Nelson
Mr. Penumbra's 24-Hour Bookstore by Robin Sloan
Everything Leads to You by Nina LaCour
The Cavendish Home for Boys and Girls by Claire Legrand
The Disreputable History of Frankie Landau-Banks by E. Lockhart
More Than This by Patrick Ness
Also Known As by Robin Benway
Enter to win one of my favorite reads of this year!
So? What are you waiting for?