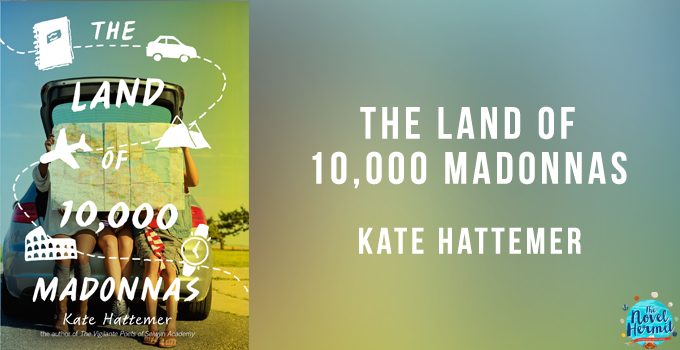 [note note_color="#69AAB3″ text_color="#ffffff"]The Land of 10,000 Madonnas by Kate Hattemer • April 19, 2016 • Knopf (Random House)
Website | Twitter | Goodreads | Amazon | Barnes & Noble | The Book Depository | Indigo | Library
Five teens backpack through Europe to fulfill the mysterious dying wish of their friend.
Jesse lives with his history professor dad in a house covered with postcards of images of the Madonna from all over the world. They're gotten used to this life: two motherless dudes living among thousands of Madonnas. But Jesse has a heart condition that will ultimately cut his life tragically short. Before he dies, he arranges a mysterious trip to Europe for his three cousins, his best friend, and his girlfriend to take after he passes away. It's a trip that will forever change the lives of these young teens and one that will help them come to terms with Jesse's death.[/note]
[note note_color="#BFD1D1″ text_color="#ffffff"]I received this book for free from Random House for review consideration. This does not affect my opinion of the book or the content of my review.[/note]
First sentence: "My dad! "
When someone asks you to fulfill their dying wish, you do it. For five teens, they do just that. When Jesse Serrano dies from his heart condition, his death propels the five teens—three cousins, a best friend, and a girlfriend—into an adventure of a lifetime through Europe that Jesse had arranged for them.
Last wish of Jesse Serrano: To find his mother who had left him when he was younger. At least, that's what the five teenagers think that's the point of this journey. No, part of the purpose has to with Madonna (not the pop singer) and to learn to live without Jesse.
What are the 10,000 Madonnas? The Madonnas in this book refer to the paintings representing Mary either alone or with baby Jesus.
Growing up, Jesse's life has been surrounded by these Madonna paintings because his dad is a professor and art historian of Religious Arts. You get references to Raphael's Madonnas and various different Madonnas like Michaelangelo's Pietà, which I liked seeing because art = awesome.