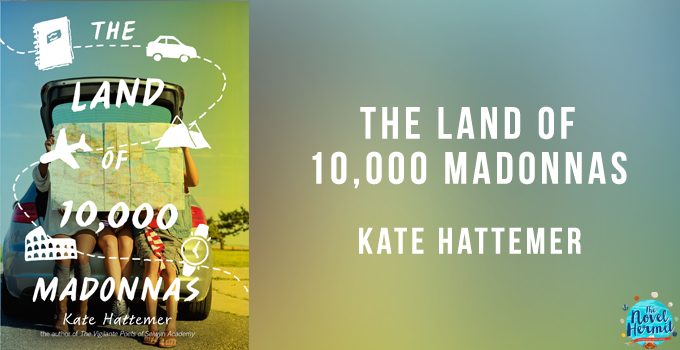 [note note_color="#69AAB3″ text_color="#ffffff"]The Land of 10,000 Madonnas by Kate Hattemer • April 19, 2016 • Knopf (Random House)
Website | Twitter | Goodreads | Amazon | Barnes & Noble | The Book Depository | Indigo | Library
Five teens backpack through Europe to fulfill the mysterious dying wish of their friend.
Jesse lives with his history professor dad in a house covered with postcards of images of the Madonna from all over the world. They're gotten used to this life: two motherless dudes living among thousands of Madonnas. But Jesse has a heart condition that will ultimately cut his life tragically short. Before he dies, he arranges a mysterious trip to Europe for his three cousins, his best friend, and his girlfriend to take after he passes away. It's a trip that will forever change the lives of these young teens and one that will help them come to terms with Jesse's death.[/note]
[note note_color="#BFD1D1″ text_color="#ffffff"]I received this book for free from Random House for review consideration. This does not affect my opinion of the book or the content of my review.[/note]
First sentence: "My dad! "
When someone asks you to fulfill their dying wish, you do it. For five teens, they do just that. When Jesse Serrano dies from his heart condition, his death propels the five teens—three cousins, a best friend, and a girlfriend—into an adventure of a lifetime through Europe that Jesse had arranged for them.
Last wish of Jesse Serrano: To find his mother who had left him when he was younger. At least, that's what the five teenagers think that's the point of this journey. No, part of the purpose has to with Madonna (not the pop singer) and to learn to live without Jesse.
What are the 10,000 Madonnas? The Madonnas in this book refer to the paintings representing Mary either alone or with baby Jesus.
Growing up, Jesse's life has been surrounded by these Madonna paintings because his dad is a professor and art historian of Religious Arts. You get references to Raphael's Madonnas and various different Madonnas like Michaelangelo's Pietà, which I liked seeing because art = awesome.
Who's up for a galavant through Europe? At the heart of this book is Jesse Serrano, the boy who set everybody off to fulfill his dying wish. Even in death, he lived on through his journal, The Juvenilia of Jesse T. Serrano, that was given to his favorite cousin, Cal, and through the memories of his loved ones.
The five teenagers who make the journey to Europe are:
Cal Rivers, Jesse's favorite cousin, is a track star and wasn't planning to go on the Europe trip because of her grief and guilt for not being too close to Jesse when he was approaching his last days on Earth. She's very possessive of Jesse. She harbors a hatred for Lillian, Jesse's girlfriend, and often glares or cries in response to things Lillian would say.

Trevor Rivers, Cal's brother, joins Cal as a way to escape his problems. He had launched Plagueslist, a social media site where it helps you identify what ailment you have like WebMD and update your followers of your prognosis, and he has a lot of things riding on this venture, but it's not taking off the ground.

Ben, Jesse's other cousin, is very smart and academic, but is often stilted and have high standards and believes he has an esophagus disorder, which forces him to mash up his food.

Matt Letvin, Jesse's best friend, is the ultimate golden boy who readers don't really get to know in depth (or maybe I zoned out because he was sooo boring).

Lillian, Jesse's girlfriend who is the only Black character in the entire book, doesn't seems to like anybody, and everything she says sound mean. She and Cal don't see eye to eye, and she would constantly say things to to get Cal annoyed and pissed, and she often succeeds.
Jesse's plan: Along his dying wish, Jesse gave each of his loved one something that will help them on their journey—their pilgrimage—through Europe. Cal receives his journal, detailing the last few months of his life. Ben receives maps. Matt is in charge of the money. Lillian has a promise she has to uphold for Jesse.
Friendship levels: Gotta give it a 4/10. These characters are so resistant of trying to further their journey along with each other. With road trip or backpacking trips, I expect the characters to bond, but I didn't feel like they did that here. They were extremely petty and in their own bubbles. I wouldn't rely on these people to get me to where I want.
Emotions meter: 1/10. No emotional impact whatsoever. No connection to any of the characters. If anything, these characters drove me up the wall with irritation.
Adventure in Europe goes around in circles: So much felt like filler. I didn't feel like these characters grew to understand each other or confront their grief.
They only talk and argue about the same thing—Cal throwing Lillian glares and crying and talking about how much she hates Lillian, Trevor harping on about Plagueslist, Ben with his issues and not having the courage to talk to a girl, Matt who runs with Cal on the trip constantly defending Lillian when Cal says something about her, and Lillian making snide comments to Cal about how she doesn't care and how Cal should share the journal. It was just boring and sooooo irritating. Their arguments didn't move the plot forward, so it was a waste of time.
When the plot moves forward and the light bulb moment happens towards the end, it happened so quick, and I never felt like the book took steps into developing the emotions and revelations throughout to give it a bigger impact. It just fell flat.
Should you read The Land of 10,000 Madonnas? Unfortunately, I will have to say give this book a hard pass. Even if characters are unlikeable or annoying, I can usually find something to connect with, but in The Land of 10,000 Madonnas? Nothing. Their adventure through Europe was so dull. I would rather erase these characters from my brain because they were all so one-note and irritating.