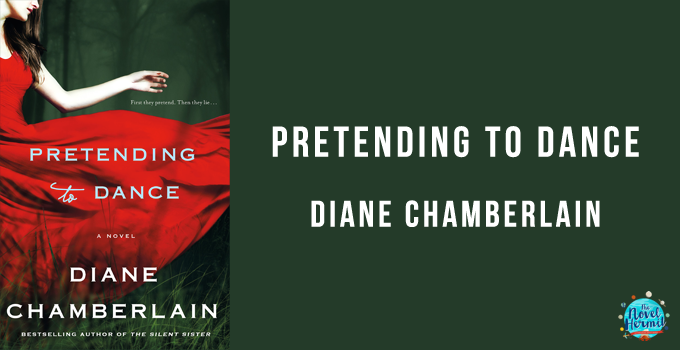 [note note_color="#549069″ text_color="#ffffff"]Pretending to Dance by Diane Chamberlain • October 6, 2015 • St. Martin's Press
Website | Twitter | Goodreads | Amazon | Barnes & Noble |  The Book Depository
Molly Arnette is very good at keeping secrets. She and her husband live in San Diego, where they hope to soon adopt a baby. But the process terrifies her.
As the questions and background checks come one after another, Molly worries that the truth she's kept hidden about her North Carolina childhood will rise to the surface and destroy not only her chance at adoption, but her marriage as well. She ran away from her family twenty years ago after a shocking event left her devastated and distrustful of those she loved: Her mother, the woman who raised her and who Molly says is dead but is very much alive. Her birth mother, whose mysterious presence raised so many issues. The father she adored, whose death sent her running from the small community of Morrison Ridge.
Now, as she tries to find a way to make peace with her past and embrace a future filled with promise, she discovers that even she doesn't know the truth of what happened in her family of pretenders.
Told with Diane Chamberlain's compelling prose and gift for deft exploration of the human heart, Pretending to Dance is an exploration of family, lies, and the complexities of both.[/note]
[note note_color="#BFD1D1″ text_color="#ffffff"]I received this book for free from St. Martin's Press for review consideration. This does not affect my opinion of the book or the content of my review.[/note]
First sentence: "I'm a good liar."
My first venture into Diane Chamberlain's writing: I like what I'm reading!
What you find in Pretending to Dance is a compelling story about the most difficult moments in Molly Arnette's life alternating between different time periods.
SUMMER 1990, MORRISON RIDGE
Known as "the worst summer of Molly's life," the Summer of 1990 tells a coming of age tale of an innocent young teenager whose world changes drastically when she stops looking through her rose-colored glasses and begins to see what she hadn't seen before (like the pain her parents carry); learns the secrets of her birth and her father's past; gains a new friend who introduces her to make-up and sex; falls for an older boy, who becomes her first love, and does whatever she can to see him again like lying and sneaking around. You know, what teenagers get up to when they're growing up.
Before the worst entered Molly's life, she lived an idyllic life on Morrison Ridge—land that had been her family's for over a century. She's surrounded by people she adores like her father, Graham, an intelligent psychologist in "Pretend Therapy" and author who is living with Multiple Sclerosis; Russell, her father's aid who helps Graham get around like hauling his wheelchair; and Adalina, a dance teacher who lives on the family land even though she's not remotely related to the family. You can sense the adoration Molly has for these people because they're her family, and for Molly, family means the world to her, especially her dad who's at the center of that world.
In this section, you could instantly relate to Molly because we were once that teenager who was naïve about what's going on with their parents (if they were having issues) or with sex; lied and snuck around to see a boy or a girl even though you were forbidden; helped parents with their work; or sung loudly along to your favorite boy/girl bands with your friend(for Molly, it was New Kids on the Block). It's what we all did.
2014, SAN DIEGO
Molly Arnette's life in San Diego is a worlds away from North Carolina. As an adult, Molly's a lawyer with a loving husband, Aidan, and she's a tough woman, who's crafted her life perfectly with lies that start to splinter when she and Aidan begin the process of adoption.
This section takes you on a journey of the emotional process of adopting a child. Molly struggles with the secrets and lies that could jeopardize the adoption. She has to deal with whether she can handle having an open adoption, and what it means of having the biological mother in their lives. She keeps thinking back to her past and what happened to shape the person she is today, and it's getting to her in a bad way.
You can sense how tired Molly is with the lies and secrets she's kept hidden for over twenty years. Watching her struggle was absolutely heart wrenching because she's still pretending—she hasn't dealt with the hurt and the grief that she'd been nursing since her father's death. She had broken into a million pieces when he died, and although she put herself together, those pieces never fit perfectly together anymore. She's just waiting to explode, and for her to move forward, she needs to confront her past.
With the book alternating between a teenage and an adult Molly, everybody of all ages will enjoy Pretending to Dance. Not only that, Diane Chamberlain does a beautiful job weaving the two sections together, telling a compelling story about coming of age and motherhood. You feel love and the loss she experiences as well as the consequences of her lies and secrets. When you pick up Pretending to Dance, you won't want to put it down until you get Molly's entire story, and boy is it a fascinating one.