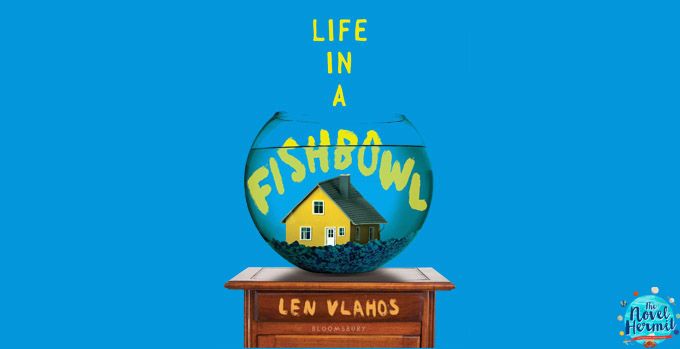 [note note_color="#0097d6″ text_color="#ffffff"]Life in a Fishbowl by Len Vlahos • January 3, 2017 • Bloomsbury
Website | Twitter | Goodreads | Amazon | Barnes & Noble | The Book Depository | Indigo | Library
Fifteen-year-old Jackie Stone is a prisoner in her own house. Everything she says and does 24/7 is being taped and broadcast to every television in America. Why? Because her dad is dying of a brain tumor and he has auctioned his life on eBay to the highest bidder: a ruthless TV reality show executive at ATN.
Gone is her mom's attention and cooking and parent-teacher conferences. Gone is her sister's trust ever since she's been dazzled by the cameras and new-found infamy. Gone is her privacy. Gone is the whole family's dignity as ATN twists their words and makes a public mockery of their lives on Life and Death. But most of all, Jackie fears that one day very soon her father will just be . . . gone. Armed only with her ingenuity and the power of the internet, Jackie is determined to end the show and reclaim all of their lives, even in death.[/note]
[note note_color="#BFD1D1″ text_color="#ffffff"]I received this book for free from Bloomsbury for review consideration. This does not affect my opinion of the book or the content of my review.[/note]
First sentence: "Jackie Stone loved her father."
ON HIATUS
Three pages in, and I can't do it. I had to put down this book. 
Life in a Fishbowl had the makings of an interesting book: a dad who auctioned his life on eBay to the highest bidder, a girl's life being put on television for the world to see, and the girl's determination to end this reality TV circus once and for all. (I heard its semi-satirical too.)
When I initially requested this book, I had no idea that in just a couple of months, my life would be upended. You see, my dad was diagnosed with stage IV Pancreatic Cancer in August and passed away two weeks after his diagnosis. So reading when Jackie Stone's dad found out he had incurable brain tumor (in just the first couple of pages)? That hit me hard. I couldn't help but think my dad, and the doctor visits trying to figure out what was causing his edema, the various tests at the hospital, the way he looked all vulnerable and unwell—the sickness in him and the tests taking a toll on his health, the moment when we got the life-changing diagnosis…I don't want to think about the days leading to his passing because I burst into tears every time I do. Writing why I could not continue Life in a Fishbowl had me in near tears. 
I know Life in a Fishbowl isn't gonna be solely focused on the cancer aspect (I heard that it talks more about the entertainment we take in and the selling of it), but I can't deal with flashbacks of my dad suffering and dying.
So yeah, a father suffering from incurable cancer, it hits too close to home. I'm not ready for that. Emotionally, mentally, and physically. And I don't know if I'll ever be ready for books with fathers dying from cancer in it.