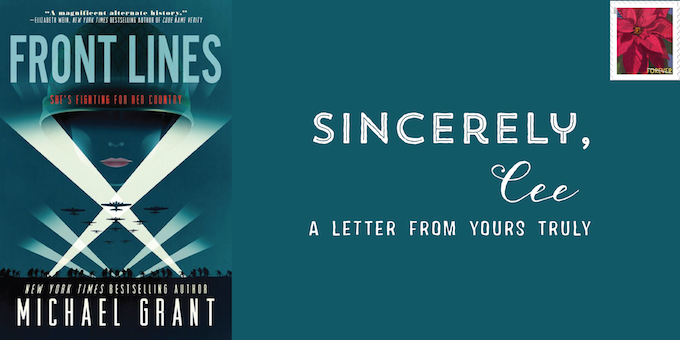 Dear Michael Grant and Front Lines,
Did you say World War II, but with female soldiers?
[quote cite="Goodreads" url="https://www.goodreads.com/book/show/18743370-front-lines"]
Perfect for fans of The Book Thief and Code Name Verity, New York Times bestselling author Michael Grant unleashes an epic, genre-bending, and transformative new series that reimagines World War II with girl soldiers fighting on the front lines.
World War II, 1942. A court decision makes women subject to the draft and eligible for service. The unproven American army is going up against the greatest fighting force ever assembled, the armed forces of Nazi Germany.
Three girls sign up to fight. Rio Richlin, Frangie Marr, and Rainy Schulterman are average girls, girls with dreams and aspirations, at the start of their lives, at the start of their loves. Each has her own reasons for volunteering: Rio fights to honor her sister; Frangie needs money for her family; Rainy wants to kill Germans. For the first time they leave behind their homes and families—to go to war.
These three daring young women will play their parts in the war to defeat evil and save the human race. As the fate of the world hangs in the balance, they will discover the roles that define them on the front lines. They will fight the greatest war the world has ever known.[/quote]
This sounds like my kind of book!
Front Liness set in an alternate history where female soldiers fought on the front lines in World War II. Gender-bend is a trope I love to read about. I don't know why, but it always makes things so much exciting because you're just not expecting that. And for it to be set during World War II? Haven't we all thought about this—what it would be like if ladies were on the front line? I sure have.
And you'll get girls kicking Nazi ass. Who wouldn't want to read that? Here are these girls from different backgrounds, joining the fight against the Nazis. Why? I'm so excited to see everything be explored!
I'm not a fan of Michael Grant's writing, but I'm interested to see how he tackles this book. Just hope I like it and the way it's handled.
Who else is excited about this book?
Sincerely,