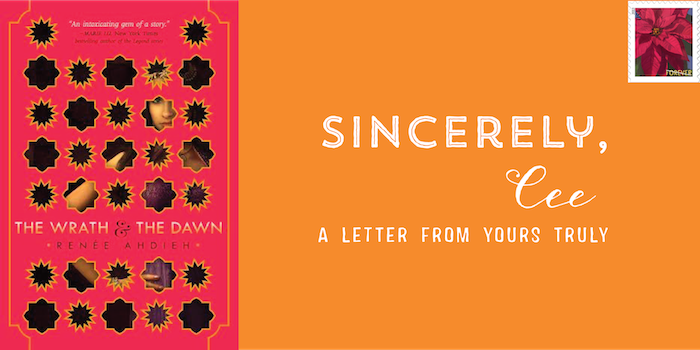 Who knew that I wanted A Thousand and One Nights retelling? I sure didn't until I read the synopsis.
A sumptuous and epically told love story inspired by
A Thousand and One Nights. 
Every dawn brings horror to a different family in a land ruled by a killer. Khalid, the eighteen-year-old Caliph of Khorasan, takes a new bride each night only to have her executed at sunrise. So it is a suspicious surprise when sixteen-year-old Shahrzad volunteers to marry Khalid. But she does so with a clever plan to stay alive and exact revenge on the Caliph for the murder of her best friend and countless other girls. Shazi's wit and will, indeed, get her through to the dawn that no others have seen, but with a catch . . . she's falling in love with the very boy who killed her dearest friend.
She discovers that the murderous boy-king is not all that he seems and neither are the deaths of so many girls. Shazi is determined to uncover the reason for the murders and to break the cycle once and for all.Goodreads
Let me tell you why I need this book:
It's inspired by A Thousand and One Nights! I REPEAT. IT'S INSPIRED BY A THOUSAND AND ONE NIGHTS. You know, Scheherazade who tells stories to a murderous king every night to prevent him from executing her. That story! I love this synopsis. A girl volunteers to marry a Caliph (a ruler or a king of sorts), known to kill their brides, on a mission to avenge her best friend's + other girls's deaths? I WANT THIS. I NEED IT. I'm so excited! How can I not when Renée Ahdieh spins this story upside down?
Oh shit, diversity! YES, GUYS. DIVERSE CHARACTERS. THIS IS WHAT WE'VE BEEN ASKING FOR. This book is set in what I believe is historic Middle East but in a fantasy world. I'm incredibly excited that it's sticking within the same geography as the story it was inspired by. No white-washing here!
Can Shahrzad be anymore awesome? Words I would use to describe Sharhrzad (from what I've read in the synopsis): badass, courageous, caring, awesome. This is a girl I totally admire because she's risking her life to put a stop to this Caliph to avenge her best friend's death AND put a stop to countless girls being murdered. How can I not admire that?
CONSPIRACY! There's more than meets the eye! I'm so into this mystery. If Khalid isn't who he seems to be, who is he? Who is behind the killings and why? What does this person have to gain? A political agenda? What? Can somebody give me this book now so I can read about what's going on? I need my questions to be answered.
I JUST NEED THIS BADLY. Are you convinced?
Sincerely,