Inspired by What She Reads, Pure Imagination Blog, and Stacked.

I admit I'm a book cover snob. Who isn't though?

Book covers are the first thing that attracts readers to a book. A good cover can draw someone is, just as a bad cover can easily draw someone away. It can essentially make or break a book. Holy, Mother Cover! is where I showcase the book covers that stand out (or make me cringe) and discuss cover changes.

(A big special thanks to Georgie at What She Reads for bestowing me this fabulous name and to Charlotte at The Simple Tales for creating the beautiful feature banner you see before you.)
If you had a magical lamp, what would you wish for? How would you use your three wishes? (You can't wish my more wishes. That's cheating!)
That is what the magical lamp covers make me think of—those questions and Aladdin. I don't even have an answer to those questions for myself. :P It was difficult finding covers that had this theme. I mostly found covers of Aladdin or of people with no magical lamp in sight!
Let's check out the magical lamp covers I did find!
TREND: Magical Lamps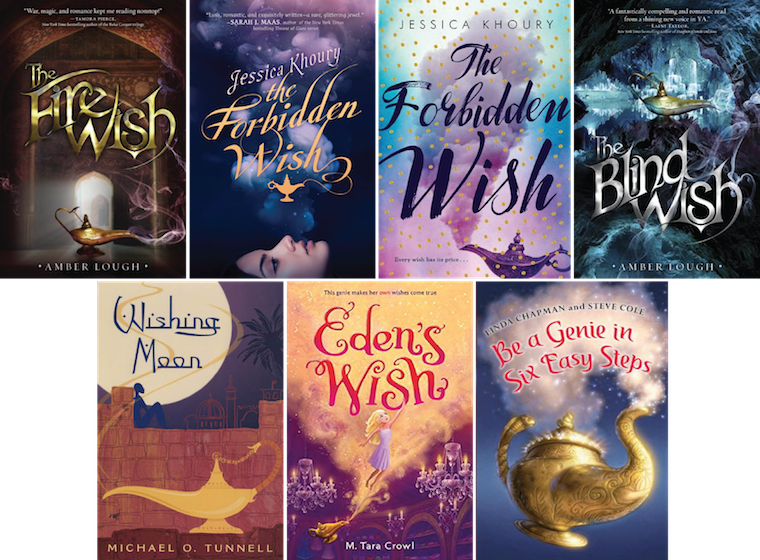 The Fire Wish • The Forbidden Wish • The Blind Wish
Wishing Moon • Eden's Wish • Be A Genie in Six Easy Steps
Best magical lamp cover? It's between The Fire Wish cover because of the way it's set up, the old cover of The Forbidden Wish because I love smoke coming out of the lamp, and Be A Genie in Six Easy Steps because of the details on the lamp!
What about you? Which book cover do you think has the best magical lamp? Can you think of any other books with this theme?