Kelley of Another Novel Read posed an interesting question over at her blog.
Do you prep blog posts in advance? Why do you or why don't you?
You know this post you're reading? I typed it up a few hours and finished it a dew minutes before I published it.
I rarely prep blog posts in advance. It's not because I don't want to. I do, but most of the time, I get distracted and procrastinate after being persuaded by that little procrastination monster to do something else because it seemed necessary at the time. When I finally do sit down and try to type my thoughts down, I don't know what I want to say exactly until the last minute.
Inspiration always hit me the night before I plan to publish something. It must be that I do my best work under pressure, right?
Maybe.
If I try to write a post a few days beforehand, I find myself revising sentences over and over again because I'm never satisfied. Writing up posts last minute forces me to just write and revise quickly – get to the main point without fussing over it. However, it's generally a bad idea, especially if you have to write an essay for class (which I was guilty of doing last minute when I was in college). It's a really bad habit. You should always be prepared. For me, I always prepare myself when I go out of my house, but rarely blog posts. I should do better.
This is what happens when you prep and don't prep in advance: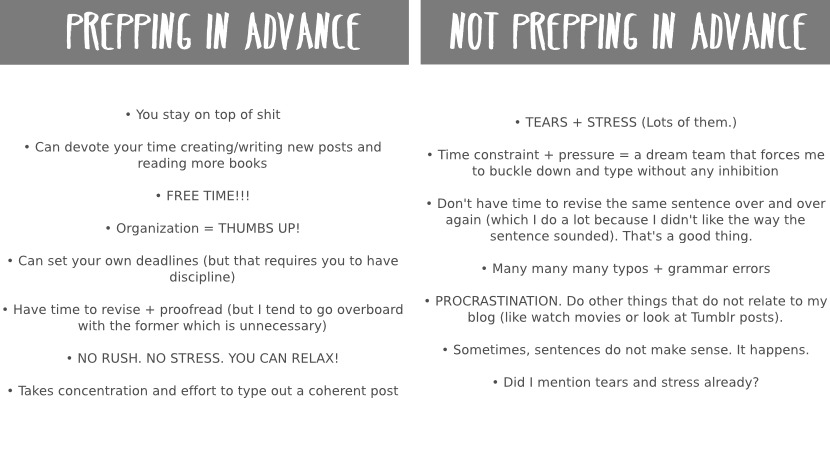 Do you prep blog posts in advance or are you like me? What happens to you when you prep or don't prep in advance? Does any of the ones on my list happen to you?
(Join in on other discussion posts over on Let's Discuss!)