Inspired by Pure Imagination Blog and Stacked.

Let's be honest, nobody follows the age-old cliché that tells us not to judge a book by its covers. If you say you do, I am side-eying you. Book covers are the first thing that attracts any of us readers to a book. Before you pick up a book, the cover can essentially make or break a book. If I don't like a cover design, I won't pick it up. Lucky for us, publishing companies publish different cover designs, especially when a paperback book comes out. Sometimes we like it, sometimes we don't. Let's discuss these cover changes, shall we?
Today, we look at the cover of Unspoken (The Lynburn Legacy #1) by Sarah Rees Brennan!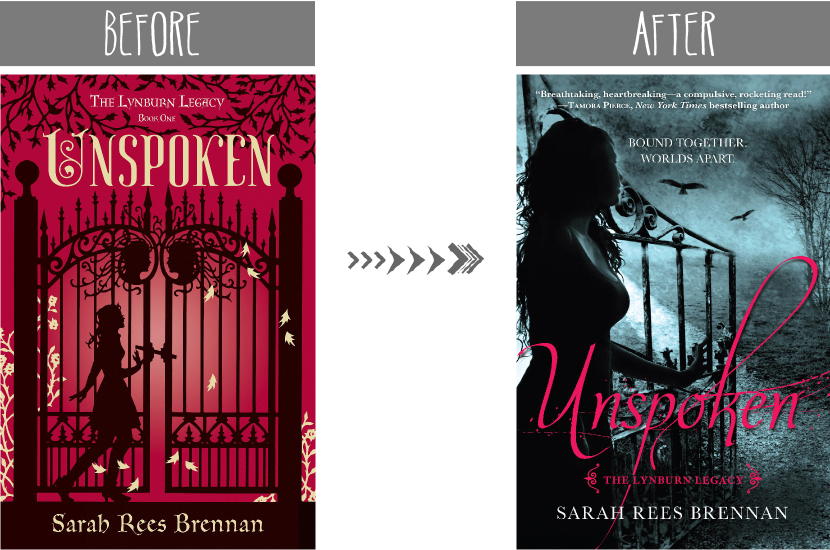 I adoooorrreeee the hardcover design of Unspoken. I love silhouettes a lot. I don't know why exactly, but I think it's because silhouettes give that kind of gothic creepiness I like. I love the way the silhouettes of the branches frame the top of the cover and the gates with the silhouettes of the heads in it. The rose red color background with the light yellow (gold?) font color is incredibly gorgeous together. The cover design evokes that romanticism and mysteriousness that's in the story, and it instantly enhances the story even more. It's absolutely perfect.
That paperback cover, holy boobs! That was my reaction when I first saw this cover. (It still is.)  The model (who I'm assuming is acting as Kami Glass) has a very ample chest. It distracts me when it really shouldn't, which I am 95% sure that Sarah Rees Brennan approved of it for that exact reaction. Props to you, Sarah! ;D I'm trying to recall if there were any references to Kami's bust and I vaguely remember she didn't have any? (I could just be lying through my teeth.)
Anyways, back to that paperback cover, I do like it. It utilizes shadows and dark colors that certainly evoke that gothic atmosphere. I especially love the font and the font color. It's so gorgeous. I love that the title pops out (pink against dark anything does that). I do appreciate that the book designer and Sarah Rees Brennan kept the gothicness for the paperback. It adds the right feel to the story.
I like both of them, but I do prefer the hardcover design because c'mon, silhouettes are frickin' lovely. I'm pretty sure if the hardcover didn't have that silhouette cover design, I wouldn't have liked Unspoken as much as I do. That cover just fits with Kami and that entire world.
What cover design do you prefer? Do you like silhouettes? What books have you seen that uses silhouettes gorgeously? What was your first thought when you saw the paperback cover of Unspoken? Also, if anybody knows the font of the title on the paperback cover, tell me. I need to know.