BookExpo America (BEA) is the big book convention held in New York where authors, bloggers, and publishers get together and makes every book lover cry – either in joy (because they were able to attend and get to meet authors and get ARCs) or in sadness (because those who are unable to attend have prior engagements).
Since I get go to BEA, I've decided to take part in Armchair BEA, which is basically a virtual conference for people who cannot attend the actual convention. Let's get this started, shall we?
Please tell us a little bit about yourself: Who are you? How long have you been blogging? Why did you get into blogging? Where in the world are you blogging from?
I am the fabulous Cee! From the beautiful state of California! I am lover of books, fonts, design, and puns. (Well known for the latter three if you ask my friends.) I've been book blogging for a year and a half, but I've been blogging longer than that. I started blogging because I wanted to find people who share the same interests as me. My friends IRL don't really follow the same stuff as I do (like TV shows, movies, actors/actresses, or books), so I felt pretty lonely. I needed people to fangirl with, and I found them through blogging.
What was your favorite book read last year? What's your favorite book so far this year?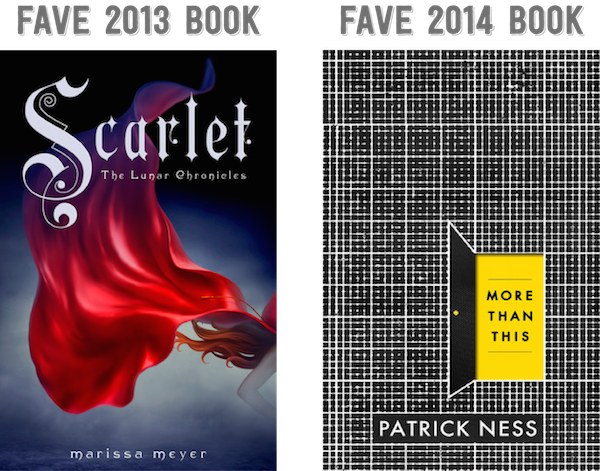 Scarlet (The Lunar Chronicles #2) by Marissa Meyer | More Than This by Patrick Ness
Share your favorite book or reading related quote.
 "Never trust anyone who has not brought a book with them." — Lemony Snicket (aka Daniel Handler)
If you were stranded on a deserted island, what 3 books would you bring? Why? What 3 non-book items would you bring? Why?
Three books I would bring:
Three non-book items I would bring:
Laptop with batteries that lasts an eternity and some more
Access to unlimited Internet
Foooooood
Do I even have to explain why?
Describe your blog in just one sentence. Then, list your social details — Twitter, Facebook, Instagram, etc. — so we can connect more online.
In Charlotte's words, at The Novel Hermit, you will find "lots of typography love, bookish talking, cover oogling, pun appreciation and all that other good stuff with a sprinkle of Sebastian Stan." ;D
I mostly hang out on Twitter. Strike up a conversation! I'm incredibly friendly and joke-y. Don't be startled if you see me shouting at people and cackling like an evil mastermind. That is my ~natural state. ;) (But you can find all social media whatnots in the sidebar.)
So, that's me. What about you? Tell me about yourself.