I love fonts. You can say I'm obsessed with collecting them all. It's no secret to those who know me. You're Just My Type is a new feature where I showcase the fonts I absolutely adore and use. And hopefully, you will love the fonts I pick. Add all of them to your font collection! Let it grow!
It feels like it's been forever since I properly picked out fonts. It's not quite like riding a bicycle, but hey, I still feel the same joy of finding new fonts!
Also, I have a fabulous new banner! (A joint effort by Charlotte and I, for once!) Isn't it adorable? I wanted the banner to be like an airplane flying with a love note in the banner for all to see. A boat works better for my blog because y'know, it's very ocean-themed. ;D

Designed by Joshua Brooks
Fun fact: When I was younger, I thought that if you swallowed the watermelon seeds, it'll grow in your stomach, so I rarely ate them because I feared one will grow in my stomach.
Watermelon is a great cursive-esque font. It has a good weight though. I like that it isn't so swoopy. It doesn't really remind me of watermelons, but it looks summery. (It's the name.) As Charlotte said, "I could see it on a poster selling lemonade." I agree with that! Slap this font on a sign, and you're golden.
Designed by Tension Type
Leander sounds like a character from a Greek Epic where lots of people die because of territory issues. It's also the name of this gorgeous font. I like that the lettering isn't smooth. It has some roughness around it that gives it personality. If you need a font for something kind of ancient-esque, maybe this font will be a good choice. (It's not lettering you'll find in ancient Rome or wherever, but it'll do.)
Designed by Brittney Murphy Designs
One Starry Night, I wish I could see you in the skies. (Unfortunately, I don't see the stars because of light pollution. It sucks.)
This font is very whimsical to me. I think it's because of the name. It makes me think of Van Gogh's Starry Night. This font has great curls to it without looking too overwhelming (unlike the dreaded Curlz). It just looks like fun. And don't we all want fun in our lives?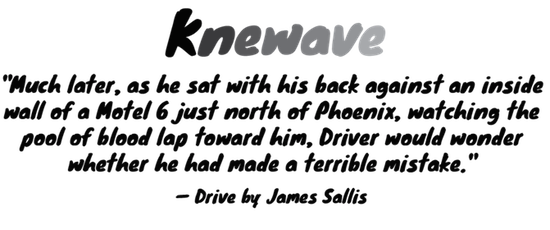 Designed by Tyler Finck
I'm giving you a night call to tell you how I feel
I want to drive you through the night, down the hills
I'm gonna tell you something you don't want to hear
I'm gonna show you where it's dark, but have no fear
Knewave reminds me of Drive and the song "Nightcall." I don't know why, but I think it's because of the name and how '80s it is. (But that's just me.) The strokes on the lettering is very marker-esque. Instead of grabbing a Sharpie, you can grab this font. 
Which font is your favorite?  Should I format these posts differently? If you missed previous font post, voila!