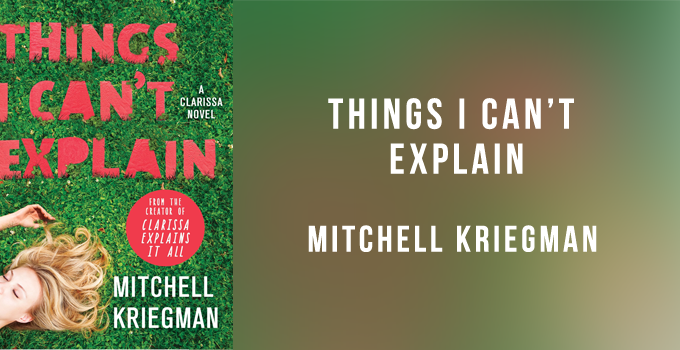 [note note_color="#F44154″ text_color="#ffffff"]Things I Can't Explain by Mitchell Kriegman • November 10, 2015 • St. Martin's Griffin
Website | Twitter | Goodreads | Amazon | Barnes & Noble |  The Book Depository | Indigo
A complete re-imagining of Clarissa Explains it All as 20-something Clarissa tries to navigate the unemployment line, mompreneurs and the collision of two people in love.
She was a smart, snappy, light-hearted girl who knew it all at fourteen. Now a woman in her late twenties, her searching blue eyes are more serious, but mostly amused by the people around her. The gap-toothed smile that made her seem younger than she really was is gone, but she still lightens up the room. Her unpredictable wardrobe rocks just like when she was a kid, but her fashion sense has evolved and it makes men and women turn their heads.
After leaving high school early, Clarissa interned at the Daily Post while attending night school. At the ripe old age of twenty- two she had it made – her own journalism beat (fashion, gender politics and crime), an affordable apartment in FiDi and a livable wage. She was so totally ahead of the game. Ah, those were the days! All three of them. Remember the Stock Market Crash of 08? Remember when people actually bought newspapers?
All of Clarissa's charming obsessions, charts, graphs, and superstitions have survived into adulthood, but they've evolved into an ever-greater need to claw the world back under control. Her mid-twenties crisis has left her with a whole set of things she can't explain: an ex-boyfriend turned stalker, her parents' divorce, a micro relationship with the cute coffee guy, java addiction, "To-Flue Glue," and then there's Sam. Where's Sam anyway?
Things I Can't Explain is about knowing it all in your teens and then feeling like you know nothing in your twenties. [/note]
[note note_color="#BFD1D1″ text_color="#ffffff"]I received this book for free from St. Martin's Griffin for review consideration. This does not affect my opinion of the book or the content of my review.[/note]
First sentence: Was it Malcolm Gladwell who said, "Where you're standing now is not where you're going to be"?
Confession: I never watched Clarissa Explains It as a kid. I was very, very, very young when it aired and went off the air.
What I know about it are: it had Melissa Joan Hart in it, Clarissa talked to the camera a lot (breaking that fourth wall!), and Clarissa had a best friend named Sam who climbed into her window a lot.
With all that knowledge, I happily jumped into Things I Can't Explain, and well, it was just ~okay. (A very loaded ~okay.)