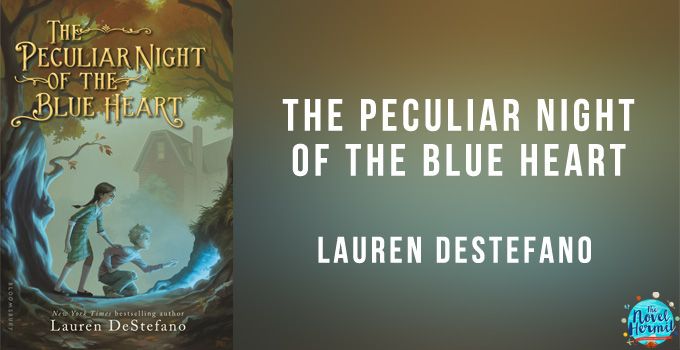 [note note_color="#42453f" text_color="#ffffff"]The Peculiar Night of the Blue Heart by Lauren DeStefano •  September 13, 2016 • Bloomsbury USA Childrens
Website | Twitter | Goodreads | Amazon | Barnes & Noble | The Book Depository | Indigo | Library
Lionel is a wild boy, who doesn't much like to be around other people. He'd rather be a purring cat or a wolf stalking the woods.
Marybeth is a nice girl. She doesn't need to be told to comb her hair or brush her teeth, and she's kind to everyone at the orphanage . . . Lionel most of all.
Different though they are, Lionel and Marybeth are best friends in a world that has forgotten about them. So when a mysterious blue spirit possesses Marybeth—and starts to take control—they know they must stop it before the real Marybeth fades away forever.[/note]
[note note_color="#BFD1D1″ text_color="#ffffff"]I received this book for free from Bloomsbury for review consideration. This does not affect my opinion of the book or the content of my review.[/note]
First sentence: "Lionel was a wild boy."
Meet Lionel, a boy who acts more like an animal than a human, and Marybeth, a girl who is amiable and follows every direction given to her. You wouldn't expect these complete opposites to get along, but they do. At this orphanage, they have nothing but each other.
In The Peculiar Night of the Blue Heart, Marybeth becomes possessed by a mysterious blue spirit who is wary of everybody and keeps acting out. Lionel and Marybeth set out to figure out what has gotten ahold of Marybeth and how they can keep Marybeth from fading away.