---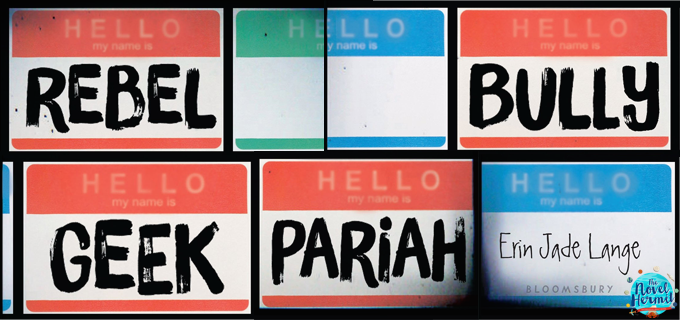 Rebel Bully Geek Pariah by Erin Jade Lange
 • February 16, 2016 • Bloomsbury
Website
| 
Twitter
 |
Goodreads
 | 
Amazon
 | 
Barnes & Noble
|  
The Book Depository
 |
Indigo
 |
Library
Four very different teens and a night changes them forever. 
The Rebel: Once popular, Andi is now a dreadlocked, tattooed wild child.
The Bully: York torments everyone who crosses his path, especially his younger brother.
The Geek: Tired of being bullied, Boston is obsessed with getting into an Ivy League college.
The Pariah: Choosing to be invisible has always worked for Sam . . . until tonight.
When Andi, York, Boston, and Sam find themselves hiding in the woods after a party gets busted by the cops, they hop into the nearest car they see and take off—the first decision of many in a night that will change their lives forever. By the light of day, these four would never be caught dead together, but when their getaway takes a dangerously unpredictable turn, sticking together could be the only way to survive.
I received this book for free from Bloomsbury for review consideration. This does not affect my opinion of the book or the content of my review.
First sentence: "Everything is gray."
What does Rebel Bully Geek Pariah have? The Breakfast Club? Eh, sort of. Cinematic storytelling? Well, you can say that. Compelling emotional depth? No, not really for me. Thrilling ride? I guess.
Reading Rebel Bully Geek Pariah was like watching a drama, but it turned into a crime flick I hadn't intended to watch. You think it's gonna go a certain way, but it does a 180 turn. I thought this book would be like an ode to The Breakfast Club—where you see the characters chilling and having heart to hearts, and although you see the resemblance, the over-the-top events stray away from every assumption I had about this book. (I should've really read the synopsis carefully.)