I love comics and graphic novels, so what do I do with that love? Well, I turn it into a new feature!

From Panel to Panel is a new feature where I talk about the awesome (and perhaps not-so awesome) comic books and graphic novels I've read. Basically, this will be me pushing them onto your laps. You're welcome.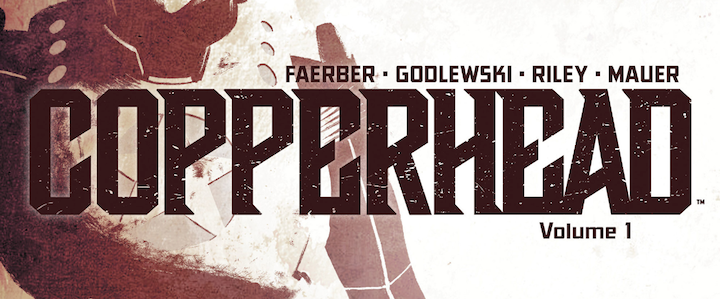 [quote]Welcome to Copperhead, a grimy mining town on the edge of a backwater planet. Single mom Clara Bronson is the new sheriff, and on her first day she'll have to contend with a resentful deputy, a shady mining tycoon, and a family of alien hillbillies. And did we mention the massacre?[/quote]
You say, "Space Western," and I say, "how high do I need to jump to get it? Because I love me some Space Westerns."
Written by Jay Faerber, art by Scott Godlewski, and colors done by Ron Riley, the very first volume of Copperhead introduces you to Clara Bronson, a no-nonsense sheriff, who arrives in the mining town of Copperhead with her son, Zeke to make a fresh start. There, she has to deal with rowdy alien hillbillies, corruption, murders, creatures that live in the Badlands, her own prejudices, and so much more.