Stacking the Shelves is a weekly meme hosted by Tynga's Reviews where you share books you are adding to your shelves, may it be physical or virtual. You can include books you buy in physical store or online, books you borrow from friends or the library, review books, gifts and of course ebooks! These are all the books I bought when I was at book events or received in the mail this month! SO MANY BOOKS. PREPARE YOURSELF.
The Raven Boys by Maggie Stiefvater
Just One Day by Gayle Forman
Just One Year by Gayle Forman
The Distance Between Us by Kasie West
Under the Never Sky by Veronica Rossi
The Sky Is Everywhere by Jandy Nelson
Every Day by David Levithan
Fangirl by Rainbow Rowell
(All of these books were signed at the various book event I went to! YEEEEE.)

The Golden Lily (Bloodlines #2) by Richelle Mead (from the lovely Kelly of Effortlessly Reading! Thank you!))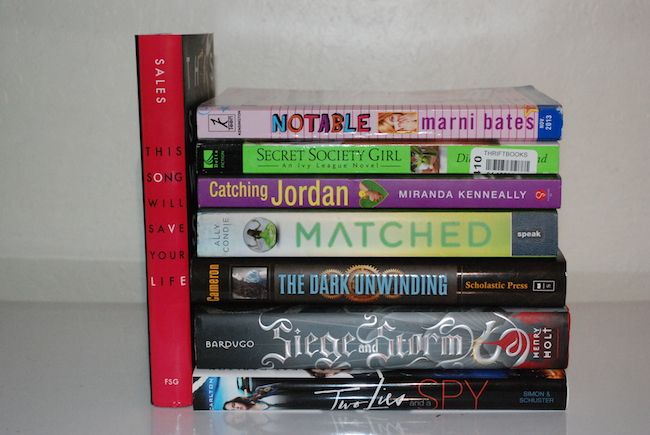 This Song Will Save Your Life by Leila Sales + mixtape (from publisher)
Notable (ARC) by Marnie Bates (from publisher)
Secret Society Girl by Diana Peterfreund
Catching Jordan by Miranda Kenneally
Matched by Ally Condie (from Teenquake raffle)
The Dark Unwinding by Sharon Cameron (from Teenquake raffle)
Siege and Storm by Leigh Bardugo (signed! from the author)
Two Lies and A Spy by Kat Carlton
ALSO.
If you have missed my previous posts, check them out: 
How was your week? What books did you pick up? Have you read any of the books I got in the mail?