[quote]Top Ten Tuesday is a weekly meme hosted by The Broke and the Bookish where we list our top tens![/quote]
This week's topic is "top ten nine best books I read in 2016." This is a tough one. I've read so many great books this year. How do I even choose? They're my babies! Now, these top top nine books are ones that I loved with all my heart. When I think about these books, my heart is filled with so much love, and I had motivated to push it into everybody's hands and faces.
Here are the best books I read in 2016!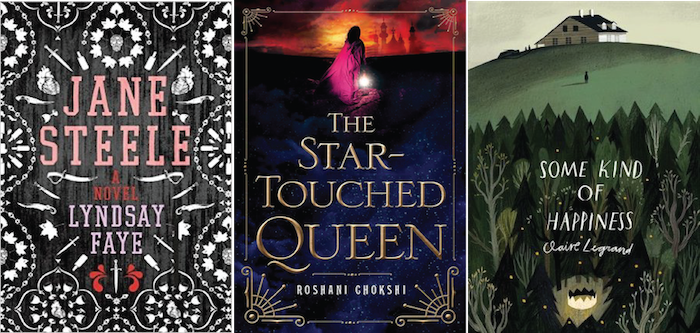 How can you go wrong with serial killer Jane Eyre? You absolutely can't! This was an utterly charming, yet dary story about Jane Steele, a woman who refuses to let her tormentors get to her. She's a survivor, and she will kill to survive.
Get lost in this magical world. The Star-Touched Queen seduced me with its promise of stars, fates, and mythology. (And it delivered!) This gorgeous story weaves Indian folklores and mytholgy, introducing us to a girl who's destined to marry death and destruction. It's hard not to fall in love with the lush writing and the romance.
I wish I had Some Kind of Happiness when I was younger. I love everything that Claire Legrand writes, and this Middle Grade completely blew me away with its honesty. It tells a story about "a girl who experiences sadness (that's depicted so perfectly!) and tries to express it through her writing; a magical forest kingdom called Everwood; friendships that make you trust and do things you never thought you'd do; a fantasy life that speaks so much about Finley's fears; pirates and family secrets, and so much more!"
What an adventure The Voyage to Magical North takes you on! "You'll encounter runaway kids who just want to escape, a mythological place called the Magical North, fantastic pirates who you'd want to sail the open seas with, an evil magician who wants revenge, and sea creatures and twists and turns and awesomeness."
My heart is filled with so much love for The Girl Who Drank the Moon! SO MUCH! The Girl Who Drank the Moon is unlike any fairytale you'll ever read. "In The Girl Who Drank the Moon, readers get a misunderstood witch who is so loving, a coming-of-age story of an enmagicked and well-loved little girl, unusual characters who are larger than life and absolute sweethearts, corrupted Elders who refuse to listen to reason, characters who just want to protect their family or their secrets, amazing storytelling that'll keep you wanting more, and so much love that you can't help but want to twirl in it. Readers, strap yourself in for this wonderful magical adventure you'll embark on. It's so worth a read to get to know Luna and the people (and Swamp Monster and Perfectly Tiny Dragon) who loves her."
I'm a sucker for retellings. The Canterbury Tales may not be my favorite story in the world, but wow, Sometimes We Tell the Truth does a beautiful job honoring it. "You don't have to be a fan of Chaucer or have read The Canterbury Tales to appreciate Sometimes We Tell the Truth. After you start reading the book, you'll find yourself appreciating what Zarins achieves—the heartwarming, clever, and funny stories told; the interpretation of the stories and characters; the messages the stories send; and so much more."
It took all my power not to put every issue/volume I read of The Wicked + The Divine this year. I settled on WICDIV 1831 because holy shit! THAT ONE-SHOT BLEW MY MIND. 1830s PANTHEON! MARY SHELLEY. LAKE GENEVA. TELLING MONSTER STORIES. ROMANTICISM. STEPHANIE HANS' ART. This one-shot was frickin' incredible.
Where are the women in our history? Why aren't we taught more about them? There needs to more books like Wonder Women. You get to learn about all these fabulous and smart women who made a big difference in the world. They're scientists, inventors, mathematicians, mountaineers, engineers, and spies (to name a few). I loved getting to know about them.
What does Clint Barton do when he's not out being an Avenger? Well, in Matt Fraction's and David Aja's Hawkeye, he's just a normal guy, wrecking havoc against the Russians and making very bad decisions that look really bad. I absolutely love this comic. I don't know why it took me so long to actually sit down and read it, but my god, everybody was right about how fabulous this comic is.
What are the best books you read in 2016?