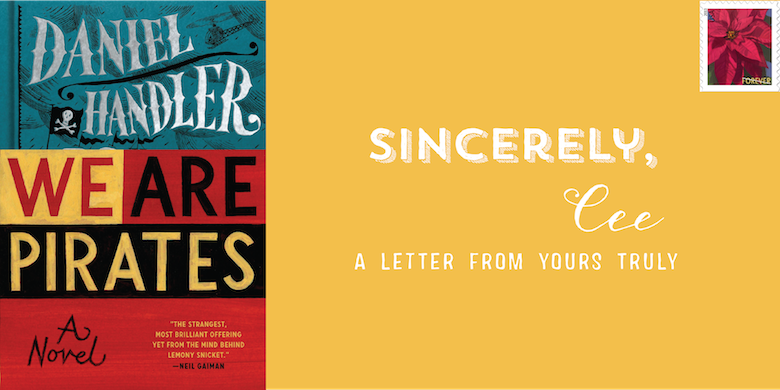 God damn, I need We Are Pirates. I need it like I need the air for breathing or food for energy or books for entertainment or faces to scream over. The point is, I really need this book.
Why?
Welllllllll, I'm glad you ask.
Daniel Handler is one of my favorite authors and (basically) my childhood hero. I'm a huge fan of his work because they are filled with such darkness and wit. It's my absolutely favorite combination, and I'm sure this book will be no different. Since I finished The Basic Eight (which everybody should read), I've been itching for a new "adult" book, and I've been waiting for We Are Pirates for two years. Possibly even more. And the day has finally arrived.
It has PIRATES! I need this book in case I run into pirates in the San Francisco Bay. Modern day pirates "terrorizing" the San Francisco Bay, led by a teenage girl? Fortune hunters? Treasures? Ummmm, does this book have my name written all over it? Yes it does!
It has my favorite trope—found families. "Gwen teams up with a new, fierce friend and some restless souls." RESTLESS SOULS, DUDE. Do you understand why I inferred found families from this line? I can never say no to books that has found families in it. I hold that trope very near to my heart, so I'm hoping that We Are Pirates delivers.
It's about a father and his daughter. It's a family affair! Though they both have their separate stories—the father and his assistant sealing some work deal, and the daughter gathering people to look for treasures—their stories will converge. I'm bouncing in my seat because I can't wait to see the dynamics between the father and daughter.
It's set in my home stomping ground. San Francisco Bay Areeeaaaa. Represent!
A teenage girl who pulls together a ragtag crew to commit mayhem in the San Francisco Bay. This deserves its own bullet point. What's not to like about that?
I will hijack a boat in the San Francisco Bay, and sail it all the way to where the We Are Pirates books are stored. This is not a threat. It will happen.
Sincerely,
p.s. Feburary 2015 is just so far away. How can I wait that long?