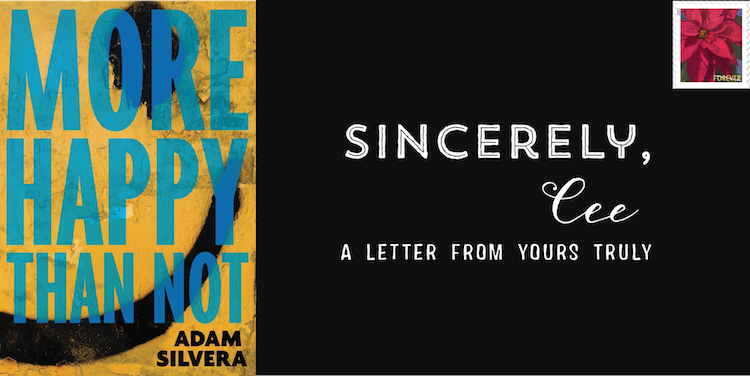 Oh boy, LGBT and Eternal Sunshine of the Spotless Mind-esque? Where do I sign up?
[quote cite="Goodreads" url="http://www.goodreads.com/book/show/19542841-more-happy-than-not"]
Happiness shouldn't be this hard
…
The Leteo Institute's revolutionary memory-relief procedure seems too good to be true to Aaron Soto — miracle cure-alls don't tend to pop up in the Bronx projects. But Aaron can't forget how he's grown up poor or how his friends aren't always there for him. Like after his father committed suicide in their one bedroom apartment. Aaron has the support of his patient girlfriend, if not necessarily his distant brother and overworked mother, but it's not enough.
Then Thomas shows up. He has a sweet movie-watching setup on his roof, and he doesn't mind Aaron's obsession with a popular fantasy series. There are nicknames, inside jokes. Most importantly, Thomas doesn't mind talking about Aaron's past. But Aaron's newfound happiness isn't welcome on his block. Since he's can't stay away from Thomas or suddenly stop being gay, Aaron must turn to Leteo to straighten himself out, even if it means forgetting who he is.
Adam Silvera's extraordinary debut novel offers a unique confrontation of race, class and sexuality during one charged near-future summer in the Bronx.[/quote]
As soon as I read this synopsis, my hands started making grabby motions. How can I not with that fascinating synopsis? Here is a teenager wanting to erase his memory in an attempt to straighten himself out. That is utterly heartbreaking. I can't help but think about how very real that is—LGBT teenagers denying their sexuality through any means necessary to fit in. It makes me curious to see what exactly happened for Aaron to decide that turning to the Leteo Institute is the best option, how his family and neighborhood impacted his life and decisions, and what it means to forget who you are. Is it ever that easy? Will it solve anything?
This will be a powerful and emotional book. I can feel it. And you know what I say to that? Bring it on. I need that! (Though I don't think I'm mentally prepared. Will I ever be?)
Who else is excited about this book?
Sincerely,