Happy first day of Spring, guys!
And since Winter is officially no more and Spring is here, it's time to do some cleaning! And cleaning for me is getting rid of books I've read or am not planning to read, which is good news for you! Because you get books!
That's why I decided to partake in the Spring Cleaning Giveaway Hop, which is hosted by I Am A Reader, Not A Writer and will run from March 20-25th!
I have a box of YA books that need a new home; it needs someone who will love and cherish them. It's a mixture of finished copies + ARCs (that you will see below), ranging from fantasy to contemporary. A lot from Scholastic. So many awesome books. Hopefully, you will enjoy these books. (Somebody has to! ;D)
THE BOOKS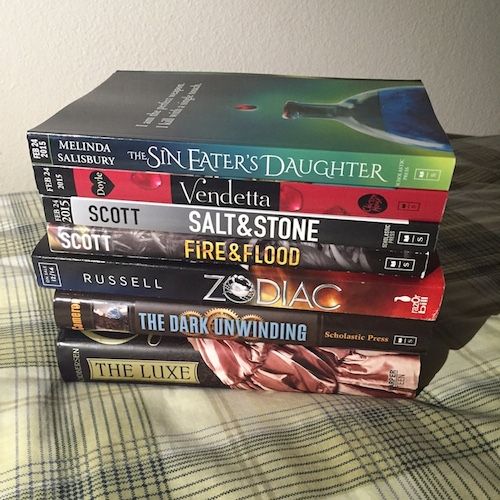 The Sin Eater's Daughter by Melinda Salisbury (ARC)
Vendetta by Elizabeth Doyle (ARC)
Salt & Stone (Fire & Flood #2) by Elizabeth Scott (ARC)
Fire & Flood by Elizabeth Scott
Zodiac by Romina Russell (Signed ARC)
The Dark Unwinding by Sharon Cameron
The Luxe by Anna Godbersen
THE RULES
This contest is only opened to the US. (Too broke to send it anywhere else.)
The giveaway will run from March 20 to 25, 2015.
You must be 13 years (with your parent's permission) or older.
You will be disqualified if you pick up entries you haven't done.
If the winner does not respond to my e-mail within 48 hours, I will have to choose another winner.
I am not responsible for any items lost in the mail.
Check out what books these people are giving away!