[note note_color="#e0e6f3″ text_color="#ffffff"]Shattered Warrior by Sharon Shinn and Molly Knox Ostertag • May 16, 2017 • First Second
Website | Goodreads | Amazon | Barnes & Noble | The Book Depository | Indigo | Library
It is eight years after Colleen Cavanaugh's home world was invaded by the Derichets, a tyrannical alien race bent on exploiting the planet's mineral resources.
Most of her family died in the war, and she now lives alone in the city. Aside from her acquaintances at the factory where she toils for the Derichets, Colleen makes a single friend in Jann, a member of the violent group of rebels known as the Chromatti. One day Colleen receives shocking news: her niece Lucy is alive and in need of her help. Together, Colleen, Jann, and Lucy create their own tenuous family.
But Colleen must decide if it's worth risking all of their survival to join a growing underground revolution against the Derichets … in Sharon Shinn and Molly Knox Ostertag's Shattered Warrior.[/note]
[note note_color="#BFD1D1″ text_color="#ffffff"]I received this book for free from First Second for review consideration. This does not affect my opinion of the book or the content of my review.[/note]
For ten years, Colleen Cavanaugh has lived with loneliness and without love. Her home planet has been invaded by the Derichets, an alien race who rule the humans with an iron fist.  Day in and day out, Colleen works at a factory with other humans, picking out mineral resources for the Derichets to use for their weapons.
Colleen encounters life-changing characters in her life and leads her to join an underground revolution against the Derichets, and will all be okay for her and the family she created?
YOU MUST READ SHATTERED WARRIOR BECAUSE…

Despite being alone in the world, these characters create their own family and teach other how to love again.
For a long time since the Derichets invaded Earth, Colleen Cavanaugh thought she was alone in the world. Her parents were killed in the war; her sister and her niece disappeared—probably taken by the Derichets—until a miracle happened. Her niece Lucy is found to be alive, and Colleen befriends Jann, a member of a violent group called Chromatti. With these two people in her life, Colleen's heart opens up again. These characters learn to take care of each other and love and how to survive. They're a family that has to survive. 
These characters will risk everything just to survive.
To survive, these characters has to do things that can send them to their deaths. They join underground revolution groups—their mission is to drive the Derichets out of their home planet by using the precious mineral they force humans to pick out. That mineral is kallium, a precious resource to the Derichets because of its explosive nature. These characters start taking little pieces that will be gathered and used against the Derichets. It's super dangerous, but they gotta do what they have to do to fight and stay alive.
Molly's art will transport you into this world.
The art is incredibly gorgeous. It enhances the world that Sharon Shinn has set these characters in and really makes you feel apart of this story. The details in the setting, the explosions, the different walks of lives, all incredible. I am constantly blown away every time I turn the page, especially the art for the flashback scenes. The art is something that everybody needs to see.
It deals with loss, love, fear, and survival.
These themes are engrained into every crevice of Shattered Warrior. What these characters face are what readers have experienced. This graphic novel is a journey that takes us through what it is like to deal with loss and fear for the future and fight for survival.
Should you read Shattered Warrior? Yes! 100%! Shattered Warrior is a fabulous graphic novel that explores a lot of themes like loss, love, war, and oppression, and has fantastic art that will have you yearning for more. 
ABOUT SHARON SHINN & MOLLY KNOX OSTERTAG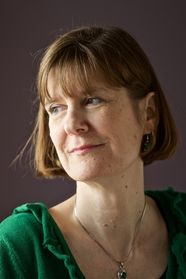 Sharon Shinn has published more than twenty-five novels, one collection, and assorted pieces of short fiction since her first book came out in 1995. Among her books are the Twelve Houses series (Mystic and Rider and its sequels), the Samaria series (Archangel and its sequels), the Shifting Circle series, and the Elemental Blessings series. She lives in St. Louis, loves the Cardinals, watches as many movies as she possibly can, and still mourns the cancellation of "Firefly."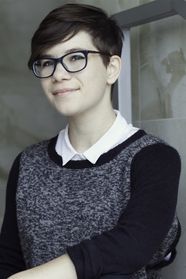 Molly Knox Ostertag grew up in the forests of upstate New York and read far too many fantasy books as a child. She studied cartooning at the School of Visual Arts in New York City and now lives in Los Angeles, where she enjoys the beach year-round but misses good bagels. While at school she started drawing the award-winning webcomic Strong Female Protagonist, which continues to update and be published through Kickstarter and Top Shelf Comics. She draws comics about tough girls, sensitive boys, history, magic, kissing, superpowers, and feelings.
ALSO CHECK OUT THESE BLOGS ON THE SHATTERED WARRIORS BLOG TOUR
Are you excited to read Shattered Warriors? Have you read books by Sharon Shinn or Molly Knox Ostertag?