I love comics and graphic novels, so what do I do with that love? Well, I turn it into a new feature!

From Panel to Panel is a new feature where I talk about the awesome (and perhaps not-so awesome) comic books and graphic novels I've read. Basically, this will be me pushing them onto your laps. You're welcome.
TIME TO GET EXCITED, FOLKS. I may have missed March's post, but I come bearing awesome comics I'm excited for (and you should too!) that were published in March and April!
You will see a Canary kicking ass and singing her heart out, fabulous DC ladies set during WWII, an old classic that's been revamped, teenagers from the 1980s during an alien invasion, and much more!
Get your shopping carts loaded with all these comics!
BLACK CANARY · VOL. 1 – KICKING AND SCREAMING
Dinah Lance hits the road! After years as a soldier and vigilante, the last place Dinah saw herself is on stage … but she's quickly learning she'd die to protect the gang of misfits she's fallen into. And she just might have to—for some reason, the newly rechristened band Black Canary seems to be a magnet for trouble … and Dinah's not gonna believe it when she finds out the reason why!
From the pages of BATGIRL, Martial arts, super-spies, and rock 'n' roll combine here in the superheroine's solo series BLACK CANARY VOL. 1. Written by Brenden Fletcher (BATGIRL) and art by Annie Wu (HAWKEYE), this graphic novel collects BLACK CANARY #1-7. — DC Comics
Publication date: March 2, 2016 by DC Comics
Buy: LCBS · Amazon · Barnes & Noble · The Book Depository · Indigo · Comixology
Why I'm excited: BLACK CANARY, MY GIRL!
I've actually been following the issues, and it's frickin' amazing. My top reasons why you should read Black Canary are: it's about a former crime-fighter who becomes lead singer of a band (music goodness!); there are awesome fight scenes (the paneling in this comic is insaneeeeee); the art and colors are so gorgeous (I love it so much); and there's so much wonderful band-family goodness.
DC COMICS BOMBSHELLS 
· VOL. 1 – ENLISTED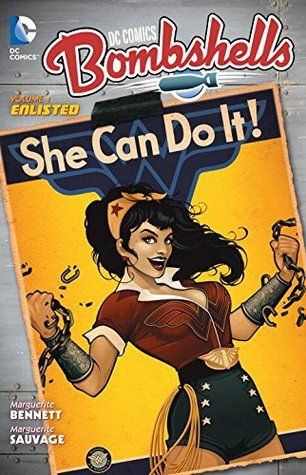 The incredibly popular DC Collectibles line is brought to life in these stories that reimagine the course of history!
As Word War II rages across Europe, the Allied forces issue a call to arms for the greatest heroines the world has ever known: THE BOMBSHELLS!
KATE KANE, the all-American Batwoman; DIANA OF THEMYSCIRA, warrior Princess of the Amazons; KARA STARIKOV and KORTNI DUGINOVNA, defenders of Mother Russia; and MERA, royal daughter of the legendary Atlantis! With aid from their allies at home and abroad, these mighty women will turn the tide of war and defend those inviolable rights of Truth, Justice and Freedom.
From writer Marguerite Bennett (BATGIRL, EARTH 2: WORLD'S END) and featuring artists including Marguerite Sauvage (HINTERKIND), Laura Braga (Witchblade), Bilquis Evely (Doc Savage), Mirka Andolfo (Chaos) and Ming Doyle (CONSTANTINE: THE HELLBLAZER) comes DC COMICS: BOMBSHELLS VOL. 1: ENLISTED. Collects DC COMICS: BOMBSHELLS #1-6. — DC Comics
Publication date: March  2, 2016 by DC Comics
Buy: LCBS · Amazon · Barnes & Noble · The Book Depository · Indigo · Comixology
Why I'm excited: Bombshells, my heart. 
You get to see so many familiar DC ladies like Kate Kane (Batwoman), Diana (Wonder Woman), and Kara (Supergirl) in a pin-up-esque fashion. These ladies are kicking us and saving the world in World War II. Also, it's an all female comic—characters, writer, artists!
ARCHIE 
· VOL. 1 – THE NEW RIVERDALE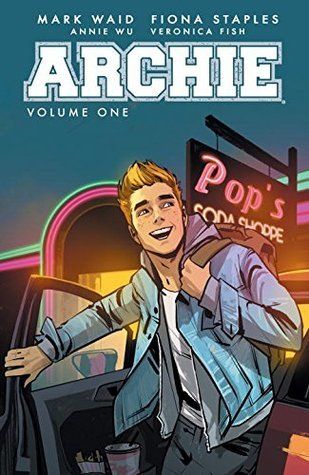 America's Favorite Teenager, Archie Andrews, is reborn in the pages of this must-have graphic novel collecting the first six issues of the comic book series that everyone is talking about.
Meet Riverdale High teen Archie, his oddball, food-loving best friend Jughead, girl-next-door Betty and well-to-do snob Veronica Lodge as they embark on a modern reimagining of the beloved Archie world. It's all here: the love triangle, friendship, humor, charm and lots of fun – but with a decidedly modern twist.
Brought to you by some of the masters of the comic book genre, including writer Mark Waid and the all-star lineup of artists: Fiona Staples, Annie Wu and Veronica Fish, the first volume of ARCHIE presents readers with a new take on the beloved Archie Comics concepts while retaining the best elements from the company's 75 years of history.
ARCHIE VOL. 1 collects ARCHIE #1-6 and features bonus content including scripts, sketches, variant covers and the full first issue of the all new JUGHEAD series by acclaimed writer Chip Zdarsky and artist Erica Henderson. — Archie Comics
Publication date: March 13, 2016 by Archie Comics
Buy: LCBS · Amazon · Barnes & Noble · The Book Depository · Indigo · Comixology
Why I'm excited: The classic is back! See Archie in a modernized version. You get the familiar characters (Archie, Betty, Veronica, Jughead!), ~breaking the fourth wall, and gorgeous art by Fiona Staples (Saga), Annie Wu (Black Canary), and Veronica Fish.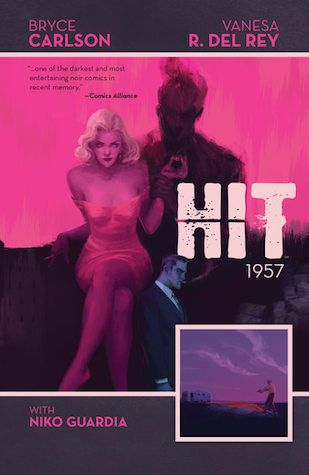 Crime is down in Los Angeles—at least, on the surface. Mickey Cohen has been quiet since his release from prison and the LAPD has seemingly regained control of the city. But the underground is a different story. Det. Harvey Slater and company have spent the last two years focused on Domino and his Syndicate's unrelenting infiltration, but no matter how many people the hit squad kills, the real fight for Los Angeles rages on. Meanwhile, Slater's being hounded by Internal Affairs, Bonnie Brae is missing, and everything is falling apart at the seams.
The next entry in the Harvey Award-nominated series, Hit: 1957 takes us later in the seminal decade of change for the LAPD—familiar faces, new threats, and more sharp, smart noir. Even if you missed out on the first series, if you're a fan of crime comics like Parker, Criminal, and Tumor, Hit: 1957 is in your wheelhouse. – BOOM! Studios
Publication date: March 16, 2016 by BOOM! Studios
Buy: LCBS · Amazon · Barnes & Noble · The Book Depository · Indigo · Comixology
Why I'm excited: Crime noir? 1950s Los Angeles? A maybe femme fatale? Gorgeous art? I'm already convinced! This comic is actually the second to the first—Hit: 1955—so I should definitely read 1955 before I get to 1957.
GOTHAM ACADEMY 
· VOL. 2 – CALAMITY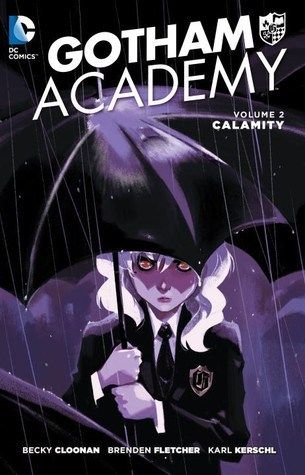 Gotham Academy is haunted!
At the beginning of the term, Olive Silverlock returned to Gotham Academy a shadow of her former self. But thanks to her new friendships and their Detective Club sleuthing, Olive was finally starting to feel whole again.
Then, abruptly, Olive's mother died—or, she seemed to. In the weeks after the funeral, Olive begins seeing her mother around the school. An Arkham Asylum patient with a deadly dark side, Sybil Silverlock was a powerful and complicated woman. Could her spirit be reaching out from beyond the grave? And if so, is it motherly Sybil who haunts Olive—or her deadly alter ego Calamity?
Plus, the kids hunt a werewolf on campus and Maps teams up with the Academy's newest transfer, Damian Wayne!
Writers Becky Cloonan and Brenden Fletcher team with artists Karl Kerschl and Mingjue Helen Chen for GOTHAM ACADEMY VOL. 2: CALAMITY. Collects GOTHAM ACADEMY #7-12 and DC SNEAK PEEK: GOTHAM ACADEMY #1. — DC Comics
Publication date: March 16, 2016 by DC Comics
Buy: LCBS · Amazon · Barnes & Noble · The Book Depository · Indigo · Comixology
Why I'm excited: These kids are back! I can binge on both series at once (yes, I admit I haven't gotten around to reading the first). Also, Damian Wayne is gonna be in this? Oh my god, yes please.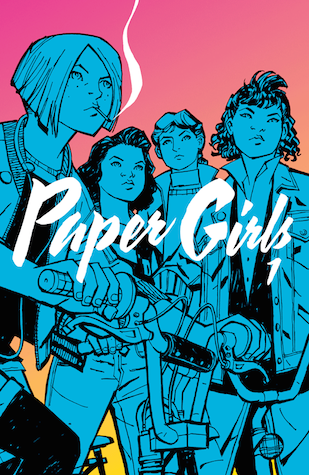 In the early hours after Halloween of 1988, four 12-year-old newspaper delivery girls uncover the most important story of all time. Suburban drama and otherworldly mysteries collide in this smash-hit series about nostalgia, first jobs, and the last days of childhood. Collects issues #1-5

Written by Brian K. Vaughan (Saga), illustrated by Cliff Chiang (Wonder Woman), colored by Matt Wilson (WICDIV), and lettered by Jared K. Fletcher (Southern Bastards).  — Image Comics
Publication date: February 10, 2016 in LCBS (but March 1 for online retailers) by Marvel Comics
Buy: LCBS · Amazon · Barnes & Noble · The Book Depository · Indigo · Comixology
Why I'm excited: What brings young girls together than a paper delivery service and an alien-like invasion in the 1980s?
I will read just about anything that has Brian K. Vaughan writing and Matt Wilson coloring. MASSIVE FAN OF BOTH.
Like Black Canary, I've been following the issues, and holy awesomeness! I loved the way these girls came together. You gotta have a crew to rely on when craziness like an alien invasion occurs. The art and colors are so frickin' gorgeous. They just pop right out of the pages. There's a weird alien language that I want more of. This comic makes me question so many things, and I can never predict what will happen next.
THE WICKED + THE DIVINE 
· VOL. 1 – YEAR ONE HC
Every ninety years, twelve gods incarnate as humans. They are loved. They are hated. In two years, they are dead. The team behind critically thermonuclear floor-fillers Young Avengers and PHONOGRAM reunite to start a new ongoing superhero fantasy. Welcome to THE WICKED + THE DIVINE, where gods are the ultimate pop stars. But remember: just because you're immortal, doesn't mean you're going to live forever. 
Revel in the opulence of this oversized hardback! Revel in it! 
Collects issues #1-11. — Image Comics
Publication date: April 6, 2016 by Image Comics
Buy: LCBS · Amazon · Barnes & Noble · The Book Depository · Indigo · Comixology
Why I'm excited: I NEED THIS IN MY LIFE.
I DON'T CARE THAT I OWN THE FIRST THREE VOLUMES. I MUST OWN VERSIONS OF THE WICKED + THE DIVINE. THE YELLOW IS ACTUALLY GOLD FOIL. GOLD FOIL! GIVE ME THIS AWESOMENESS.
(If you haven't read The Wicked + The Divine, I highly recommend it, and here's why you need to read it now.)
SPECIAL MENTIONS: Mercury Heat · Vol. 1, Cyborg · Vol. 1 – Unplugged, Starfire · Vol. 1 – Welcome Home, East Of West · Vol. 5 – All These Secrets, The Nameless City, Giant Days · Vol. 2, Rat Queens · Vol. 3 – Demons, Captain America Sam Wilson · Vol 1 – Not My Captain America, I Hate Fairyland · Vol. 1 – Madly Ever After
Do any of these comics interest you? Tell me which ones you're excited about! Have you read any of these?