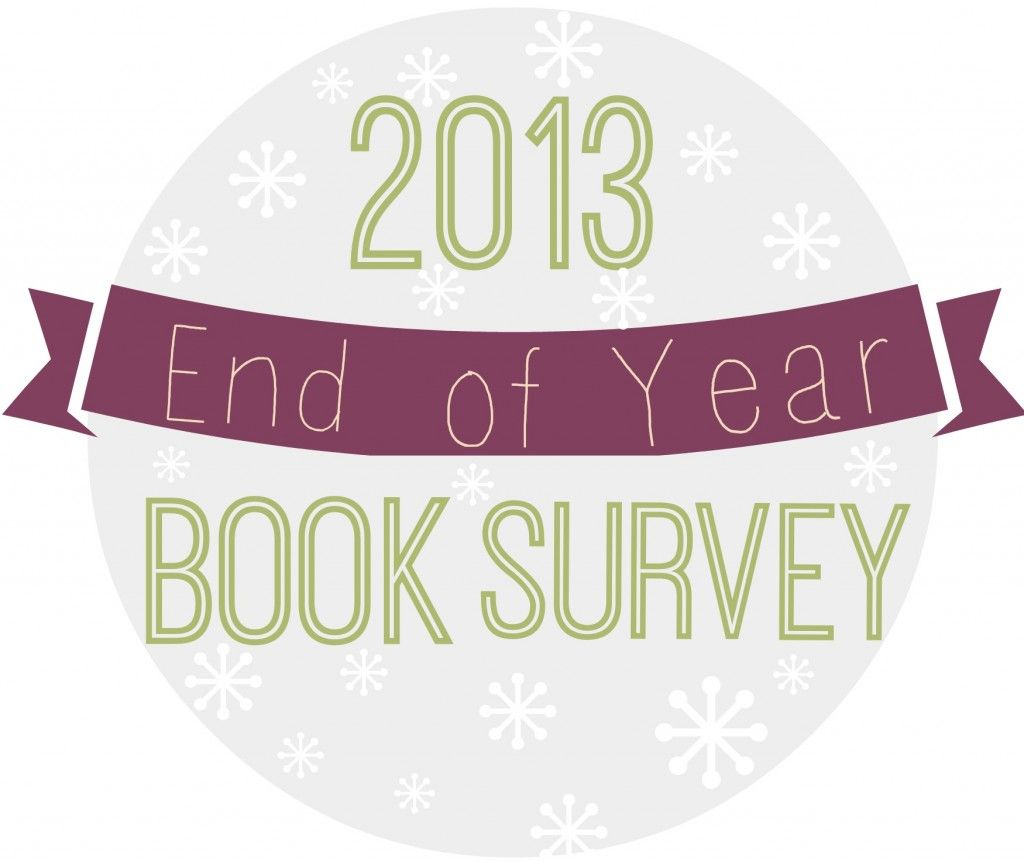 Well, it's that time of the year! The End of the Year Book Survey! This year has been a fabulous one full of reading new books and meeting tons of new awesome people. Thank you to Jamie (of The Perpetual Page-Turner) for hosting this awesome survey and for the gorgeous banner button. This survey was a pain because I realized I didn't read as much books as I had thought and I could not pick a single book. You'll see me use a few books over and over again. Lol. I also cheated and picked multiple books for practically all the questions. YOU CANNOT STOP ME. *Insert evil laughter*
1. Best Book(s) You Read In 2013?
WHY MUST I ANSWER THIS QUESTION? Can't I just say all the books? Because I cannot pick just one! I've read soooo many good books, so it's hard to limit myself to just one.
Angelfall | Unspoken | The Archived | Legion
2. Book You Were Excited About & Thought You Were Going To Love More But Didn't?
Eleanor & Park and Perfect Ruin. I was extremely excited about Eleanor & Park because hello, Rainbow Rowell! However, when I actually read it, I didn't love it as much as I had thought. I liked it, but it was nothing special. :\ And, Perfect Ruin irritated the hell out of me because the main character did nothing. Absolutely nothing. Seriously.
3. Most surprising (in a good way!) book of 2013?
Charm & Strange! I had no expectations for this book and when I read it, wow. I was totally blown away by the prose. I was in it with Andrew, the main character.
4. Book you read in 2013 that you recommended to people most in 2013?
I don't tend to recommend books because I don't like friends getting disappointed when they don't end up loving it as much as I do. However, I did recommend All Our Yesterdays to everybody when I read it (after my friend recommended it to me).
5. Best series you discovered in 2013?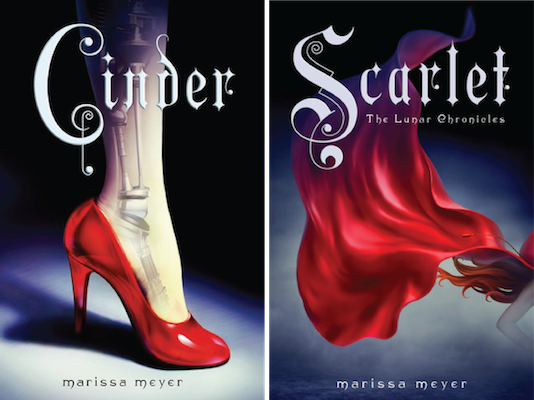 The Lunar Chronicles is the best series I have read this year. I just love everything about it. The fairytale retellings, the Sailor Moon influences, the characters. MY HEART WANTS MORE. (Especially more Scarlet/Wolf!)
6. Favorite new author you discovered in 2013?
SO MANY AUTHORS. Diana Peterfreund, Victoria Schwab, Brandon Sanderson, Kasie West, Marissa Meyer, Sarah Rees Brennan, Sarah J. Maas, Susan Dennard, Rainbow Rowell, and Susan Ee. To name a few. ;D
7. Best book that was out of your comfort zone or was a new genre for you?
Any books from the Psy-Changeling series. I read romances, but usually not something that's urban fantasy/paranormal. I didn't know what to expect from these books, but wow. I am a fan! These books are frickin' amazing!
8. Most thrilling, unputdownable book in 2013?
I couldn't put down Unspoken because I was so wrapped up in the world Kami Glass lived in. I didn't want the gothic-esque atmosphere to leave me.
9. Book You Read In 2013 That You Are Most Likely To Re-Read Next Year?
Because I love reading the scenes between Adrian and Sydney. They make me smile because they are adorable together.
10. Favorite cover of a book you read in 2013?
Umm, when I picked these covers, the red-ish color theme was totally unintentional. Unspoken has silhouette on it and I LOVE SILHOUETTES. The detail in the Perfect Ruin cover is absolutely gorgeous. I love the branches and the gears framing the girl.
11. Most memorable character in 2013?
 Penryn from Angelfall. HEROINE OF MY HEART. She is sooo badass. She'll do whatever it takes to bring her family back together.
12. Most beautifully written book read in 2013?
When I read For Darkness Shows the Stars, I was in love with the prose. It was so gorgeous.
13. Book that had the greatest impact on you in 2013?
After I read The Archived, I was in a weird funk for the next week or so. I was in awe of this book. Everything that happened blew me away. I couldn't describe in coherent sentences how much I enjoyed this book.
14. Book you can't believe you waited UNTIL 2013 to finally read?
I had put off reading If I Stay because I didn't think I'd enjoy it, but when I read it, I knew why people were talking about this book.   
15. Favorite Passage/Quote From A Book You Read In 2013?
 I am horrible at remembering passages/quotes, so I have to pass on this one.
16. Shortest & Longest Book You Read In 2013?
The shortest book I read is one of the novellas I read. (I can't tell you which one because I'm being awfully lazy to figure it out.) The longest book I read was Lovers Enshrine by J.R. Ward.
17. Book That Had A Scene In It That Had You Reeling And Dying To Talk To Somebody About It? (a WTF moment, an epic revelation, a steamy kiss, etc. etc.)
Everything in Unspoken. I HAD TOO MUCH ~FEEEELLLLSS~ ABOUT THAT BOOK. And the last few chapters of Angelfall. Everything that happened was soo creepy. I still cannot process it because it's major WTF were the angels doing?
18. Favorite Relationship(s) From A Book You Read In 2013 (be it romantic, friendship, etc).
Adrian Ivashkov + Sydney Sage forever! The kissing scenes in The Indigo Spell had me swooning!
Scarlet + Wolf! THEY ARE MY EVERYTHING. I love them a lot!
Stephen Leeds + his aspects. Their interactions make me smile.
19. Favorite Book You Read in 2013 From An Author You've Read Previously.
Surprisingly enough, all the books I read this year were not written by an author I had read previously. You would think there would be at least one, but nope. That is not the case. This year was all about new authors.
20. Best Book You Read In 2013 That You Read Based SOLELY On A Recommendation From Somebody Else: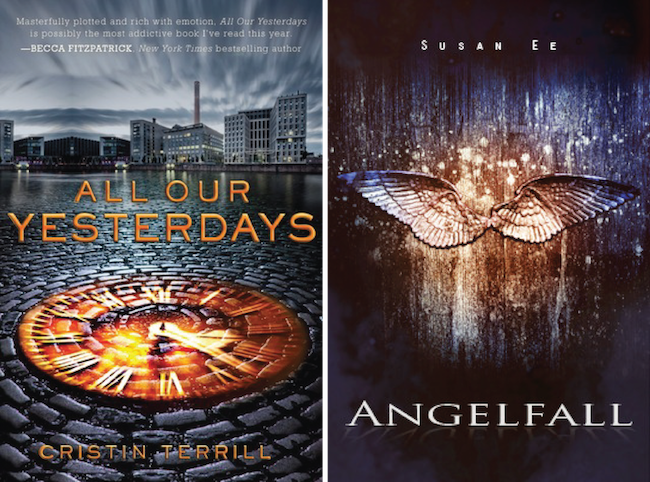 All Our Yesterdays because of Kelly! Angelfall because of Nikki. Both were amazing books, so I'm glad they were recommended to me.
21. Genre You Read The Most From in 2013?
Definitely YA and romance. (I don't know if I read one more than the other.)
22. Newest fictional crush from a book you read in 2013?
Wesley! (from The Archived!) He is the absolutely best. He's a great friend and partner for Mackenzie. He lights up that dark world they live in.
23. Best 2013 debut you read?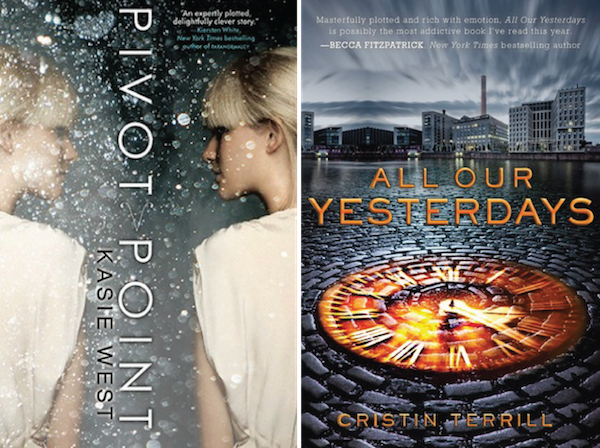 Pivot Point and All Our Yesterdays. They were both solid books. I can go on and on about my love for Kasie West and my love for All Our Yesterdays, but I will spare you.
24. Most vivid world/imagery in a book you read in 2013?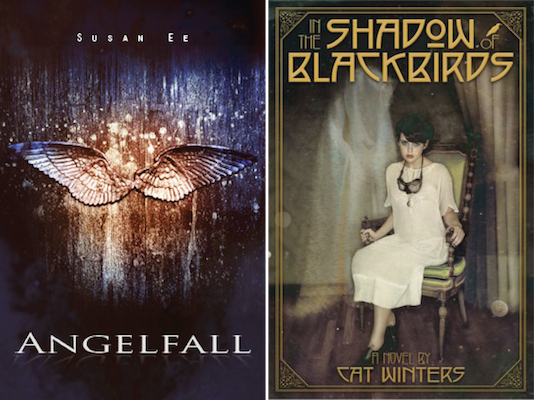 Angelfall by Susan Ee + In the Shadow of the Blackbirds
I was creeped out by the imagery in both books, and if that happens, then I think the books achieved their jobs. ;D Both was extremely good in putting me into the scene.
25. Book That Was The Most Fun To Read in 2013?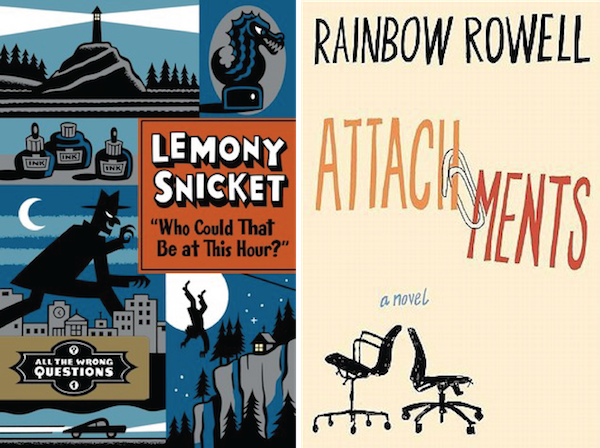 Who Could That Be At This Hour? (All the Wrong Questions #1) has so much wonderful word play! Attachments made me laugh a lot! I loved seeing the email exchange between Jennifer and Beth.
26. Book That Made You Cry Or Nearly Cry in 2013?
This book, you guys. :(
27. Book You Read in 2013 That You Think Got Overlooked This Year Or When It Came Out?

Charm & Strange. No question about that. It's a beautiful book. I remember being so in awe of everything that happened.
1. New favorite book blog you discovered in 2013?
I absolutely cannot narrow down my favorite book blog since this year was when I found everybody. :P Everybody on my blogroll is my favorites that I discovered in 2013 (w/the exception of Novel Sounds)! You should definitely go visit Nose Graze, Pop! Goes The Reader, and There Were Books Involved! They are all amazing. Their blogs are fantastic.
2. Favorite review that you wrote in 2013? 
I  enjoyed writing my review for Two Lies and A Spy and Marie Antoinette, Serial Killer, which are surprisingly my least favorite reads. I hated thinking about everything that annoyed me, but when I wrote the reviews, I felt like I talked about everything I wanted to say. For a positive review, I will have to go with Who Could That Be At This Hour? (All the Wrong Questions #1) by Lemony Snicket. It was fun for me to write because I got nostalgic about my childhood (because A Series of Unfortunate Events was one of my favorite childhood book series).
3. Best discussion you had on your blog?
Definitely about those annoying (meme) comments. I like seeing this community come together and put their foot down on those irritating comments. Let's not, people! A close second is between book juggling and reading the ending first.
4. Most thought-provoking review or discussion you read on somebody else's blog?
I have the worst memory so I couldn't tell you any specific thought-provoking review or discussion I like. Although, any discussion posts by Jamie of The Perpetual Page-Turner and reviews by Nikki of There Were Books Involved or Jen of Pop! Goes the Reader are incredible. Jamie always has amazing discussions. Nikki's reviews (or words) have a way of convincing me to read a book. (I think she has magic powers.) And Jen's reviews are extremely detailed. I love it.
5. Best event that you participated in (author signings, festivals, virtual events, memes, etc.)?
TEENQUAKE. HANDS DOWN. I got to mingle with authors. (I never thought I would be able to do that). It really pushed me out of my comfort zone. AND I got to hang around Kasie West (who is frickin' amazing). IT WAS AMAZING.
Also, watching Rainbow Rowell and David Leviathan read passages from their books was the BEST to see in person. They are so expressive and awesome together.
6. Best moment of book blogging/your book life in 2013?
Meeting authors at events and talking to newly made friends on twitter!
7. Most Popular Post This Year On Your Blog (whether it be by comments or views)?
It's either my annoying (meme) comments discussion (who doesn't not like those?) or my cover change discussion on Unspoken by Sarah Rees Brennan (holy glorious boobs!).
(I'm not counting giveaways because that's a bit unfair.)
8. Post You Wished Got A Little More Love?
Like most people, I wish my reviews got more love.
9. Best bookish discover (book related sites, book stores, etc.)?
Epic Reads's Tea Time!
I look forward to it every Wednesday! Margot and Aubry are frickin' amazing. You can feel their enthusiasm for their jobs and for books.
10. Did you complete any reading challenges or goals that you had set for yourself at the beginning of this year?
My main goal was to put myself out there and meet new bloggers, which I did! I've made many awesome friendships with people who I absolutely adore. :D

1. One Book(s) You Didn't Get To In 2013 But Will Be Your Number 1 Priority in 2014?
Off the top of my head, Winger, More Than This, Vicious, These Broken Stars, Steelheart. I also have a ton of ARCS to get through. Eek! 

2. Book You Are Most Anticipating For 2014 (non-debut)?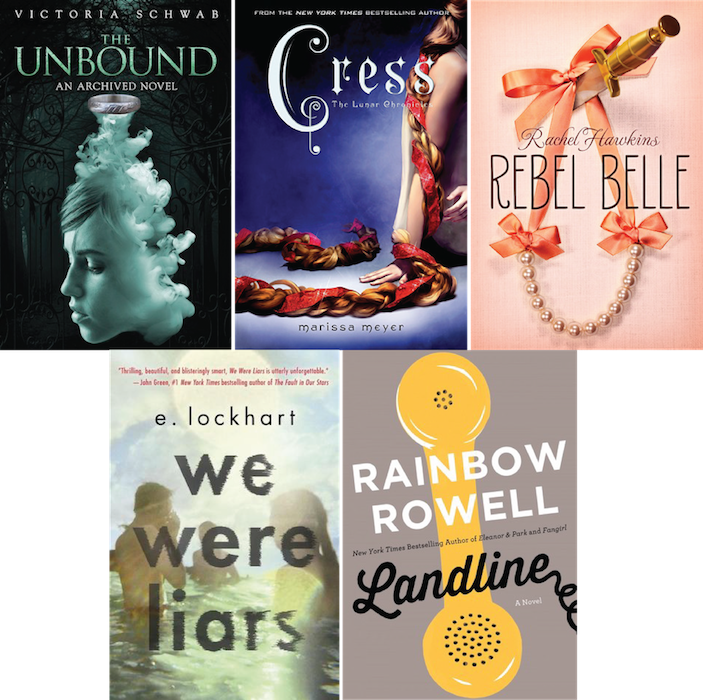 The Unbound by Victoria Schwab | Cress by Marissa Meyer | Rebel Belle by Rachel Hawkins
We Were Liars by E. Lockhart | Landline by Rainbow Rowell
I'm leaving out A LOT of books because there are too many to actually remember! (I should make a list on Goodreads. Hmm.)
3. 2014 Debut You Are Most Anticipating?
Side Effects May Vary by Julie Murphy | Dorothy Must Die by Danielle Paige
4. Series Ending You Are Most Anticipating in 2014?
I actually cannot think of a series that I have read that will end next year. :P
5. One Thing You Hope To Accomplish Or Do In Your Reading/Blogging In 2014?
Make connections with publishers and authors!
What about you? How was your reading in 2013?