I love fonts. You can say I'm obsessed with collecting them all. It's no secret to those who know me. You're Just My Type is a new feature where I showcase the fonts I absolutely adore and use. And hopefully, you will love the fonts I pick. 
Today, I'm showcasing a few free alternatives to this lovely paid font: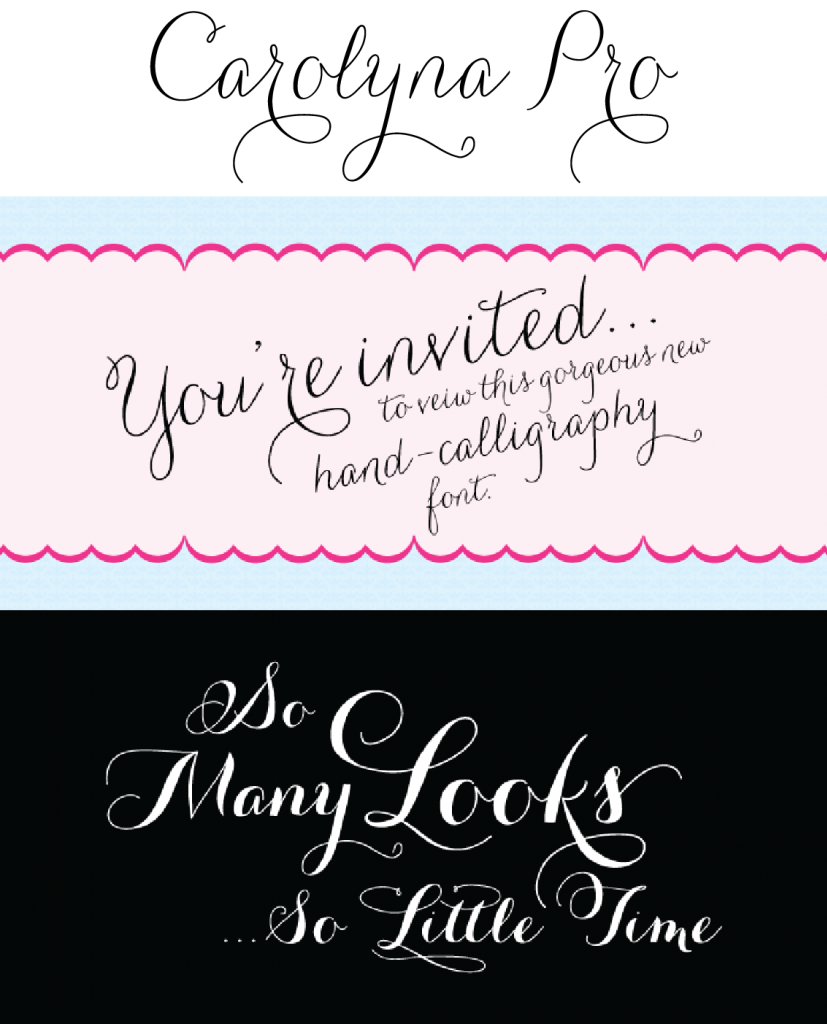 Designed by Emily Conners of Emily Lime Design
I absolutely adore Carolyna Pro because calligraphy! It looks so epic. I first saw it on the blog header of Oh Chrys and I instantly fell in love. (It's those capital letters and the 'r' and 'y.' Total hearts in my eyes.)
These free ones below aren't totally like Carolyna Pro exactly because Carolyna Pro is one of a kind, but I tried my best to find free alternatives (with a little help from the internet).

Designed by Måns Grebäck.
When you get Sverige Script, there are actually two types: decorated and clean. Sverige Decorated Script is far loopier. To me, it just screams TA DA (in a similar fashion to Carolyna Pro). I love that it looks like it has a hook (because of those loops and embellishments.) And Sverige Clean Script is basically as it says. It's a calmer version of the decorated script. Just think yin and yang but with fonts. ;D
(In the picture, the font name is in Sverige Decorated Script and the quote is in Sverige Clean Script.)
Designed by Font Cafe.
I sigh at the beauty of Voluptate. I love the thickness of the letters. There's nothing flimsy or weak about it. If you do use this font, just know that it's a demo. You can only use the lowercase and the capital V. (I believe you have to pay to have the capital letters and probably other glyphs.)

Designed by Måns Grebäck.
Do people write like this? I just want to write my q's and k's like that. Quicker is softer and is closer in thinness to Carolyna Pro. I have the urge to sigh and pet it. Don't be surprised if you come across me staring at it with a dreamy gaze.

 Designed by Kimberly Geswein.
Okay, Janda Celebration Script isn't really like Carolyna Pro, but those loops, people. : DDD

AND EXTRA BONUS:
Even if you can't afford Carolyna Pro, Emily Lime Design put out a free Carolyna Word that has set phrases like "Lol," "Southern Belle," "whatevvver," "Hot Mess," and many more. ;D
I do have to give credit to the Wedding Bee board for some of these choices because I wouldn't have seen the similarity until somebody tells me.
The majority of these fonts are demos of paid ones. It doesn't have the full benefits of the font, but hey, it still works. Also, none have the epicness of the 'r' in Carolyna Pro, but that's to be expected since it's one of a kind. ;D
Which font do you think is similar? Any one you absolutely love more than the others? Do you want to see more posts like this? (If you want, you can leave links of paid fonts over here so I can attempt to find free alternatives for you. :) )