---
July 16, 2015 • Cee •
Lists

Do certain books ever remind you of certain bloggers? Share four or more books and explain why they remind you of certain bloggers. (It's likely that you'll keep thinking of bloggers once you start thinking about this.) Feel free to share your post on Twitter with #BBBTag. — Kaitlin @ Reading is My Treasure
I saw a few people doing this tag, and I thought what a fun idea! I decided to partake it, and oh boy, maybe I made a mistake? It was honestly difficult trying to figure out what books I associate with other bloggers because I tend to associate pop culture things like Marvel + Disney or general things like their favorite authors or what they like talking about a lot with them. Despite the difficult task, I managed to find books that make me think of certain bloggers.
Let's see which bloggers I picked to do an association and what books I picked.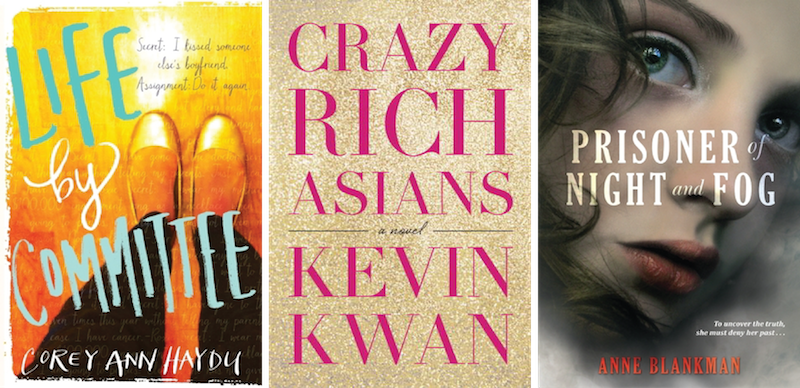 Nothing says "Charlotte" than lighthearted craziness and historical sleuthing, right? Charlotte's a bit hard to pin down—only because I always associate her with Mulan and Captain America. Luckily, I remember Charlotte singing praises for Life By Committee and Prisoner of Night and Fog, and since then, I always think of her when I see them. Crazy Rich Asians is a recent addition to "books that Charlotte's obsessed with and wouldn't stop talking about." How can you blame her when you have crazy rich asians being ridiculous with their juicy scandals.